Janovic Paint & Decorating Center
Paint store Janovic Paint & Decorating Center, 55 Thompson St, New York, NY 10012, United States:
112 reviews
of users and employees, detailed information about the address, opening hours, location on the map, attendance, photos, menus, phone number and a huge amount of other detailed and useful information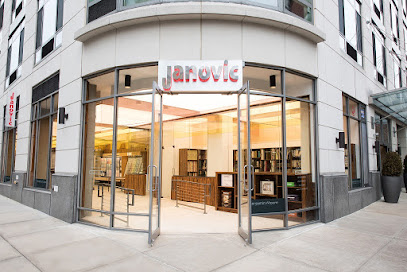 Address:
55 Thompson St, New York, NY 10012, United States
GPS coordinates
Latitude:
40.7238281
Longitude:
-74.0036649
reviews Cammie Rone
Best place for all your paint needs and supplies. From simple primers to customized tints ans blends, its one-stop-shopping. Customer service is also excellent and the Rep. Vinesh was very knowledgeable and helpful. Highly recommended.
3 months ago Tina Ballard
Arrived at 5am at JFK after spending a week in CA with a client. We needed to select wallpaper for a valance for the CA client ASAP. Met my design partner at Janovic a few hours later (with some crazy jet lag). In less than 15 minutes, after describing all our needs to Kathryn, she honed in on specific options and recommended the PERFECT wallpaper! In short, this is why Janovic is my first stop whenever I need expert feedback and an awesome product selection!
2 months ago Ronald Pacheco
Kathryn was super helpful when it can be overwhelming walking into the Soho store, knowing very little about blinds! After we made the purchase, communication with Kathryn was timely, and blinds arrived in a very reasonable fashion + they look great! Would not hesitate to use again.
9 months ago anju mm
Everyone is so helpful! I've been in three times in the past week - painting my whole apartment - and everyone that I've worked with has been wonderful. Staff is knowledgable and willing to answer any of your project questions. Huge selection of paint and supplies as well as household items.
4 months ago Gijs
Their color consultant Caroline was incredibly helpful in guiding us in the right direction while still allowing us to make our own choices. Numerous good ideas came out of the conversation that we certainly would not have thought of or considered on our own. Would highly recommend heading to Soho Janovic.
5 months ago Nancy Schnebelt
Vinesh was helpful when I visit the store he help me with picking out the right colour for the store. He also recommended material that I didn't even know I needed. Like to give a big thank you to the store and its many employees.
4 months ago Ryo kaneko
Vinesh is the best Very good 100% customer service. And very knowledgeable and always helpful and friendly to all his customers. That's why I always come to him for all my stuff and advice. Thank u ???? vinesh. It's always a pleasure to shop with u.
5 months ago Bernado Theosmy
Vines always very helpful and very knowledgeable To help all his customers. With a smile and a very warm welcome. Always a pleasure to shop with him. Thank u vinesh
4 months ago Isaiah Smith
Vinesh is very helpfull and. Treated me with respect it Washington a pleasure shopping with him. Very happy and pleased customer. 200%
5 months ago Liz Rogan
you're welcome, thank you very much for your kind and positive attention
1 month ago Candice Marty
Vinesh very good customer service, always very friendly and knowledgeable to all his customers.
2 months ago A Joe
Kathryn at the Soho location provided outstanding customer service and design input, making my decision making easy and efficient. She listened to my ideas and guided me to the best selections to meet my design needs. She patiently reviewed the entire order and installation process and arranged for David to visit my apartment to take measurements. David was also friendly and efficient. I highly recommend Kathryn and the Janovic experience. i will definitely shop again with Kathryn and Janovic. Thank you.
11 months ago Louise Coates
Vanesh is one of the greats, he got me what I needed and have plans for assisting me in the future. I was in and out in minutes and made sure I had everything before I left. Keep this man at this location!
3 months ago Clif Morneau
Everyone In The store is always friendly and helpful and Vinesh is very knowledgeable
2 months ago Zenon Chavez
Kathryn was so helpful and incredibly friendly and easy to work with. I couldn't have been happier with her assistance. That said, Jose the store manager, is the star of the show. Due to Covid, the drivers are not delivering to apartments so they left my blinds downstairs and it was up to me to get them up to my apartment. When they wouldn't fit in ny elevator, I called the store, Jose answered, asked me for my address and promptly came to my building and carried my blinds up 18 floors. Now THAT'S customer service!
5 months ago Evgenia Verbitskaya
Was in the store this morning. And vinesh. Stood out with his knowledge and very helpful. This guy was the best 100%. Satisfacción. With hin. Thanks vinesh.
3 months ago Oratile Vanessa
Vinesh is EXCELLENT! Great customer care and knows his stuff!
4 months ago Nathan Scarbrough
Great staff, very knowledgeable. Vinesh matched my hard to find paint !
3 months ago Carole Patterson
Vinesh was very good and very knowledgeable. Always a pleasure to shop with him.
7 months ago James MacLean
This location is amazing! So clean and tidy. I was helped by Kathryn with wallpapers and she is extremely helpful in every way. She knew all the wallpaper books by memory and knew exactly what I was looking for. This shortened my time looking through hundreds of books. She also recommended an installer. It was just like working with a designer but much more efficient. Fast delivery. Everything was professional and outstanding service. Highly recommend!
5 months ago Ashley Morton
I use this store a lot! Everyone is very helpful in both the paint and blinds department. I love their updated computer system that tracks everything properly, so I can re-order specific paint colors used in the past. And the team in the blinds department always helps with good ideas for window decor. All in all, an excellent place!
4 months ago Tim Foss
I went to this store location and was greeted by a man named Roger who was very helpful. He not only assisted with expert color matching but he had vast knowledge about the paint and tools on the premises. He even gave me a little rundown about the spectrometer that they use which also piqued my interest. Would 100% recommend this Janovic location, and I will return soon.
3 months ago quad comparator
Had the most incredible experience! Caroline is an expert color consultant and has extensive interior designer experience so I was in stellar hands. She and Kathryn showed me everything from wallpaper and area rugs to paints. They spent over an hour with me. The customer service is so caring, thoughtful and wise. Run don't walk to this establishment.
4 months ago sicun chen
We worked with Kathryn to select window coverings for our new house. Her personality is very pleasant and she provided many helpful suggestions to work within our budget and unique needs. She will keep working to find the right solution for you, and she didn't stop after the sale done. I appreciated her attention to detail leading up to the install and the follow up afterwards. In a situation where a lot of things could go wrong, she made it easy. I highly recommend her.
3 months ago Anna Johnston
I don't leave reviews often but I had an excellent experience at the Soho store and am happy to share. I was impressed by the product line and the staff's knowledge of not only the paint and related products but also helpful tips on how to make sure my project was a success. I appreciate the professionalism and quick service. Thanks!
3 months ago Hector Lugo
Had a fantastic experience with both Kathryn on window treatments and Gary as the measurement/installer. Kathryn was INCREDIBLY patient, with me visiting multiple times to decide on the perfect configuration, material, and color. She put together a custom solution combining Hunter Douglas Luminettes and a curved standard drapery to fit my apartment's needs. It looks amazing and is a great (and cost-effective) solution. Gary similarly did a fantastic job -- the measurements he made ended up perfect, and when he came back as an installer, he was a consummate professional, leaving the place cleaner than when he came in, and adapting the installation to improve the wiring for my motorized Luminettes.
2 months ago Carlos Collazo
Janovic Soho is the best. Caroline has helped me out so many times, especially when I have a tight deadline, with samples and color consultation. Easy to get to location and the staff is always happy to help!
3 months ago Altyn Dom
I traveled over an hour away to get to this store. I was so delighted with the knowledge and service the manager Claude has provided. He went over and beyond as far customers. I will definitely purchasing a lot more supplies for my new home. I've never meant a wonderful young, brilliant and passionate person who takes pride in his work and making sure the customers is beyond satisfied. As long as mr. Claude is there, he has my business 100% and I will be referring all my family and friends to come to support this business. Great quality products and prices.
3 months ago tina gorden
When it came time to redecorate my home I was in need of help and turned to Janovic for help with paint and blinds. What a delightful experience Both Caroline and Kathryn were amazing!!! They made my experience easy Caroline was knowledgeable when it came to paint colors and helped me every step of the way matching up colors. Kathryn was as sweet as they come, a pleasure to work with she helped me pick out my blinds I knew exactly what I wanted because she actually listens to your needs and wants! she helped me with everything from Colors to textures !! making my job of redecorating and sprucing up the place a easy job. I cant say how happy I am with the customer service I received from both Caroline and Kathryn.. You Will not be disappointed with Joanvic
3 months ago Sissel Smith
We had a great experience working with Kathryn Anderson at Janovic Soho on purchasing Hunter Douglas shades for a home outside of NYC. Kathryn was extremely knowledgeable, responsive and could not have been more delightful to work with. I was surprised by how quickly the shades arrived, how easy it was to coordinate delivery, and that Janovic would install outside of the city. Also their pricing was very competitive and the installer, Mauricio , did a terrific job.
2 months ago Kenneth Ebanezar
So glad to have them in the neighborhood. The service is excellent and their recommendations are always on point. Roger, one of the store reps, made sure I had everything needed for the job. Great job keep up the good work.
2 months ago Giannis Marougas
One of the best places to go to. Everyone there is amazing and very helpful in every way. Nancy and the crew were very attentive and answered all my questions, will definitely be back
2 months ago Karla Andino
Great experience, they were able to get me in and out! As well as give great suggestion towards my project ! I'll be coming back just because of the great customer service! Thanks again guys !
5 months ago Chad Reischl
i am a local interior designer and i frequently visit this location for my paint needs as it is on my block. service is consistently excellent and the store is well maintained. last month i was pulling together samples for a client and i needed wallpaper as well. kathryn assisted me with my selections. she was a pleasure to work with and she was extremely knowledgable. she made my experience seamless and i look forward to working with her again in the future.
7 months ago Amy Miller
Caroline, the paint consultant, is truly a gem! She helped my husband and I (remain happily married while) selecting paint colors for our apt gut renovation. She is an extremely talented designer and absolutely wonderful to work with!!!!
4 months ago Akim Nilausen
I was renovating my apartment and desperately needed help to pick out paint. I heard good things about janovic. I went for help and there was a woman Caroline that helped me pick out my color. Let me just say i am extremely indecisive, she helped me pick out my color in one visit !! I painted, love the color and the paint is good quality as well. Will be returning for future projects.
2 months ago Kilio
I honestly had the best experience today with Katherine! I had spent over 5 hours total in their SoHo store on Saturday looking at their extensive library of wallpapers. After looking at over 1,000 wallpapers and deciding on 3 of them, I went back the next day to order them and had the pleasure of meeting Katherine. After seeing my choices, she decided that one of them wasn't up to par with the design concept that I had in mind. And she thoughtfully suggested a few curated options for me. Let me tell you that this is no easy task when you're looking at wallpaper. Her bubbly and down to earth personality made the task enjoyable. Her extensive knowledge of wallpaper design and sharp eye for interior decor is extraordinary. Let me tell you, if you're looking for wallpaper, look no further than Janovic, and ask for Katherine! You can't go wrong!
2 months ago Jacqueline Walls
Kathryn Anderson is a gem I am decorating my new Salon and wanted a wall covering that looked like eel or lizard in a Smokey gray. The amount of books to go through was staggering, so I asked Kathryn for help and 123 it was found. As a time obsessed business owner I love a consultant that knows her stuff, is courteous to the consumer and gets the job done. Bravo Kathryn and thanks for your 5 star service
3 months ago Brenda Willis
I've been working with Caroline on color choices for my gut renovation. She's super talented, patient and creative. She's a huge asset to the store, in my (pretty experienced) opinion!!
2 months ago Sherry Veal
I had a truly incredible experience with Janovic using there Hunter Douglas Products! I worked with an incredible sales associate, Kathryn Anderson, in the Soho Location. She was able to help me solve problems and actively source solutions to our Challenging window sizes. She never stopped offering options and advice, each time that I visited the store, over the past few weeks. She was truly a pleasure to work with. Overall, it was an amazing experience. I defiantly will be using Janovic on future projects!
3 months ago Vivek Tiwari
It was time to update the blinds in our apartment and this experience was even better than the one I had 5 years ago. The in-store staff were professional, courteous, prompt and timely with communication - and the order came in earlier than expected. The gentleman who came to measure was on-time, courteous and efficient - and came back to install the blinds when they came in. 5-STAR service, recommend Janovic SOHO 100%
5 months ago Nellisa Mayweather
I was very impressed by the quality and variety of products the store carries. Always on the lookout for art and decorating supplies and the SOHO store is a jackpot. Also the customer service I received was outstanding. Thanks, I'll be back.
7 months ago Rahul Srivastava
We have a really tall window wall in our living room, and after ten years plus, our old Hunter Douglas shades simply wore out. We liked the old shades and wanted pretty much the same thing to replace them. So we strolled into Janovic Soho one morning and, after a half hour or so with Kathryn Anderson, we were all set. A nice man came over to our place in a few days and measured; the blinds were delivered here a couple of weeks later; the man who had measured and his assistant were back about a week after the delivery and installed everything in less than an hour. Very professional. No muss, no fuss. Much appreciated.
2 months ago Jaime Meyer
I bought blinds from Janovic and Kathryn Anderson was my salesperson. She was helpful and responsive throughout the process. Max measured and installed the blinds and was on time and professional. Pleasant experience all around.
4 months ago Ludwig Doyen
I walked in last night to grab a paint swatch and ended up talking with Caroline — and walking out with a bag full of paint chips and a whole new direction for how I plan to paint my new apartment. Caroline was welcoming, very knowledgeable, and listened to what I wanted and the constraints of the space while pushing me to consider options just outside my initial comfort zone. She has a great sense of style and taste; I'd highly recommend going to work with her.
1 month ago Anne Daultrey
This is my third time I have brought my interior design class to this location all because of Caroline Racond. Her presentation on what Janovic offers in paint options makes you want to buy one of everything. Not only is she a color consultant, her background in interior design makes her a one stop information specialist on the principles of design. When she starts talking about paint and what the store offers in options she lights up and just wants to share her knowledge. Her enthusiasm about color is contagious !
2 months ago patrick wilson
Great location!! Everyone is willing to help with a big smile!! Very knowledgeable in everything that is needed. Fantastic experience!!
2 months ago afifa babul
Roger is the best paint person in New York City. I bought a gallon of blue paint that I used. When I went to get a quart for touchups, I went to two different paint stores, including another Janovic, (only bc of proximity) and both stores gave me paint that didn't match and was filled with bubbles inside the can. Everyone else has been baffled by the bubbles and non color matching. I came to Janovic on Thompson to see Roger and he knew instantly what was going on. He fixed the problem immediately. I can now finish my huge mural in peace and confidence. I can't even believe what I experienced. Someone please give this man recognition and a raise. If you are a New Yorker with any paint issues at all, please save time and go directly to Roger. He has an amazing sense of humor, looks out for customers and is extremely professional and knowledgeable. Also, everyone else at the store is awesome. I've been coming here for four years and they never disappoint. Thank you!!!!
2 months ago Danielle Owens
Another satisfied and enthusiastic customer: have gone to CAROLINE RACOND for color consulting for three projects. Caroline is an absolutely godsend / goddess sent with her great energy, intuitive sense and collaborative spirit, she makes the very challenging task of making color choices a joy. She is an absolutely gem and treasure . . . Joaquin
5 months ago Sruthi Kumaran
Amazing service by a very knowledgeable friendly staff. Lucky to have them in the neighborhood all these years.
4 months ago
Popular places from the category Paint store