Janovic Paint & Decorating Center
Paint store Janovic Paint & Decorating Center, 292 3rd Ave, New York, NY 10010, United States:
104 reviews
of users and employees, detailed information about the address, opening hours, location on the map, attendance, photos, menus, phone number and a huge amount of other detailed and useful information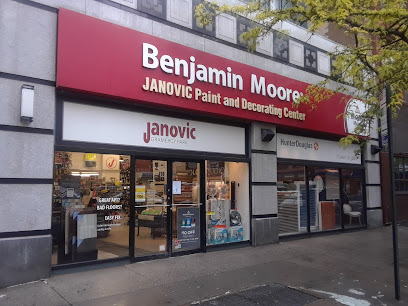 Address:
292 3rd Ave, New York, NY 10010, United States
GPS coordinates
Latitude:
40.7386776
Longitude:
-73.9836664
Location on the map
Reviews Troy Robertson
I haven't experienced a more enjoyable shopping or customer service experience in NYC in a very long time. The quality of knowledge and expertise was truly unmatched! Absolutely all my questions were answered and I'm more than happy with my purchase. My experience is why I prefer smaller stores because the staff takes it's time to ensure that their customers are happy. During the time spent in the store several past customers stopped in just to say Hi. I definitely will be back for all my future painting projects. Marnie, the assistant manager is particularly stellar. She loves what she does and it shows.
2 months ago Gales Ferry
Front operator very helpful
1 month ago Tipu Sultan
Marni the store manager is wonderful. I've been working with her on projects for years. She always gives good advice, recommends the right product and makes the process seamless. She is smart, efficient, helpful and always professional.
9 months ago latoria Long
I've been redoing my apartment, room by room during covid.Janovic has the best staff. Super friendly, very helpful and have informative suggestions that I would never have thought of. thanks Marnie (mgr) for all your help.
10 months ago Hunter Schmitt
Looking for an interior designer? A free one? Look no further than Marnie at your local Janovic Paint & Decorating Center on Third Ave. -- paint expert, self-proclaimed wallpaper geek and generally "good neighbor." I showed her a couch swatch and she knew off the top of her head that Room & Board marketed that fabric with Benjamin Moore's Silver Satin. Still, I grabbed no less than 30 paint strips of every gray and "greige" imaginable. I was certain that Shoreline was the one. I brought the samples to the apartment and what actually looked best? Silver Satin. By then, I realized Marnie was the expert. She could name a more appropriate paint color in 10 seconds than I could find through 30 paint strips. Need I say more? I went back to the store to work on bedroom paint colors. This time I knew to take Marnie's word for it. I showed her a photo of a painted wall for which I was seeking a complimentary color. She recognized right away that it was Benjamin Moore's Stunning and immediately recommended Paper White to coordinate. When I looked up Stunning on Benjamin Moore's website, their first suggest for a coordinating palette? Paper White. She asked me what I was painting the ceilings. Ceiling White, of course, I responded. "No! Chantilly Lace!" she interjected. I googled ceiling paint color later -- first hit? Chantilly Lace. Why? No undertones. I flashed back to our discussions of grays and greiges, when she'd rattle off that one has a magenta undertone, that one has green. What does she not know? I also made a trip looking for wallpaper. There were so many catalogs to choose from, I could've spent the entire day there. A self-proclaimed wallpaper geek, Marnie gave me advice and coordinated with a wallpaper expert who selected additional options. I was between a few colors in one book and she let me borrow it! Plus, she let me cut out a little strip so I could coordinate other decor. Wow. Probably the craziest part is that Marnie knew I wouldn't be buying at her store (my contractor has a discount with his supplier for Benjamin Moore paint). I was literally bringing her no business and this is the kind of assistance I received. She simply replied that she was "just being a good neighbor." -Lauren, 21st St & 3rd Ave
9 months ago Sally Siegel
Dear Janovic, My letter to you is of genuine gratefulness… Because of the AMAZING CUSTOMER SERVICE that I received from your manager Marnie!!! On 9/23/2020 I came to your third Avenue store in Gramercy with a friend of mine who help me select paint colors for my new apartment. Once he picked all the colors and we agreed & went over to the desk where Marnie was sitting. she graciously asked how could you be of help and my friend gave her all the information necessary to place my order, for me a Large purchase indeed! My friend left & I had the experience to talk and work with the most amazing, intelligent, kind, knowledgeable and understanding customer order Specialist/Manager. We talked and I have to say she is someone who truly can Exceed One's Expectations!!! She is a TRUE GEM!!! At this time might I add the kindness & help From Ram & Carlos as well WHAT A GREAT TEAM! Being Disabled, Mobility Impaired, Marnie went as far as to insist she help me out to Hail a cab or walk me to the bus stop...INCREDIBLE PERSON & SERVICE.The reason I had just told her how dangerous it is with all the homeless out there and reckless individuals who prey on the elderly and disabled later in the day and it was already after 2 pm, I normally I'm in the house by 1 pm. I told her I would be fine the bus was just on the corner and couldn't thank her enough for her help and kindness. She and her team truly represent the best customer service and caring for a customer that I've ever experienced, they should be training people in your stores on how to care for customers needs that's the truth. Thank you Marnie & your team. Sincerely yours, Maria Perez
3 months ago Christine H
Great paint store! Ask for Marnie, she really knows her stuff, makes the right suggestions for type of paint, finish, and durability, and has a great positive attitude, too! They've helped me many times over the years and are always reliable. If you're in the neighborhood, they'll even send someone to help you with delivery if you can't carry it all. Great store, I recommend them 100%!
5 months ago Dan Sweeney
The stuff that's working there are very ignorant for the simple fact that nine times out of 10 they don't know what the heck they talking about and you won't have a friendly experience because they're not friendly at all that's my experience
7 months ago Shanie West
The Gramercy Team provided great service and advice!
9 months ago Hebberly Ahatlan
Went into the store as I am was looking for paint colors for 6 rooms. Spent 4 hours coming up with ~21 colors. Was able to find all paint chips at Janovic after going to another BM supplier. If you are looking for Benjamin Moore (I did not want to search for other brands) --> this is THE place to go. I had trouble finding two and after talking to Marnie all I had to give her was the code (HC-169 and HC-170) and she was able to tell me what the names were. She is like a paint genius. She was very pleasant and very friendly to work with and I will be coming here from now on for all of my paint needs.
1 month ago Tracy Atchison
Great store! Sales people are very helpful! Marnie, The manager is wonderful ! She has helped me figure out colors for my up coming paint job!
4 months ago Shawn Hill
The best paint store in town! Thanks Gramercy Janovic
3 months ago Tanya Mastro
If you need paint - and most importantly the best paint, brushes and other tools for your project - this is the store to go to. Marnie and her staff at this 3rd Avenue and 23rd Street location bend over backwards to give advice and assistance in helping you choose what is best for your needs. Need to exactly match the color and shade that is already on your walls? No problem - just bring in a sample of the color and their computers will exactly match the shade you already have. By the way, they have many different and excellent kinds of Benjamin Moore paint, but I recommend Benjamin Moore Aura paint. It is a little more expensive, but it will hide your old paint well and it will outlast other paints by years. Highly recommend this store!
9 months ago Sherry pudelek
So when you first walk into the store you are always greeted with a smile and a how can i help you today. The team all work together it was very good to see that unity. Everyone was very helpful and friendly, if what you was looking for was not available at the time, they give you the option to order it. They made look at all the paint colors easy. The manager is very knowledgeable about the product that they selling. I would highly recommend this store.
10 months ago Megan Wixon
Shawn, Angee, and Marnie were OUTSTANDING and so generous with all of their help. I was working on a mural project, and Shawn went out of his way to perfectly match the ground color we needed (after mixing about a dozen options for testing). He even came to the site to see the wall in person, to understand the issue we were having. SELFLESS PEOPLE, GRADE A SERVICE, THANK YOU TO THIS TEAM!!!!!!
10 months ago Matt Lajoie
Very helpful staff. Great service! Marni helped me beyond my expectations into choosing the best paint for my home, great advices and overall such a pleasant experience. I always choose this store, despite the distance from my home, for its impeccable service.
9 months ago James Bentley
Extremely helpful Janovics was amazing in helping me select paint colors for my new apartment. Their decorating services were complimentary and better than interior designers I have worked with. They recommended painter Antonio who has been professional and meticulous! 5 stars!
9 months ago Kari
The team here at this store is excellent. Super attentive and caring. If there was a 10 star selection I would of choose that. Thank you guys for running such a tight ship and keep up the great work.
8 months ago Diyaa Nawaiseh
Marnie, is the person to see! She's gained my confidence in her abilities with color selections. It can be so overwhelming trying to get the right color but Marnie definitely has the eye and the right attitude when it came to my project. I Highly recommend her to help with your next paint project.
10 months ago Brian McNeal
As a contractor of 5 years, I can confidently say that this Janovic Is by far the best store of them all in terms of stock and customer service. When I walk though the doors, I'm treated both as a loyal client and friend. No question goes unanswered, and everything I need regarding paint is within arms reach. I'd like to thank Marnie, Sean, Ram, Kat, Fabian, Thomas and Ali for their hard work and dedication to not only myself, but everyone that walks through the door. I've been loyal to this store for years, and I'll continue to do so every day moving forward.
8 months ago E Fiedler
Came all the way from Brooklyn and was clueless about buying paint etc. to revamp my apartment. I must say the team here is excellent and now I am confident that my apartment will get the best facelift. Everyone here is knowledgeable about the products and services. I have returned twice already and I must say it's worth the travel because I am very satisfied with the services I received.
10 months ago Chuck Reda
Amazing customer service.
1 month ago Eddie Belaval
FAST SERVICE, pleasant staff
1 month ago Dalia Santiago
I came @ 7:01PM (AFTER CLOSING), Marnie & Thomas didn't hesitate to say what can we do. They took my paint sample, made 6 Gallons & had me out by 7:11PM. Not only fast service, but dedicated customer service. I owe them lunch for saving my job!
9 months ago irinaki Lutraki
Very good
8 months ago Michael Hoffman
I love this store! Not only because it carries a full line & variety of paints & window treatments, but much more than that, it's because of the people who work there. And #1 staff is Marnie, the Assistant Manager, who is unfailingly patient, kindhearted and knowledgeable. Gave me her time & expertise in selecting paints & colors. I felt like I was in a small town store not a busy NYC one. Go here. Ask for Marnie. She's a marvel!
9 months ago Jocelyn Villa
I have been 20 years with Janovic and this location here in Gramercy is the best store. It has the best staff. They are always helpful and informative.
8 months ago Richard Eisenmenger
Marnie she is good at what she does and she always take out time to understand what we want, always making our dealings easy. Just give her your list and she delivers on time...... we at wework love her
8 months ago Johnny Cakes
This store is the best whether you're a do it yourself-er or a pro. They have everything you need and know everything you need to know regarding painting and renovation. Don't miss it!
9 months ago Nacora Brown
Marnie and Ram ! Are the most kindest and knowledgeable . They have guide me with a hard process of choosing paint. Thank you Janovic
7 months ago Robert E
My first visit to Janovic 3rd avenue location, I was greeted by a sales woman Marnie, who has the patience of Saint. There were so many shades to choose from It was overwhelming, and she narrowed it down to a basic combination of colors that worked out well. Many compliments are given when friends and family come to visit my home, on the color scheme that was selected. What I liked most is the variety of window shades offered. I will return Marnie to get more tips for decorating my kitchen you really have a gift of coordinating colors Thank you!
11 months ago Mark Schumann
Very nice and helpful staff! Talked me through inspection anxiety. Courteous and knowledgeable.
8 months ago Sam Frasier
I had a fantastic experience at this store. I worked with Shawn, Marnie, and Thomas. They were all extremely helpful, patient, and full of information. They gave me their opinion on my color choices and helped me put the cans of paint into my car. One of them even gave me a warm cookie as I was leaving last time :). They were absolutely lovely and excellent at their jobs. I want to come up with new projects that require paint just so I can work with them again!
7 months ago Zach Gregory
From start to finish - the experience with Angee at Janovic was top drawer. She was incredibly knowledgeable of the product and helped me select the perfect Hunter Douglas blinds for my apt. She innately knew how to direct me to the color, tape and valance I wanted as I tried to explain what I was looking for in my new blinds. I'm so happy with the product and also grateful to Jesus who helped from the beginning with window measurements to final installation. He went above and beyond to ensure everything was set and seamless. I highly recommend Janovic Gramercy Park at 292 3rd Ave. as a great resource for your home decorating, paint and window treatment needs. Thank you Angee & Jesus. Great team, good souls and true professionals. -M. Dare
9 months ago Robert Martin
All of the staff was very helpful in selecting my colors for my apt . I would definitely recommend this location .happy customer :)
9 months ago Charles Boerngen
Highly recommend this Paint store!!! Shawn and Marnie have been extremely helpful with suggestions, knowledge and patience. Five star service all the way!!!!
8 months ago Joe Moore
Awesome Team! Experienced , Helpful and polite . has been one of the best !Thank you
9 months ago Miriam Bichara
Always helpful and personable. I have been going to Janovic since it opened especially Marnie and Shawn have been so wonderful.
9 months ago Andrea Stevenson
Very great people and amazing customer service. Everyone is so friendly and helped me right away. Thank you to Jose who helped me today. He was great!
1 month ago Julian Islas
Excellent customer service at this location. Shawn and the entire staff always offer professional and helpful suggestions and service. Always with a smile. My choice of stores hands down. Thank you!
3 months ago Eric Kelley
I was unsure of what color I wanted for my bedroom when I walked into the Janovic on 3rd Ave. Upon entering the store I was greeted by Marnie who was very patient with me. She and another employee, Shawn gave me a crash course in the anatomy of a color. They helped me narrow down two shades of pink that perfectly matched my decor. So when you visit this store make sure to bring swatches of your floor, furniture and any other feature that stands out in your room. After months of contemplating a wall color, I left the store feeling confident my bedroom had finally come together as I pictured in my head. Thanks Marnie and Shawn. ❤️ you guys.
11 months ago Ghael Mendez
The Best Paint store in Manhattan!! Always greeted with a smile, very Helpful been a Customer for 20 years! The Best!
9 months ago yif Fish
Highly recommend stopping by for the professional help on paint and your home needs. Awesome crew and professional advise on DIY job.
9 months ago Matthew Vandervort
Excellent customer service. As a customer of 26 years I thank janovic for having a wonderful staff that provides everything that I need.
1 month ago Isabelle Mustaro
Marnie is God sent! I originally stopped by to grab some swatches and see which colors work best for my new place. I mistakenly went to another location that also sells BM paint and was hoodwinked into the lowest grade possible - but that was all that they sold so it was whatever. I went back to them to ask for a solution and not only did I leave with paint (in the right finish) I also left with some tips from a few of the employees there. You live and learn but they made this experience very easy for me. Much appreciated Janovic and I will be buying the rest of my paint there. Oh, I think they ship/send paint. So go the day before and for a reasonable fee (i forgot but dont rem it being so expensive) you'll get the paint to you next day.
1 month ago Yesha shah
Amazing customer service!!! Can always count on them to help with my paint needs!! They are the best!!
7 months ago Anita Caine
Great staff. Very helpfull and friendly. Love them. Recommend to every home owner n contractors.
9 months ago Garry Bird
Grate customer service. Very welcoming atmosphere. Amazon team and crew members. Shawn and marine was amazing. The knew exactly what I needed extreamly friendly. I highly recommend this store!!
7 months ago Daricka Wilkins
For the past 2 months I've taken on a small interior decorating project to spruce up my apartment. And I'm proud to say that my dad ????‍????‍???? taught me well when it comes to being handy ???? around the house. But I don't think I could have done it right without Janovic. The saleslady Marnie helped me decide on a spectacular color scheme that I wouldn't have ever thought about. So now my dull little 1 bedroom apartment has a sophisticated "swag" to it. At least that's what my cousin Ashley says. Now my cousin wants me to do her living room, and that is so not happening ???? ????????. So kudos ???????? to Janovic for saving me time ⌚ and money ???? And I ❤ U Daddy.
10 months ago Tonya Bogan
Amazing customer service. Not to mention the staff! Awesome ????????????????
9 months ago
Popular places from the category Paint store