New York Soundproofing
Acoustical consultant New York Soundproofing, :
53 reviews
of users and employees, detailed information about the address, opening hours, location on the map, attendance, photos, menus, phone number and a huge amount of other detailed and useful information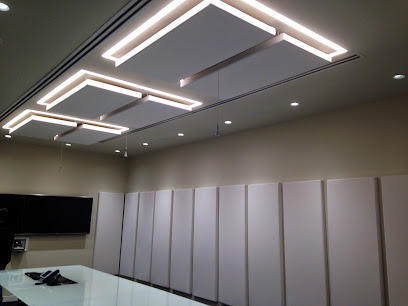 Website:
newyorksoundproofing.com
GPS coordinates
Latitude:
40.6077146
Longitude:
-73.9614224
Location on the map
Reviews Terry Keith
I'm a professional musician living in a NYC co-op apartment which I own. I have neighbors above, below and to the sides. I had been getting complaints about my practicing from the downstairs neighbor, so I decided it was about time to make an in home studio out of what used to be a second bedroom/office. Liron and New York Soundproofing were very responsive from the beginning. Ariel came to look at the space and gave me a free quote with different options. The quote was fair and reasonable. All the follow up was responded to quickly. I wanted to see samples of certain fabrics and they sent them fed ex no charge. The installation was quick, clean and easy. The installation team, Ilia and George, were friendly, professional, and did an excellent job. I'm happy with my new rehearsal studio! Thank you NY Soundproofing!
7 months ago Sruthi Sunil
I deal with lots of vendors. From the moment I requested information they were quick to respond and were here right away to take measurements of the space, show me samples, and make their recommendations. The turnaround for the panels was so quick and the installation went smoothly. They look great and the staff noticed right away the lack of echo and overall sound improvement in the space. I would definitely use them again.
2 weeks ago sherman w
New York Soundproofing did a fantastic job reducing and containing the sound of my grand piano. Liron and his team were communicative, professional, and very detail-oriented. They have a great sense of what is needed for your specific sound-reducing needs. The project took about 3 weeks from start to finish and has transformed my practice area. And as a bonus the room is not only very functional, but looks amazing.
10 months ago Senthil Natarajan
On time, professional, detailed and methodical - great people to work with. Highly recommended!
7 months ago Ashwini Kaneria
Liron and Gabriel were always patient and accommodating throughout the process. They built a soundproof common wall in our attached house and the result is a dramatic reduction in noise coming from our neighbors. Now we have peace and quiet. Worth every penny.
11 months ago Conrad Jantzen
Everything was efficient and professional from the initial consultation to the installment. We highly recommend NY Soundproofing!
3 months ago Tina Euton
Absolutley a pleasure to work with and also great pricing. Estimator was very knowledgeable and courtious. Installers were VERY polite, neat, and did an amazing job !
7 months ago GekkeSerp
They did excellent work in our office space. We are a small recording studio setup with a unique layout and they were so helpful with our soundproofing needs. Very efficient and timely! I would recommend them to anyone!
2 weeks ago Dustin Colley
A+ team who completes beautiful work! We are so happy with this company and the final product. Highly recommended!
10 months ago Jeffrey Sieler
We've hired NY Soundproofing twice now because the first job they did for us was so great. The second one was equally as great. We did a lot of price checking with other companies and NYSP is by far the most economical, they are so friendly, efficient and they get the job done. Both installations took about 2-3 hours with a small crew, they know exactly what to do and the results are great. We had issues in our conference room with video and phone conference calls but after the soundproofing was installed it was perfect! Highly recommend.
6 months ago Rachelle Clark
I've had a fantastic experience with New York Soundproofing! In the past, the acoustics in my studio had been very "live" and I wanted to improve it. New York Soundproofing installed some panels and now my studio sounds amazing! The communication with their staff was quick, easy, and they were always super friendly. I highly recommend New York Soundproofing as they get the job done quickly, efficiently, and at the highest standards!
6 months ago water bed
Very satisfied with the work, quality and pricing. Team was so professional and quick with the installation. The process was quick and easy. We were getting ridiculously high bids from people, but this place was very fairly priced. We are very happy we went with them.
9 months ago Dawid Kluszczynski
I would definitely recommend New York Soundproofing to anyone who asks. The team was great to work with. They were fast, efficient and very professional.
10 months ago Carolton Tippitt
Every single member of the team here was excellent! The communication was quick and easy, and their work was incredible as well. I could not recommend them more highly.
6 months ago NAZMUL ANU
NY Soundproofing did acoustic treatments for our large office space. They were incredibly easy and flexible to schedule installation, and their crew was so kind and got the job done quick and easy. Would 100% recommend them for any of your soundproofing/ acoustic needs.
10 months ago Scarlett Smith
New York Soundproofing are amazing at what they do! We needed acoustic panels in our office because none of our partition walls were built up to the ceiling and so any slight sound had intense reverb. They were very professional and meticulous with all the details of each acoustic panel that needed to be installed. While working in the office, they were quiet, respectful, fast, clean, and most important the acoustic panels work like magic!!!
9 months ago Christina Chaffin
Excellent service, work quality and professionalism! Absolutely recommend!
8 months ago Brian Makowski
Dealing with New York Soundproofing was a great experience from the very beginning. Liron, Ariel, Max & the rest of team were super nice and easy to work with! They were able to help us with soundproofing panels that decreased the echoing & sound leakage in all 6 of our conference rooms. Installation of panels gone almost seamless for our team in the office. We all are very happy with the results of their work
2 months ago Kendrick Earvin
Great product. Liron came out to meet us and was very helpful from begin to end. Highly recommended!
9 months ago Barbara Anderson
NYC Soundproofing did an incredible job installing panels in multiple rooms in our Manhattan office. The panels have made a huge difference in our meetings and phone calls and we can't imagine working without them. The installation team was also very kind and courteous, especially with making sure the noise level was not too disturbing. I highly recommend them to anyone with soundproofing needs.
11 months ago Bruce Maclean
NY Soundproofing were professional and very knowledgeable. I was very impressed from the get go. Although they were a little more expensive than other companies I looked into, I was not happy with the material, professionalism, or the presentation of other companies. Other companies took a rather 'whatever you want' attitude, but NY Soundproofing instead provided the best recommendations for our office based on their knowledge of acoustics and what we were trying to accomplish. The quality of the material NY soundproofing used, their attention to detail, and the quick and clean installation they did was well worth and deserved the extra money. I highly recommend them. Thanks for everything!!
6 months ago Kiran manickam
wonderful team. I really enjoyed using NY soundproofing for my office. We needed to soundproof the conference rooms and Liron and Ariel were transparent throughout the whole process. I was even able to add or subtract certain parts of the quote I didn't want. Would definitely recommend!
6 months ago Sarmad Siddiqui
New York soundproofing is very friendly, efficient, and effective! Installation was quick and easy. They really do make a difference. It is insane how much quieter my conference room (almost completely made from glass) is with the help of New York Soundproofing.
11 months ago Donna Leonard
We had echo reduction work performed in our condo which had formally been a factory. High, cement ceilings. The team was very professional and responsive. The work reduced the problem better than I expected and it looks great. I would highly recommend this team.
2 months ago DJ CONNECT
Very friendly staff, and loved that we got a consultation for free. The process was quick and simple - and so was the installation. I would definitely recommend. We are very happy with our acoustic panels! Thanks !
3 months ago Lindsay Joslin
Very great to work with. We worked on echo reduction in our show room and they were incredibly accommodating and helpful. The installation looks great. We are very satisfied with the customer service and attention they all gave to our needs.
6 months ago Medana TheTeddyBear
The work is high quality and affordable. The install crew was extremely professional and accommodating. They also did a great job cleaning up after themselves.
10 months ago NELSON MENDEZ
This company has installed sound proofing in several spaces in our offices. Their solutions are always brilliantly customized by the knowledgeable and great-to-work-with staff. We have found the cost to be consistently reasonable, and the work to be exceptional.
10 months ago Jim Kennedy
great service! the acoustic panels look great and get the job done. our conference room is so much better, we can actually hear each other, and do video calls without too much echo interference thank you!
1 month ago Jim Bob
Great product, very professional, wonderful people. They improved the quality of our work environment ten fold. We highly recommend.
11 months ago Brandon Frakes
Excellent service and product. Night and day in the difference. The process is pretty simple, they come in, look at the place for an estimate and measurements, Then you get a proposal and you decide what you want. They come in and do the job. How long it takes depends on how big the room is, but our conference room took 2 days. Highly recommend.
1 month ago Karen M
Great job! We're ecstatic about the difference it's made in our office.
11 months ago Sharjeel Arshad
Our office hired NY Soundproofing to help with noise reduction and leakage in several conference rooms. Liron and his team were very professional and delight to work with. Thanks to New York Soundproofing, we no longer have clients complaining of echoes during conference calls!
4 months ago kylania
New York SoundProofing did an amazing job soundproofing my new apartment/office (I'm a speech therapist), which i was at first hesitant in purchasing since it is located across the street from an express subway line, with unbearable sound pollution presence, to say the least. Working with New York Soundproofing was not only a quick and hassle free professional experience, but it became an investment for one of my life's biggest purchases. The quote received was detailed and to the point, and the work was done quickly and perfectly! Will definitely be using this service again
6 months ago Steven Spurgeon
Very happy with work New York Soundproofing did for us. Our glass walled meeting rooms sound so much better now, there is no echo or reverberation in the room when on video and telephone conference calls. Our staff are extremely happy.
1 month ago Adam Stith
Liron did an incredible job with our echo reduction. Before his work our classroom was virtually unusable. Now it sounds perfect, and looks great too. He was quick, effective, fairly priced and overall a pleasure to work with.
6 months ago Luis Sanchez
We have a glass conference room with concrete floors and ceilings that had an echo, which made it very difficult for people to hear us on conference calls. Liron gave us a recommendation that was reasonable and very unobtrusive. The results have been great. The echo is almost completely gone. We notice a huge difference on conference calls. Meetings in the room are much better too.
1 month ago Kim Naomi
We have a small office in Manhattan that was desperately in need of acoustic treatment. On conference calls, people were barely able to make out what we were saying and we were scrambling for different ways to improve the sound. We finally found the solution, New York Soundproofing. Both their sales and install team were very professional and easy to work with. They measured once, fabricated once, installed once. We also ordered a custom panel that came out perfect on the first try. The difference in our call quality is night and day. Thanks New York Soundproofing.
9 months ago Edward Simmons
Working with New York Soundproofing was a smooth, professional experience. Liron and his crew did an incredible job with our echo reduction. A+ service
11 months ago Evgeniia Lav
I have a personal home music studio and needed to reduce the echo in my apartment. So I called up the New York Soundproofing team for their acoustic treatment services. They quickly scheduled an appointment, took measurements and installed the panels perfectly. I am very happy with the results and can now listen to my music with reduced echo which in turn makes better audio mixes. Definitely recommend their services and will use these guys in the future :) A++++++
9 months ago Kylene Pastorius
Professional workers who worked quickly and flexibly to produce extraordinary results. I highly recommend New York Soundproofing. New York Soundproofing was a pleasure to work with. The contractors were professional and worked to fit the absurd working hours set by the building. We had panels installed in 6 of our conference rooms and 1 large office area. Everything was completed by the end of Day 3. The final results exceeded my expectations; my colleagues and I could not be happier!
6 months ago AMANDA MUSGROVE
Our business recently moved from Chelsea to Hell's Kitchen and our new space was much more industrial then our last. In order to control the normal levels of conversation and echo of the very hard surfaced office space we reached out to New York Soundproofing to provide us with some solutions. That they did, with they're skilled team of installers, the panels look great and we couldn't be happier. Thanks!
4 months ago Michael Inouye
Could not be happier. The quote was quick, the installation was on time, and the results were as promised.
9 months ago Brandon House
It was great working with Liron and the whole team. Super attention to detail and impeccable work!
1 month ago Rebecca Milford
Working with New York Soundproofing was a smooth, professional experience. From initial quote to final installation, Liron and his crew were in full communication, answered all of our questions, and were a pleasure to work with. We installed soundproofing panels throughout our new offices including two small conference rooms, a very large conference room, and four phone booths - the difference is phenomenal and it looks great too! We would absolutely recommend New York Soundproofing! A+
1 month ago Kevin Anderson
We had a severe acoustical issue in a new restaurant we opened so we reached out to NY Soundproofing. They came to the site, took measurements and proposed a solution that did not break the bank. Most importantly, they delivered and installed that solution in a timely manner, showing up at 7am as promised so we did not have any down time. The quality and appearance of the solution even made the room look better, not just sound better. I would not have to think twice about calling them for another project, and I am sure I will.
2 weeks ago Mary Ross
Working with New York Soundproofing was an easy, satisfying experience. The entire team was professional, efficient, friendly, and they took great care with cleanliness and our existing aesthetic. Liron has excellent communication via email, phone, and in-person, always with an emphasis of making sure we were 100% satisfied with the work. New York Soundproofing reduced noise and echo in our office dining area, and my colleagues immediately noted the positive and substantial difference. If we need additional work done in our office, Liron, Ariel, Dylan, Max, and Eddie will be the first crew we contact.
6 months ago Ricardo L
Liron and his crew's professional work on the installation of acoustic ceiling panels resulted in a significant reduction in echo in our two conference rooms. We are very satisfied with the project, and highly recommend New York Soundproofing for echo reduction needs.
2 months ago mario gracas
Superb Service/ Outstanding Product
2 months ago Lisa Cash
Excellent sound Excellent service Great experience
11 months ago
Popular places from the category Acoustical consultant