Car battery store Tri-State Battery Supply
Car battery store Tri-State Battery Supply, 3141 N Market St, Shreveport, LA 71107, United States:
46 reviews
of users and employees, detailed information about the address, opening hours, location on the map, attendance, photos, menus, phone number and a huge amount of other detailed and useful information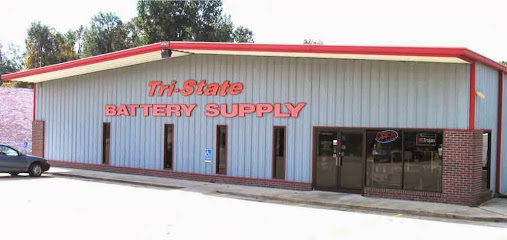 Address:
3141 N Market St, Shreveport, LA 71107, United States
Website:
toughbatteries.com
GPS coordinates
Latitude:
32.5611350
Longitude:
-93.7857654
Location on the map
Reviews Tim Streker
I love supporting Tri-state battery because they are so helpful and courteous!
6 months ago Victor Zelocualtecatl
Been using Tri-State Battery and Supply for 10 years. Great batteries at a fraction of what others charge. Always friendly, efficient service. I have a twenty vehicle fleet. Always a fair shake at Tri-State Battery! Highly recommend.
9 months ago Cicely Washington
Best place to shop for all of your batterie needs.......
6 months ago Christine Swinford
Good place to get rid of old batteries just lying around your property !
9 months ago Mirian Quintanilla
Get a good battery for whatever you need without breaking the bank, especially automobile batteries.
3 weeks ago Jessica Luftig
They will sell you a battery that was on the bottom of the pallet and has 20 others on top of it and has a cracked post then tell you it's your fault and not replace it at all. Never go here if you want good service.
8 months ago Paper Modelling
Quality batteries and a good price. Always get good and courteous service.
8 months ago Sean Dragon
Good batteries and great service
7 months ago Julia Soto
Best golf cart batteries ever !!
7 months ago Donna Sirounian
I really appreciate the service at tri-state battery. Very friendly and courteous. I would very much recommend them. Also, they installed my battery. I really appreciate that.
8 months ago Mark Garman
Have been buying batteries from them for years. Always have good experience and excellent service, prices reasonable. In and out fast. Would recommend!
8 months ago Mo Handooz
Great service and great price! Changed out two batteries, while we waited, went through a detailed troubleshooting of the check engine light that was on. I always have great customer service here. Thanks again!
10 months ago Otavio Fonseca
Affordable, if you find yourself on north market needing a battery.
2 months ago Zakaria Salem
Great folks very helpful.
6 days ago Phil Muzikant
Fast, and great savings
8 months ago Lee Kafka
Friendly staff, great service, and excellent and fair prices! I will definitely be back!
7 months ago Israel Archila
Good place to shop for batteries
2 weeks ago Ana Gelezeau
While searching the internet for the best price on a CTEK model 3300 battery charger, I found a great "close out" price at Tri-State Battery Supply's website. Even with shipping it was a great price. Their add said it would include some additional accessories AT NO CHARGE. Well, I was on it like ugly on ape. Unfortunately, when the charger was delivered, it did not include any accessories. I called the store to find out why and was politely told there were none. No big deal since I was psyched about the price. About a week later I got an email from LaNita with an apology and letting me know they do have some accessories for me and will send them to me. I called the store and spoke with Hanna. She gave me the USPS tracking number and told me she personally packed and shipped "a big ol' box" of accessories to me today. Even though I live in Pittsburgh, I will definitely use Tri-State Battery Supply for my future battery needs... especially since they're located in the hometown of the all-time best quarterback for the Pittsburgh Steelers, Terry Bradshaw.
7 months ago Krystal Ducharme
I purchased a battery from Tri State Battery 3 months ago. I have been batteries from them for the last 20 years. This battery would not hold a charge. So I purchased a new battery charger. Turns out it was the battery. No problem I would simply exchange the battery. Turns out they do not exchange the battery. They wanted me to leave the battery for a couple of days while they charged it on their super duty charger. In essence they do not stand behind their batteries. I WILL NEVER PURCHASE ANOTHER BATTERY FROM THEM AGAIN. I do not purchase anything from stores that do not warranty their products. All that would have happened if they were able to get it to charge is it would have died again. That battery just ruined my trip to Lake Fork. DO NOT BUY FROM THESE PEOPLE. THEY DO NOT STAND BEHIND THEIR PRODUCTS....!!!!!!
11 months ago trent seitz
Great place. Fair prices. Fast service
6 months ago Yee Richard
Amazing prices and great products. The service was very quick and speedy, employees are super friendly, and if you need a battery come here, not Walmart.
8 months ago Brian Lenyard
Excellent service and prices would highly recommend this place
2 months ago zoran g
Nice people.
4 months ago Roque Alvarado
Great prices. Good supply on hand.
8 months ago tanner pounders
Great service and prices
8 months ago Brandy L
Excellent service! No other compatition can compare to Tri - State Battery Suppy
8 months ago David Long
P/U scrap batteries w '53 dry van. Quick to load me & very friendly staff. Down side had to back into dock from busy street. Doughnut shop next door has killer hot made treats.
2 months ago randomanonymous smith
Excellent service! Quality products. I had some 2/0 battery cables custom made, and this place did a perfect job. Friendly folks, and very knowledgable of their products.
1 week ago bruno fierro
Good prices with decent service. They have batteries galore, test batteries, but and sell or replace and offer warranties on most items.
3 months ago Nili Simhai
Always have battery I need at reasonable prices!
9 months ago Broderick Fausto
QUICK SERVICE. GREAT PRICES
2 months ago Damien Earl
Good place to bring your junk core battery and buy a new one.
9 months ago ABDURRAHMAN NAFA
Great staff, good solid batteries for reasonable prices. They know their stuff and very friendly customer service.
9 months ago Evette Dennie
employees were very polite very professional very quick service
1 week ago Michelle Blanchette
Friendly, helpful staff.
6 months ago Adonis Gomez
Great Service
7 months ago Kevin Slate
Good money
8 months ago Dina Kissau
Good
6 months ago Sherry Lindsey
Easy to work with
8 months ago Angela Shoemaker
Great Service!!!!
10 months ago Daisie Cardona
Nice people
3 months ago Jose Lebron
Batteries are not any good
11 months ago Jay Joseph
Great knowledgeable people.
6 months ago gemini dragon
Friendly & fast service
11 months ago Rachel Devitt
Cheap batteries and the guy put it on in no time
9 months ago Tony Barker
Get my UPS replacement batteries here and if I need car batteries this is where I go.
6 months ago
Popular places from the category Car battery store