Flooring store Flooring America Champaign
Flooring store Flooring America Champaign, 920 W Town Center Blvd, Champaign, IL 61822, United States:
38 reviews
of users and employees, detailed information about the address, opening hours, location on the map, attendance, photos, menus, phone number and a huge amount of other detailed and useful information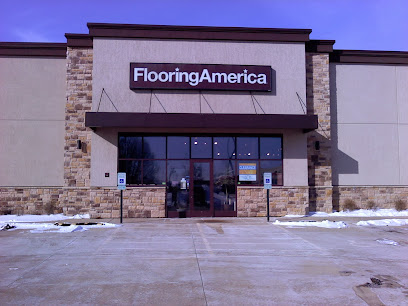 Address:
920 W Town Center Blvd, Champaign, IL 61822, United States
Website:
flooringamericachampaign.com
GPS coordinates
Latitude:
40.1428582
Longitude:
-88.2604301
Location on the map
Reviews Страница Удалена
Wow! This store is awesome! The costumer service was the best ever!!! I bought carpet and pad for two bedrooms, and worked with Brain and told him I need it ASAP. He had the job down the next day! Wow, I was amazed! Looks amazing! Thank you flooring America! They don't only sell floors but Cabinets too! I will be back for my cabinets later. I strongly recommend this store to others!
1 month ago Сергей Валяев
Carrie was great
11 months ago Алексей Епатко
Excellent customer service. On a drive home from Peoria to Columbus, Indiana I stopped in to look at hardwood samples. The owners knew that I was not going to purchase my flooring from them due to the distance. However, they were extremely helpful. Had I lived closer, I would certainly have become a satisfied customer!
2 months ago Екатерина Баранова
Kerri was great to work with. She had lots of ideas and suggestions for me and her ability to visual a design is amazing. She is very knowledgeable and was able to answer all of my questions. I would recommend reaching out to her if you are planning any kind of remodeling. It was a great experience.
3 months ago Эмин Тагиев
Wonderful store! The whole team is amazing. Great local business!
5 months ago Андрей Воронцов
Exceptional and Quality work on installation of my hardwood floors...would definitely recommend this place to others...
4 months ago Сергей Стрекавин
Perfect price Best service Lot of verity selection Must visit before you do renovation or new house
4 months ago Наталия Горюнова
Kelli Marie at the Champaign Store did an amazing job maximizing the space in my small kitchen while making everything look built-in and very stylish. It was my first experience with a remodel and I was very nervous and she was so patient with my anxieties and designed a fabulous kitchen.
6 months ago Ольга Хижнякова
Great service and selection! My wife and I worked with Kerri on getting area rugs for our home and she did such an amazing job. She spent time with us discussing what we wanted and worked to find a solution in line with our vision! 5 stars for sure!
11 months ago Даниил Сапрунов
Awesome experience with Kerri Hurd who was no patient with me through the process. I had carpet installed in 3 bedrooms, living and dining room with a wood vinyl entry way. Great price, Great Service, Great Experience. Would recommend Kerri and her team to everyone.
1 month ago Михаил Федоров
We love our vinyl plank and carpet! Great product! Super price! Excellent customer service! Laci and Bryan were wonderful to work with!
2 months ago Ольга Михайлова
Friendly staff and BEAUTIFUL flooring . Bryan really came through for us with our hardwood . I will recommend highly thanks again
1 month ago Валерия Сойка
Quick and helpful service. Quality merchandise.
9 months ago Семён Вишневский
Our floors were done so quickly! They are beautiful! Kerri was so helpful in making our decision on which flooring would be best. The installation team was professional, courteous and addressed any concerns we may have in the future with the laminate. A+ team! Highly recommend!
3 months ago Александр Семениченко
We purchased carpet from FA around 2014. We have had that carpet replaced twice due to manufacture defects. Never fear C-U the carpet is no longer on the showroom floor and there is none in the backroom. The management, employees and installers went above and beyond each time to make the situation right. This time we feel will be the last replacement as the new carpet looks better than either of the previous ones. Thank you to all that worked on this project you are all 10's in our book and we will never shop for flooring any where else.
3 months ago Дмитрий Скороходов
Michael was a great salesperson. He was very helpful and patient with me as I decided which flooring to buy. I went with luxury vinyl plank, and I love it. I have it in my foyer, hall, dining room, family room, kitchen, laundry, and powder room. It looks great and is easy to clean. The installers were fast, courteous, and professional. All in all, I had an excellent experience with Flooring America.
4 months ago Алиса Донникова
Vinyl floor looks great. Process was smooth except that the installer suggested a layout that would be simpler for him but result in more seams. FA made it right before he started the job. Then the installer missed the fact that I had paid for quarter-round molding and did not bring it to the job. Again, FA made that right, too. At the end, cleanup was only fair. Don't get me wrong, I love my new floor but I felt that I had to "supervise" the installer too much. I dealt with Mike and Joe at Flooring America and they were both great.
5 months ago Вероника Дворцевая
We had a large very old and unique area rug that needed to be rebound. Randy Ellis really went above and beyond to do all the repairs needed, including locating a special adhesive to repair cracks to underside if the rug so we can continue using it for many years to come! And the price was very reasonable. Thanks also to Michael Savage, a salesman who has helped us with the purchase of our home carpeting and acted as my "go to" man for this project also!! A very friendly and competent business Doris L.
5 months ago Ольга Соляник
Outstanding customer service--friendly and not pushy, quality carpet at a reasonable price, and beautiful work! Brian was great to work with in the store. Greg and his workers were​ efficient and did a beautiful job installing. We were extremely satisfied with Flooring America. Highly recommend!
8 months ago Сергей Изместьев
Great experience, no pressure, loads of experience.
3 months ago Екатерина Николаева
Wonderful staffing, knows what their products, wonderful service. They put in a floor last year did a great job. Also found some drawer pulls that worked for a little project I had.
5 months ago Лилия Лозовик
Flooring America has great selection of flooring material and very easy to work with. Installation crew are easy to schedule and they do great job at installation. I love the customer service here.
6 months ago Павел Котлов
We visited this store to get ideas on what type of flooring they provided that might fit our needs. The staff was pleasant and helpfu.l
4 weeks ago Сергей Жданов
Best place to buy flooding we are repetitive customers, Kerry give us excellent customer services and Mike and his guys who do the installation wonderful job not matter how late it was they get it done, Thank you!
1 month ago Andrey Veselov
What a amazing deal on flooring, helpful with exactly what we were looking for.
3 weeks ago Юлия Андреева-Падалко
Flooring America was amazing to work with. We went in very stressed out because our kitchen had flooded and ruined our flooring. All the other flooring places said it would be 2 weeks before they could get the flooring in and installed. Flooring America had it all done in 2 days!! They were great to work with and had the best price. Also, Ed and his team were very fast and efficient. He did a great job.
5 months ago Елена Чебанова
Very helpful staff, and very competitive prices. Highly recommend.
11 months ago Евгения Коваленко
Great experience from start to finish. Would definitely recommend Flooring America if looking for fast, friendly, and overall good service.
6 months ago Галина Мащенко
Great people! Very knowledgeable, treated me wonderful!
6 months ago Александра Ияс
Ed and his team were great. Very attentive to detail and made sure we were totally satisfied.
8 months ago Ольга Пряхина
My experience with Flooring America in Champaign has been great. Bryan and Jerrica are the staff members that I have worked with. Both, have been so friendly and helpful. I wasn't planning on needing flooring for an entire home but my house burned down. When I went to Flooring America they helped me pick out products that would work well for my family. We live in the country and have young children; so I need something durable. The staff helped me find products that I liked and that would keep up with my little people! I had two different products picked out for my new home and was told by an installer (not affiliated with Flooring America) that the products were going to be a disappointment and that I wouldn't be happy with them in my home. This was very upsetting and when I went back to Flooring America; Jerrica and Bryan had me meet with Matt, a sales rep for the product, that went over the warranties and the ins and outs of the material assuring me that the product would not only look great but also keep up with my busy family. The staff at Flooring America did not have anything negative to say about this installer; instead offered to call him and talk to him about the product and help him be more informed as well. We installed the engineered hardwood first; it looks amazing. It is beautiful and I am so happy we ordered it. There was a small mishap with the carpet. The color was not what we picked out when it was delivered to the store. When I noticed this Bryan double checked with me on what I was wanting, ordered it and confirmed that it would be delivered within a week. This was all done in 15 minutes and I was not hassled or told that the error was my fault. They made a stressful situation better in minutes and I honestly don't think I could be happier with this company. I would highly recommend Flooring America; Jerrica and Bryan to anyone that needs new flooring. I can assure you that you won't disappointed.
7 months ago Евгений Каличин
Drew and other staff are amazing! I can't say enough about their personal service.
4 months ago Полина Лупанова
I love the people working there so friendly!
11 months ago Кристина Куркина
Great to work with. Kerri is a joy!
11 months ago Илья Комаровский
Great and fast service, beautiful delivery.
4 months ago Александр Кежватов
Owner is great!
2 months ago Владислав Щапов
Love it
5 months ago Альбина Янчук
Awesome
2 months ago
Popular places from the category Flooring store