Swimming pool contractor Pool Town, Inc.
Swimming pool contractor Pool Town, Inc., 5500 U.S. 9, Howell Township, NJ 07731, United States:
220 reviews
of users and employees, detailed information about the address, opening hours, location on the map, attendance, photos, menus, phone number and a huge amount of other detailed and useful information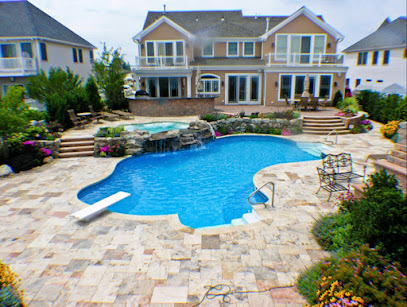 Address:
5500 U.S. 9, Howell Township, NJ 07731, United States
GPS coordinates
Latitude:
40.1244590
Longitude:
-74.2225350
Location on the map
Reviews joey burkart
I am just finishing up the construction of my pool; and Pooltown has been extremely professional, accommodating, and great to work with throughout the entire process. Even during the height of the pandemic, they moved to get my pool …
6 months ago Larry Downer
I want to start this review with the positive as there was some good to this company, but the majority of my experience was bad. My pool is beautiful. In the end it turned out good. After 5 years I have had some minor issues with it and I …
7 months ago Eileen Zirngibl
Ok. So to finish our review. Pooltown guys show up in the yard with no warning and the dogs go nuts after Leesa specifically writes in our notes we want Matt and someone has to call. Neither thing happens. We have no resolution for our eye …
6 months ago Matt Hollis
We highly recommend Pool Town to anyone who asks. We've had zero problems with any of the installation. We continue to use Pool Town for all of our openings and closings. From start to finish, everyone was very prompt, professional and …
10 months ago Mike Cartee
I'll start off by saying that in the end you get a beautiful well built pool, but the communication is absolutely horrible!! From beginning to end we couldn't get someone on the phone without waiting a day or calling back multiple times …
6 months ago rimmi Kohli
We had our pool installed in the spring of 2019. From start to finish the process was easy and organized. We can't say enough about our salesman Billy , he was great! Also, the customer service department was always readily available to …
7 months ago daymon anderson
From start to finish every person we worked with in each phase was courteous and helpful. The process went very smoothly especially with all the Covid restrictions in place last spring. Billy was our salesman and at no point did we feel …
7 months ago Jaehoon Ahn
Our experience with PoolTown was excellent. From the initial visit and consultation in-store to the final inspection, the process was smooth and pleasant. The quality of the pool is beyond what we expected, and we have received many …
8 months ago Mark Coleman
Our pool is now our oasis, we couldn't be happier with our choice of Pool Town Pools. The staff at Pool Town was courteous, friendly and knowledgeable. We had some questions which they answered immediately and were prompt in coming out and …
8 months ago Nikolai Tsankov
PoolTown was awesome! We had our pool installed in2016 and have loved every second of it! This was the single best family home investment we have ever made! The only sad day is when we have to close the pool for the season. PoolTown was a …
8 months ago Krista Olen
Absolutely love my pool!!! It transformed my backyard from an unusable space to a beautiful oasis. I can't even tell you how many compliments I get on my pool. Worked with Chris C. throughout the entire process and he was great!!! Highly recommend.
1 month ago Angela Bradshaw
After some research we decided to hire Pooltown to install our pool. From the start and dealing with our salesman Billy A, to the end and dealing with Leesa D, everyone on the Pooltown staff was professional and helpful. Pooltown is a one stop shop and I am glad we chose them to be the company who installed our pool.
7 months ago Calena Spearing
Leesa DeSimone is the greatest! any problems that arose, were dealt with with the upmost professionalism and care. From my perspective, as a PoolTown customer, Leesa is an invaluable asset to the company
8 months ago May Trini
Ok we are in the process of wrapping up our experience with Pooltown. The pool came out beautiful for the most part but we DID NOT have the best experience with their construction or customer service department. First we dealt with Billy, …
6 months ago Jerry Woodman
We started the pool process in the fall with the idea the pool would be completed by Memorial Day. Even with the Covid-19 pandemic and unpredictable weather, Pool Town had the project completed by the first week of June. We highly …
4 months ago Jay Wats
Thank you to Billy and all staff at Pool Town who made our experience a great one. We actually used them for an above ground pool years ago, then decided to put in an inground pool. Everyone we dealt with for each and every phase was …
8 months ago Julie F
We had a great experience with Pool Town and highly recommend them. Carl in Sales helped us through the entire process and was excellent in explaining every small detail, including being honest with things we did or did not need. We had …
2 months ago Katie Mayo
Jeff & Chris in the retail store might be the best duo when it comes to any pool questions or concerns. They are very patient with whatever help you may need and are very professional. They will guide you the whole way to make your summer …
8 months ago TurboChicken
I am happy to rescind my previous review as Pooltown has made right and our pool is better than I imagined. Reply to your reply: This was NOT a case of me not waiting until it was finished. I couldn't get anyone here to finish the job until I posted a poor review.
6 months ago Angela Broadley
Choosing a pool company wasn't an easy choice as there are a LOT of pool businesses here in central NJ. Choosing PoolTown ended up being a Blessing, to say the least! I experienced nothing but positive results from the start. From Billy A. …
6 months ago Tyler Gorman
Best out there. Pool town build my pool to perfection as I requested. They are the only one that was willing to commit to a short time frame and they did it on the time we agreed on . Amazing . As well they are servicing my pool for the …
8 months ago Katherine Noble
We are so happy with our new pool! Thank you to Pool Town for a great and smooth process! We are so grateful! We have been enjoying it all summer!
3 months ago Tara Hustus
It is clear that customer satisfaction is their main priority. They make sure to accommodate and explain the entire swimming pool construction process so that there were no surprises for us. The staff is friendly and professional. They know …
6 months ago Madeline Gilau
Competitively priced, completed on time for the estimated cost. They have actually been handy responding to any kind of concerns and addressing any needs I had immediately and also with respect. I recommend them to anyone. Their service is top-notch!
7 months ago Wesley Ward
Excellent company. From Billy to Maria and all the help they have they are all terrific. Very responsive to questions. Workers work very hard. They are respectful :& clean up when they leave. Would highly recommend
4 months ago Victoria Taylor
Removed our old pool and installed the sapphire built in pool. Great service! Pool is 10 years old and still looks like new. Services done since pool opened Pool closings, pool light replacement, liner maintenance, repaired pool jets. Pool light lasted 10 years.
2 months ago Bobby Morin
Carl listened to our requirements and budget and custom-designed a beautiful swimming pool and outdoor area personalized just for us! Honest as they come too. Very happy with how it came out and the job overall. Our sales rep Carl was awesome, he was transparent and understanding about everything.
10 months ago rickey tollar
Our pool is going on 12 years old and we are really happy with our initial decision. They do fantastic work with our swimming pool openings and also closings as well as their shop constantly has every little thing we need. Experienced staff …
10 months ago Angelique Rivera
Horrible ..took them 1 and a 1/2 years to install 2 pools.. the 1st one was so high out of the ground that had to do a second 1...unreal... Nothing but problems... my friend used them and also nothing but problems... They also ripped my …
2 months ago Shelly Carpenter
Love our Pool Town pool. Everything went as planned with only minor delays and we have enjoyed our salt water pool for the past 4 summers. We get so many compliments and we love the lights and the waterfall which make it much more …
6 months ago Chance Moir
Their unique free form designs were perfect for our backyard. My kids love the swimming pool very much. It was absolutely gorgeous and I have never seen a pool like this before. We absolutely love the waterfalls. The team was very technical and professional.
7 months ago Claude Bolduc
Every person that worked on our swimming pool was experienced and respectful. Someone always made sure to reach out to explain the tasks day-to-day once the construction began. Our inground pool is absolutely remarkable. The construction crew was amazing. Home & Garden Magazine PERFECT! You can trust this company!
1 week ago Laurie Cherko
We highly recommend Pool Town for all your pool needs from start to finish the entire process was seamless. Our new inground pool is amazing thanks to everyone involved at Pool Town. Their customer service was exceptional. The entire …
8 months ago Daniel Baker
Excellent customer service from staff Lessa and Maria also from sales person Billy All were very nice and professional overall experience from digging to installation worth It love my pool
3 months ago Mary Chapman
I cannot say enough about Carl at Pool Town. He was available during all stages of our pool being built. We was our go to guy when we needed help. He was knowledgable and patient as my husband and I made this huge investment. We cannot wait to enjoy our first summer in our new oasis. Thank you Carl.
7 months ago Dacheng Mao
My wife and I had been dreaming of a backyard oasis since we moved into our home in 2004. Our backyard is on a bit of a slope so we weren't sure if a pool was a possibility due to the costs and work involved. We shopped around, but pool …
6 months ago Jhonny Five
We had our pool installed by Pool Town 3 years ago and have had a great experience with this company. The installation went without issues, despite having a tight backyard to work in. After my sand filter sprung a leak this year, they …
10 months ago Jodi Hynes
Please do not buy your pool from pool town!! Nothing but problems from the start! We had a "fall dig" so we would have our pool done by the time the warm weather was here. We are still waiting and it is June 1st. Email after email …
10 months ago Marcin P
Let me tell you that investing in an in-ground pool is not an easy thing to do. There are a so many decisions that need to be made and then the cost of installing. After many years going back and forth about installing a pool we decided …
6 months ago Nanci Holt
From the start, we have had such a great experience with Pool Town! They came highly recommended by friends and neighbors that we didn't even feel the need to shop around. Since day 1, we have felt like family. Billy was extremely …
7 months ago Abigail Dennis
Billy and the rest of the Pool Town team are remarkable! They understand swimming pools and are terrific to do business with. They take pride in their swimming pool construction and keep you in the loop every step of the way. I would certainly recommend Billy and the rest of the PT team.
7 months ago Barri Ali
I had a very horrible experience with pool town. Nothing went right with my pool. They're service is horrendous. No one ever calls back when you try reaching them. I do not recommend this place to anyone. Please go save yourself the …
7 months ago Chris Mudd
We had the best experience using Pool Town! The process took a bit longer than expected but my family couldn't be happier!! We got a lot of estimates but chose PoolTown because we felt we were getting the most for our money considering the …
6 months ago Rodney Taylor
We are very happy that Pool Town handled the whole construction process smoothly and efficiently and we were always well informed what would come next. Of course, it's a major construction, and we didn't expect our pool to be built in a few …
1 week ago Jeannie Dulin
Pool Town is a great company to deal with. Our pool is beautiful and we receive so many compliments since we had it done last year. Although they need to brush up on some of the local municipalities i don't blame them for not knowing …
10 months ago Angela Rose
Excellent work Pool Town. I would like to take this time out to thank the permit department especially Laura for making sure all permits was in order. Thank you Maria for staying on top of everything along with a very, very special thanks …
10 months ago Berish Getz
Our experience with pool town was horrible. Signed contract in oct 2019. Got our permit feb 2020. It is now July and cant pass inspection because the trenches are not filled properly, and we just keep getting the run around. Communication, …
4 months ago Ian Covington
We started our pool process in the fall so it would be ready first thing in the spring for the kids. From start to finish, Pooltown was very communicative and transparent. Considering there are so many pieces to the puzzle, something is …
10 months ago Minnie Green
Frendly knowledgeable staff knew exactly what I needed and pointed me in the right direction
4 months ago Stephanie Shaw
Really unbelievable customer service!!! I brought in a water sample and they advised me what I needed and how to add it to my pool. I followed the instructions and the next day I tested my water and it was perfect!
6 months ago
Popular places from the category Swimming pool contractor