Wayne Fence
Fence contractor Wayne Fence, 921 Hamburg Turnpike, Wayne, NJ 07470, United States:
220 reviews
of users and employees, detailed information about the address, opening hours, location on the map, attendance, photos, menus, phone number and a huge amount of other detailed and useful information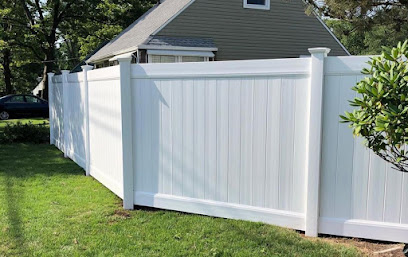 Address:
921 Hamburg Turnpike, Wayne, NJ 07470, United States
GPS coordinates
Latitude:
40.9587972
Longitude:
-74.2311540
reviews alan ventress
Wayne Fence did a great job - they submitting our order and ushered the fence through town approval. The installation exceeded our expectations where after town approval the fence was installed promptly 5 days later. Jay did a wonderful job expediting the installation schedule and ensuring all went to plan. The project took 6 hours and they were done! My family is very pleased as now our dog can run freely in the backyard! A huge home comfort and we are appreciative we worked with Wayne Fence.
6 months ago Jared Giese
The guys at Wayne Fence were awesome. Donato was on time, professional and super personable... he communicated with me every step of the way. The fence was done in a day and I have had zero issues with it. Wayne Fence is absolutely top notch... can't recommend them enough.
6 months ago Vickie Gibbs
Showed great customer service and professionalism. There was a glitch on the measurements but Mo took care of everything and made sure the extra material needed arrived on time. Walter and his crew did a phenomenal job with the installation, maintained constant communication with me, overall great job! I highly recommend Wayne Fence!
6 months ago Gregory Lewis
Wayne Fence did an amazing job! The guys came early and worked hard all day. Donato was very responsive and they were very reasonable. I'm greatly satisfied on the finished product and would definitely recommend Wayne Fence. Well done!
4 months ago klaudillaca G
Wayne fence just finished installing my fence and did an amazing job. They exceeded my expectations with quality work, reasonable pricing, professionalism and a highly trained staff. Great job all around. I can't thank you guys enough!! I highly recommend using this company
7 months ago wendy heng
Very professional, answered all questions we had thoroughly. Giancarlo came gave us a walk through on the whole set up and it was done before we knew it! Highly recommend this company!
5 months ago Carolina
We had a few fence companies come out for estimates and although Wayne was not the cheapest Donnie(our sales rep) was definitely the most prompt, efficient, and responsive individual we had dealt with. The aluminum fence we chose to do comes with a warranty along with 2 years of free labor in case of bad weather or anything similar. Donnie explained everything to us. He really made me feel at ease. You pay a little more for peace of mind and it's totally worth it.
7 months ago Dustin Chase
Thank you so much to the team at Wayne Fence for making my home look 100x better! They're extremely professional, competitive pricing and first class quality. I already recommended them to 3 family members and will continue to do so. Don't bother looking anywhere else. Wayne Fence is the way to go.
6 months ago Aubrey Linder
Wayne Fence was great to work with from start to finish. They were very informative in helping us decide which fence was the best for us, they came down on price when we received a lower quote and even explained the difference in their products. They day they installed, they were on time and worked quickly. The finished product everything we could have hoped for. I would definitely recommend them to anyone.
8 months ago Tyler Mays
Couldn't have asked for a better job. Everyone was professional and efficient! Highly recommend!
6 months ago Steve Gingo
Wayne Fence did amazing work on the fence at our home. We needed a 6 foot fence put up quickly for our son with special needs to be safe on the property. They were professional and wonderful - from the manager to the workers . Responsive , dependable and also a great price . We are very grateful for the job they did and would recommend them to anyone . Fence is solid and looks beautiful!
6 months ago Paul Sindberg
Top of the food chain. These guys really took the time and effort to ensure their work was second to none. Very professional group worked diligently and was able to finish the job quicker than anticipated. Would recommend them ten times over!
7 months ago Toni D
Thank you Wayne Fence for a smooth process start to finish! From the estimate to installation, these guys handle it all. We love the new wood fence we had put in for our dog
6 months ago Darrell Taylor
We highly recommend Wayne Fence if you're looking for a fence installation! This team was completely professional and reliable from the very start. Their timing, input and knowledge surpassed other quotes we'd received from various companies, and their prices were great! Donato made the entire process effortless and was responsive anytime of the day that we had questions. Their team even handled the permits for us at no extra charge! Installation day was fast and Carlos was a great supervisor of the job! The same day job was done faster than you could say "installation". We're so thankful we chose them for our services. They can't be beat with quality, professionalism, response time, and organization. I promise you will not be disappointed!!!
9 months ago Anett Ka
Wayne Fence was great! They were competitive with there price. MO was there through whole process to answer all my questions and make sure job went smooth.
7 months ago Josh Rogge
Our fence was crushed by a falling tree during a summer storm. We reached out to Mo from Wayne Fence because our neighbors used their service and loved it. Mo was responsive and professional the whole time. They were able to do the job while I was working and communicated with me about the progress. Thank you! I would definitely recommend the service and use them again.
8 months ago Brian Whitley
Highly recommend!!! These guys were amazing from the salesman Jonny to the installers!! They were friendly, professional, punctual and cleaned up after themselves! It was one of the easiest experiences I've ever had! Thank you Wayne fence!!
6 months ago lily chavis
Excellent sales, service, and installation. "Mo" my salesman came the same day I called for a quote, which I truly appreciated. Mo quoted exactly what I asked for. The skid of posts and railings were delivered and placed in my driveway where I requested and he followed up with a phone call to make sure. His crew showed up to the job site 10 minutes early, and installed the 175' of split rail cedar fence in one day! Amazing to me considering the terrain of my property. I appreciate how clean they left the job site too. I'm totally satisifed and pleased with every aspect from my first phone call to installation. I will highly recommend Wayne Fence.
9 months ago Matthew Liu
These guys came by my house, not only did they do a GREAT job. They provided samples, gave me a great deal, and did the job in a timely manner. Thank you guys again !
6 months ago Edward Lott
Wayne fence did an amazing job! They were responsive, on time, and very professional. Looking forward to the summers in our backyard with our beautiful fence!
7 months ago J Lescault
These guys were fast, on time and went above and beyond to accommodate my fencing needs. They communicated with me constantly and took care of all aspects of the project that was required. My fence is perfect and was installed around my very large yard in just one day. The workers cleaned up the property afterward and left my yard looking beautiful like it wasn't even touched. I am thrilled with the work and that my dogs will be safe in their new home. Highly recommend.
1 week ago Natan Hagopian
I shopped a few fence companies before being referred to Wayne Fence. To say I was pleased would be an understatement! From the moment I met Donnie I knew they would be the company I would ultimately go with. He was respectful, courteous and knowledgeable! When he provided the quote I had many questions as it seemed too good to be true! Well my new fence and gate were installed Monday and everything promised was delivered! Im completely satisfied with the entire process and will be referring them to anyone I know in the market for fencing! Call them and get wowed like me! Ask for Donato aka Donnie!
7 months ago Cherrie Shofner
Called for appointment for an estimate and it was scheduled for 3 pm Saturday. Called during the week before to see if we could do the estimate that they offer on their website...Lady told me since we have appointment already that we would get a more accurate estimate if the guys come to our house...We agreed and said, "Okay, see your guys Sat at 3pm"...It's now almost 4:30 pm pm Saturday and no one showed up and no phone calls...I left a message asking what's up and if anyone was coming...No response...Says their open 7 days a week...Its understandable that things happen, but at least call!...Very unprofessional! On to the next fencing company... Update to company response: We canceled plans to make sure we were here for 3 pm...My cell phone was in hand the whole entire time...I called around 3:40 pm to find out what was going on and left messages...Your "no answer" is bogus otherwise you would have left messages which there weren't any nor has anyone responsed to us since this review...if I didn't come back to this, I would never have gotten a response.
7 months ago Faded Cannabis
New homeowners needed a fence for our puppy and our children to play in. Our point of contact was Jay Lee. Made sure permit was in order and contact and update was clear and consistent. Project was great. No issues. They cleaned up after themselves well. Thank you.
9 months ago Arul Subramaniam
I had an excellent experience with Wayne Fence. The communication with Jay was outstanding. He answered all our questions and made sure the work was done on time. I would definitely recommend them to anyone looking for a quality fence.
9 months ago John Clark
Jay and the install crew at Wayne Fence did a fantastic job! Never did I expect the entire fence to be installed in one day with a snowstorm coming. Thank you all for working so hard in the cold to get it done before the storm. It looks great! Kudos to the team, Happy Holidays and Happy New Year!
10 months ago Mayra Palomo
I needed a privacy border on a 14' deck for a hot tub. I called 3 fence companies 2 of the 3 wanted nothing to do with it. Wayne fence came out and was able to see the vision I had in mind. The rep Jay was amazing he totaled understood my needs and added some awesome suggestions. The job was completed and it looks amazing. I could not be happier. I am a big review person so I assure you stop reading now and call Wayne Fence you will be totally satisfied.
10 months ago Nathaniel Strandquist
Got a Free quote done. Loved that You get the price right at the moment and don't have to wait.
6 months ago EVE
I was in need of a reliable company to repair my 3 day old fence after a tree fell in my yard. This company was well organized and gave a realistic timeline of when the estimate would be done and the time after that the repair would be made. If I only had went with this company first time around, but thankful I found them!! Thank you Wayne fence for being extremely professional!
4 weeks ago Bart G
After 9 months, I still don't have my fence permit. So leaving it at two stars for now Edit: I got my permit. Bumping it up to 4 stars. They were super quick to come out and install on a short notice.
7 months ago Nathan DeLong
What a great idea we had to signed up a contract and have Jeff and his team members from Wayne Fence to do our backyard. We were shopping in many towns around our neighborhood and prices were extremely high and without good customer service (our experienced). We were looking for the best deal and we were about to have our hopes down until we met Jeff from Wayne Fence. He was professional, reliable and caring person as well his team members. They finished the job in one day and we were impressed by their punctuality, safety procedures and organize team work . Great quality in their products and great installation too. Overall A+ to them. Thanks again Wayne Fence for such great job.
4 months ago Maggie E
DO NOT USE THIS COMPANY they are the most unprofessional and inconsiderate company I've ever attempted to do business with even after i've been accommodating to their screw ups. My fiancé and I ordered a 6ft black semi private fence when we moved into our new house this feb. We were working with Donato and the new guy Giancarlo...come to find out they didn't order the fence a month after we initially spoke and ordered the fence. Giancarlo begged for us to continue to use them and promised they would get the order done so we said that's fine, things happen. After THREE NO SHOWS from three different scheduled appointments, without any call/text/email to let us know they weren't coming or something happened (we get it, things happen but a simple heads up would have been appreciated) they were able to locate a fence a month later and came to install it. I was working from home and decided to go up and see the progress....IT WAS THE WRONG FENCE....Giancarlo had wrote down the wrong fence on the work order even though we showed them the picture of the fence we wanted multiple times. They then push for us to accept the incorrect fence for a discount, but we did not want the 6ft fully private fence they put in...looked like a black wall. They then had Brian, who is senior, taking over and handling the business who promised us he was going to remedy this. DAYS go by....no communication whatsoever. I had to follow up with him, until I finally got him on the phone and he said he's waiting on 3 suppliers to get back to him and to give him 3 hours. AGAIN no call back. I give him a week, still no outreach from Brian for an update so i leave a voicemail on his phone. A few days go by, still no response. I leave another voicemail saying please let me know if you guys are going to install this fence, if not please call me and let me know or do the right thing and remedy this. STILL NO RESPONSE. i guess demand for fences is too good that they don't care or have any consideration for customers. Save yourself the headache and work with another company. I'm sure they'll try to say they don't know who I am - Wayne Fence, save yourself the time because I will post each of your cell phone numbers, a picture of the work order, along with a picture of your workers MCDONALDS TRASH and MULTIPLE beer cans you left behind in our backyard.
6 months ago Sean Cumiskey
I couldn't be happier with my Wayne Fence experience. I was given an appointment a few days after contacting them, and Moe, the salesperson, arrived perfectly on time. He gave me an estimate on the spot, which I immediately accepted, as it was equal or better than the ones I'd already been given. Later that day, I received a call from him to inform me of my installation date, which was exactly one week later. The installation team, led by Ibrahim, was lovely, polite, and did a wonderful job with the installation and cleanup. They also played fun Mexican music while working! The fence looks beautiful. I could not be more pleased with such a professional and courteous company. It would be so wonderful if every home improvement project went as smoothly as this one did!
2 months ago Richard A
Ordered a 6' white vinyl fence for our new house. We wanted 3 doors and New England caps on the posts, Donny was more than happy to walk us through our options and what the process would be. Installation crew was promptly on time and handled the job in one day. They roped off the fence line to make sure the proper area was covered before digging in. Could not ask for better results. Donny and the installers did an outstanding job.
4 weeks ago Julie Lesher
Wayne Fence built my fence in one day, which I did not expect at first. The crew is very professional, they even installed a mailbox for me (material provided by me) without extra charge. Mo is very responsive as well. He replies my messages and questions immediately and being very informative. I highly recommend Wayne Fence if you happen looking for installing a fence. And if you can, tip the boys well, too.
4 weeks ago Kai Foo
There are great people to do business with MO was there on time and every time you call and he answer the phone great guy nice person the installing crew very professional very friendly they are the right people for the right job at the right price I will use their services again and I will recommend in to family and friends.????
5 months ago Todd Salpen
What I found was that other fence companies would not return my calls, not with Wayne Fence. They were very responsive and didn't give the runaround. Mo was awesome and answered any questions we had. I had two areas fenced in with a chain link fence and they came out wonderfully. Wayne Fence informed of when they were coming and they came and everything was accomplished within a few hours. Would highly recommend since they are reliable and affordable.
6 months ago Shanwas Shanwas
Wayne fence did an amazing job replacing my old wood fence. Called them and have a good estimate from donato. He told me everything that I need to know about the fence. In couple of week I had my fence replace. They're vinyl fence are amazing and very durable. All in all wayne fence is a good company. If you need a fence give them a call and look for donato. He might be able to give you a good estimate. I really do think that their price are reasonable for the quality of thier fence.
6 months ago Todd Brandon
It's my pleasure to write a review for a great reliable company like Wayne Fencing. I actually interviewed 5 other companies before I luckily chose Wayne Fencing. I worked with a gentleman named Moe who was on time answered all my questions and on top of everything else he showed up to make sure everything was being handled properly. The work was done so neatly, they made sure it was all cleaned up and it was perfectly even and straight . At the end. above everything else......... I love it !❣ Thank you !
1 month ago Merralee Lameo
Great staff and fantastic work! We are very happy with our new fence.
6 months ago Joe Lutz
The Wayne Fence staff was always very professional. They beat the quotes I had previously obtained and best of all, I got my new vinyl fence in a timely manner. They were very responsive at all times. Sam, Brian and Donato were always very helpful! The crew that came to install the fence were nice and very knowledgeable and worked very hard throughout the day to make sure the fence was put up perfectly. We will definitely be recommending them to all of our friends!
5 months ago Emily Lee
Great customer service with a hard working installation crew! Jay was prompt, courteous, and easily accessible, to answer all questions and concerns. He checked on his guys multiple times throughout the installation day. His field crew was neat, friendly, and an overall good installation crew. The final product came out great, at a lower rate than 3 other competitors. Highly recommend Wayne Fence!!
3 months ago Ron Hunton
Had a really great experience with Wayne Fence. Their rep Jay coordinated everything and was very professional, efficient, and gave us a great price. We are extremely happy with the results and the value we received using Wayne Fence. I would feel very comfortable recommending them to my family and friends! Thanks again for the great work Wayne Fencing team!
1 month ago Mariya Kuyan
Strung me along for a week then dropped me on the day they were to do the work. They came out and saw the site, we agreed to pay a premium to expedite the install and we signed the contract. On the day they were to do the work they did not show and when I called 3 times before I got an answer, and they said that they were not going to do the work.
9 months ago Gurtej Lyall
I wanted to thank you, the fence came out great. I really appreciate you getting it scheduled for the perfect time for me. Donnato and his team were awesome, they worked extremely hard and did a great job. Was very obvious they wanted the job to be as perfect as possible including taking into account that we have a dog. Walter (installer) and his crew took the time to go over details as well very professional and they even cleaned up really good after they were done. If I meet anyone else looking to put in a fence, I'll definitely be recommending Wayne fence for sure.
4 months ago Michelle
Wayne Fence completed a fantastic job at my home today. When I decided to get a fence to keep my dog in my backyard I researched and reached out to a few fence companies to get quotes. After interviewing a few companies I reached out to Joe Incorvaia at Wayne fence. He sent me one of his best men Donato to measure and give me ideas on how it should be done. He gave me one of the best quotes and told me he would take care of taking down my old fence and discard of it. Everything Donato told me he took care of. He promised the job in 3 weeks and he came through. Brought over 3 fantastic men to do the job. It was done in one day and the men also washed down my sidewalks and driveway.to keep it clean. Did I also mention they put the fence up in 2 feet of snow? I cannot thank this company enough. I would give them 5 Stars ⭐️ ???????????????? Angela Lawrence Wayne , NJ
8 months ago Katherine Perry
We had a great experience with Wayne Fence. From our initial call right through the end of the job they were friendly and helpful. The representative that initially came to our house for the quote, Mo, was informative and knowledgeable. He took the time to speak to us about the problem and exactly how they would fix it, never rushing us or discounting any concerns or questions. In addition, their pricing was competitive. On the day of our fence repair their workmen arrived on time, were polite, knowledgeable, respectful and great with my sons. The men took the time to ask us questions about any changes we might want and what they were doing. Mo kept in communication with us throughout the project and called when they were done to make sure we were satisfied and understood everything. Lastly, the workmen cleaned up impeccably (including hosing down our driveway from the little dirt they got on it since it had rained that morning). We would use them again.
1 month ago Chris Wing
Great company always gives you a fair price for outstanding work
7 months ago Stephanie Bono
I would highly recommend Wayne Fence! The first gentleman who came to estimate the job was extremely knowledgeable, personable and the job was completed just as he promised. The men arrived at my home, began work, finished in a timely manner and left everything immaculate. I was very impressed with their work ethic and I feel they went above and beyond.
1 week ago Tracy Douglas
Amazing team and great customer service, I have to say they help me out with everything that needed to be done and I would totally recommend them to my friends and family!!!! Thank you Wayne Fence
6 months ago
Popular places from the category Fence contractor