BATHHOUSE
Massage spa BATHHOUSE, 103 N 10th St, Brooklyn, NY 11249, United States:
130 reviews
of users and employees, detailed information about the address, opening hours, location on the map, attendance, photos, menus, phone number and a huge amount of other detailed and useful information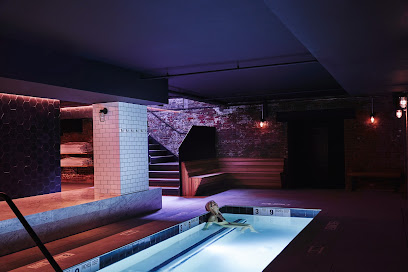 Address:
103 N 10th St, Brooklyn, NY 11249, United States
GPS coordinates
Latitude:
40.7204537
Longitude:
-73.9572868
reviews Aashna Dhir
The food at the restaurant is really good and everything is gluten free and had no added sugar which is pretty impressive. The romanesco was absolutely delicious and was very generously portioned, the duck and steak were good as well. I would skip the chicken liver mousse, it has an off flavor. Everyone was super friendly and the service was well placed. The outdoor seating was very cute with lots of plants. Will be back and next time definitely will check out the sauna and pools as well.
2 months ago Victor Salazar
Loved it! Went with my husband for his birthday and we had such a wonderful time. They offer 3 different temperature pools (cold, medium and hot) and 3 different sauna experiences (steam, dry and tropical). You only have to bring your bathing suit / swim trunks, everything else is provided. The staff is very friendly and everything is super clean. We enjoyed a couple hammam scrub with an express facial scrub and it was so lovely. You are allowed to check in one 1 hour in advance to use the amenities and after your treatment you can stay for another hour. Will definitely come back!!
3 months ago Hernan Valle
I couldn't recommend this more. COVID has been stressful af. You need a break. No matter who you are a second to relax and thank your body for making it to a new say is necessary and Bathhouse has got you over. There's a tropical sauna, a dry sauna and a steam room and 3 pools temped at 104, 94 and 52. The 52 is FREEZING but even that is magical. I loved my experience there. I personally recommend the scrub. Just trust me!
2 months ago Mary Fredette
My girlfriend and I went on a Sunday afternoon did a package with the amenities a 1 hour couples massage and the chefs tasting. The locker rooms was clean and organized with all types of toiletries, towels, and slippers. The massage was the best part of the experience. Extremely relaxing, I recommend masseuse Daniel he was great very respectful no weird vibes or anything like that. As for the dinner, personally the dinner was foreign my girlfriend and I weren't use to the food so we weren't too happy about it. If you like that type of food I am sure you will love it but since we weren't too familiar with it we didn't enjoy it as much. OVERALL great experience I recommend maybe just not the full package but just admission and a massage.
6 months ago Myra Mansoor
I had a wonderful experience. Pretty quiet if you go early during the week. The bathrooms provide personal lockers, as well as feminine products, combs, blow dryer, towels, and most importantly slippers ( for those of you who forget, don't panic ). Once you leave the dressing room, you make your way downstairs. Disclaimer, the pools are pretty small. 1st pool is warm. 2nd is the cold pool, and the last is mini pool. 2 ppl max. You have 2 sauna and a steam room. They provide cold water downstairs and endless amount of towels. It's pretty quiet when it's not crowded. I would say after 3/4 it gets pretty busy. If you book a massage and body scrub, I highly recommend Stephanie. She's great.
5 months ago joseph segun
Great food my taste buds are in heaven, awesome staff, stellar treatment. The restaurant manager Vanessa( great looking woman) gave us the 5 star 5 diamond experience. Definitely a spot to experience when in New York, and in willy-B.
3 months ago james thomas
The food and ingredients were of good. We had the chicken dish with mustard which surprised us on how tasteful and well made it was. I never thought mustard and chicken would go together but they were able to surprisingly go well together.
8 months ago Samuel Grunwald
If you are concerned about COVID or want more of a quiet experience with a small amount of people, do not go here. I got a massage and scrub and while both services were lovely, I wouldn't go here again. Too small with too many people and I went on a weekday. I don't treat myself to these things often but if you're going to spend the money, I feel like there are nicer places. The mask policy isn't enforced and there also didn't seem to be any policy around rinsing after the saunas / before going into the pools which I thought was odd and kind of gross.
3 months ago Scott Early
Conflicted about this place. I went for their early bird entry, arriving at 9am, as I am down right desperate for a quiet place to relax in this city. The space is new, clean, and other than an infrared sauna, it has everything I look for in a spa, including a legit cold plunge. It's small, and the towels feel like sand paper, but for the price, it all checks out as a good deal. I would much rather a scratchy towel than just another place in NY that I can only afford to go to once a year. I think we're very much in need of an affordable spa in this city, no frills, clean, quiet, relaxing, and does the job. We have so many places to party in New York City and almost no where to relax, so just in terms of business, I find this "Social bathhouse" approach a strange move. I can't be the only one feeling this giant hole in the market. But all in in all, the place is nice, I would like to come back again, regularly even, because the first hour of my visit was kind of heaven, truly, downright lovely. But by the time 10:30 hit, the place was full of the most annoying kind of people, all screaming. My visit started out great and then I was fleeing the building by the end. If Bathhouse established quiet early bird hours, I would be here all the time. 9-11am in silence just kind of makes sense? Instead, this place caters to the broke college kid crowd, who are only there that early in the morning because it's cheaper, no other reason. They aren't going to be the people who purchase a $200 massage with their visit, and they are going to deter the people who would from even showing up. But in terms of this review, I would say that Bathhouse is more or less true to how it's advertised. It's nice, but don't go "to relax."
3 months ago Hunter Trump
Overall a nice spa. My wife and I both enjoyed our experience. She had a deep tissue 30 min. massage and I enjoyed my 15 min scrub and 15 min stretch. The spa is beautiful, clean, and has large saunas and steam room. The only issue was the size of the pools. The largest was a bit cramped with just 8 people. The hot tub held 2 couples with covid-19 protocol.
5 months ago Geetha Prasad
A real beautiful spa, great people, great massage, spotless clean. The perfect place for a relaxing moment. I have been there twice and I adore the place. Good massages.
3 months ago Everett Carpenter
My boyfriend and I did the couples package for 1 hour massage, chefs tasting dinner, and admission. Overall it was a good experience, although there is room for improvements. I would NOT recommend doing this package. But would possibly come back for admission only. The locker rooms were very clean and well stocked with all types of toiletries, towels, and slippers. The pools and saunas were great and most patrons seemed to be maintaining social distancing and following mask wearing protocols. In my opinion there should be a staff member in the pool and sauna areas enforcing the rules of the establishment. For example, there was a group of girls being loud and obnoxious with their flash on taking a photo shoot. Also, there was another person eating a granola bar in the pool throwing her crumbs everywhere. This behavior should not be taking place and no one was there to stop it. The massages were the highlight of the experience. Extremely professional and relaxing. Daniel and Stephanie took great care of us. As for the dinner..... There was a mix up in our reservation, totally at the fault of the restaurant, but management did accommodate us and send us complimentary drinks. I was under the impression that we would get to choose our own plates, but I was wrong, it is whatever the chef sends out. We had a mix of really great plates and some not so good. What upsets me the most is that we were charged $150 for the dinner....but then when we added up the price of all the plates we received it totaled to less than $120. I left feeling totally scammed and disappointed after dinner. This is why I do not recommend doing this package. If I would have eaten a la carte, I would have ordered what I actually wanted to eat, save $, not be scammed paying extra $ for nothing, and actually enjoyed my experience. Totally disappointed. Hopefully other people read this and don't make the same mistakes I did.
5 months ago Karen Thorne
Love the place, some.people dont like my recomendations go early when every time you can less crowded and more relax, try the cold pool.oh.the staff is very friendly
4 months ago Danela Gonzalez
Had the chefs tasting course with my husband & the beverage tasting as well.. Everything was amazing. Very tasteful and exotic. Thank you so much
3 months ago Evan Reiser
Facilities are great and the massage therapists were professional. Reception/POS system is a mess. Failed to check me into my appointment and charged my card with a no show while I was in the appointment. No cellphone policy so of course I didn't learn this until I got out. Paid with a different card at checkout and somehow the payment didn't go through on their end so I was asked to pay twice. Then the POS system registered that I did not close out my visit so my card was charged an additional 20% after I had already tipped cash. Won't be returning.
2 months ago Danielle Flores
Best waitress in the world! Green eyes for identification! So nice since the moment we walked in, and great suggestions of what to order. Got a couple of beers and some plate to share! Will be coming back for sure! Thaaaaanks!
3 months ago Ryzillo
My experience wasn't what I thought it be, after visiting other bathhouses in the city this is probably the lowest on my list and I will not be coming back, first when you arrive they give u 99 Instructions instead of showing u where things are, when I went to go ask for help it seem as if I bother the front desk , the sauna is nice, the steam room was great , the pools were overcrowded it's felt like spring break in the pool area so many people it's unbelievable there should be a limit to how much people are allowed in the pools at a time, my massage was ok the person who did my massage was great only down side was I couldn't fully relax due to the fact that you could hear everyone who's in the pool have conversations and when they walk around and getting in and out of the pool this place should have never put massage areas directly next to the pool areas, other than that I kinda enjoyed my time but I will never be back
3 months ago rebecca fansler
I love this place! It's not huge, but big enough to make you feel relaxed. They are very good at scheduling guests so that's at any point it's not overcrowded. The star practices covid-19 safe measures. Love the details on the bathroom. Lastly, you should book a service. It would make your entire experience that much better!
3 months ago zeann
I visited the bathhouse on my birthday (today) and the experience was incredible from check-in to check-out. I had the reboot experience which is a 30 minute massage with a 15 scrub. Wow.. Beverly was my therapist and they were incredible. So attentive to my body and communicative. The scrub was so luxurious and exactly what I needed! I really enjoyed the entire facility especially the restaurant wow! It was a Wednesday and It felt like I was having a private dinner tasting. They also can accommodate dietary restrictions which was special. Overall 10/10 highly recommend, relax, book Beverly, Steam, swim, and eat!!! I'll be back very soon
2 weeks ago Angela Leverson
Took a Friday off and was looking for a nice activity to wind down. We bought a day pass and reserved a slot in the morning. The staff was friendly, showed us around, and gave us a few tips on how to use the facilities. Pools, sauna, and steam room all have social distancing rules, and it was pretty empty when we were there. Great vibe - will be back.
2 months ago Randolph Bletl
A lovely though pricey afternoon with spa pools (one cold, one "neutral" and another hot) and a few saunas (steam, tropical and dry) topped by a great stretch and massage session. I totally enjoyed the capacity limitation due to CoVID, more people would have rendered the experience much less enjoyable!
3 months ago Allen Jr
If you're looking to detach from NYC craziness this is your spot. BATHHOUSE is a Ancient Rome meets Coachella vibe. The massages and scrubs are rejuvenating and well worth it!
4 months ago Julie Stetten
Went with my girlfriend for her birthday. We got a package with a couple's massage + 2hr amenity time + chef's tasting menu. Overall, would highly recommend this place. We had a wonderful experience. The massage was excellent for both my girlfriend and I, despite our vastly different pressure preference. The amenities were fun, and pristine with people practicing social distancing / wearing masks. Lot of different options from cold plunge, to hot tub, to sauna, steam room, etc. Lastly, the restaurant was incredible. We got a tasting menu with various items that were all organic and very flavorful. We also got to eat in bathrobes which was unique and enjoyable. Would highly recommend the restaurant even if you do not go to the Bathhouse. Amazing food. Finally, the service was A+. Every staff member was super friendly, young, lively and fun, especially at the restaurant where it really felt like a neighborhood spot. I would suggest people try this place. It's an awesome experience. Michael B
8 months ago tauqeer mirza
Great experience. Very nice body scrub. Ended up super clean and warm into the winter winds
5 months ago TheFury MCs
Love coming here! The ambiance is amazing. The massage therapists are great too
3 months ago Scott Pierce
Overall I'd recommend the Bathouse experience if you're looking for a local sauna. I love that it's super clean, the staff is polite and the interior design is very tasteful. Some sauna rooms are kept too mild in temperature for a real sauna experience, particularly the tropical sauna room. The best is definitely the steam room. One thing I really disliked was the music blasting inside the sauna rooms. It really ruins the experience and I'd highly recommend keeping the music down in the rooms or removing it altogether in the future. I think it's only suitable for the common pool areas. The idea is to relax and take in the experience, not to feel like I'm in a club or the gym. I'd also recommend they keep the COVID-19 guidelines a bit more strict as it gets quite full in the afternoons. I think there should be 4-6 people max considering the small size of the space. Apart from that I think this place is great and has great potential for improving.
6 months ago Daniel Jones
Nice facilities but i wish you could stay longer than the 2 hour day pass allows
4 months ago Ski Pearlz
This was a place we've wanted to try and cross off our bucket list. I would recommend trying this place. Just two suggestions: #1. Maybe have a whisper/quiet policy when trying to grasp the element of relaxation? (Found our selves in the pool or sauna with others having full blown conversations about when they will get their COVID vaccine, ok good for you but I am trying to ZEN here.) #2. The Scrub bath is just OK, would recommend pairing it with additional massage, facial etc. Locker rooms are very clean, staff was extremely friendly. Place has 3 pools, 2 saunas & 1 steam room. Good price as well!
4 months ago Digital Camouflage
If I could give this place ten stars I would. Booking with the receptionist was easy and fast, they were very detailed. Despite me arriving late for my appointments they were flexible and happy to accommodate me with every single request. My masseuse Tilden was the best and made me feel so comfortable. He targeted everything I asked him to and I felt brand new after he was done. He was so perfect he even suggested the perfect food for me and my best friend. Will definitely be back everything was amazing.
9 months ago Joe Baxter
The Bathhouse is a pristine urban oasis! This place is too good to keep a secret. I have gone to the bathhouse several times, (prefer weekday afternoons) and also for a small birthday party! Staff is accommodating, space is clean and sanitary, and treatments are top notch. You can spend 30 minutes or 2 hours but you will undoubtedly leave more relaxed than when you walked in. A MUST stop in North Brooklyn!
9 months ago Ramin Safaie
This place is special. Well designed, quality service, & impeccably clean. Booked a massage, which also allowed me to use the bathhouse. Did a hot cold warm circuit so I was prepped for the treatment. Massage was without a doubt the best massage I've ever had. Finished up the experience with a healthy / delicious meal outside. They even had a electrolyte mocktail. Safe to say the best experience I've had in a long time. Left feeling absolutely incredible.
9 months ago Adam Jackson
Stopped by recently at Bathhouse for a massage and facial. I was immediately impressed by the design of the place. The amenities are super clean. I had Nichelle as my masseuse. She was very professional and it was one of the best massages I have ever had. Will definitely visit again soon!
2 months ago Hevert Terres
My experiences at BATHHOUSE have consistently been impressive. The menu in their restaurant is world class, the facilities are crystal clean & the services are rejuvenating. I took my mom on Monday, thanks to their covid precautions we both felt safe & comfortable. All the guests were respectful about mask wearing & social distance, otherwise they were asked politely by faculty to adhere to the guidelines. The build out of this spot is so special, there is no way you should pass through brooklyn without visiting & if you live here in NYC you should be a regular by now.
6 months ago ANDY Francis
OK....so it has a nice ambiance, however, if you're someone looking for a place to chill while maintaining social distance, this is NOT the place. The guests didn't seem to care about keeping their masks on when in or out of the pool area, nor was it really enforced by the staff. I had gotten there by 6pm with a girlfriend of mine, and it was not what we expected for the amount we paid. The place actually looks larger in the pictures than what it really is in person, so I'd be afraid to see this place on a busy day... (as people were sharing the same small pools in close proximities) PROS: Beautiful art, signage, ambiance; the locker room was pristine & provided all of your essentials; combs, qtips, robes, towels, slippers, hair ties, deodorant spray, face mist..etc. HOPE THIS HELPS!
6 months ago Kurt Jendrek
This place is a godsend. I've had the pleasure of having the Thai Massage, specialty massage and eating at their in-house restaurant. Hands downs an experience worth having as a local or if your just visiting and require some much needed R & R. One of the biggest take aways for me was how accommodating, insightful, and nurturing the staff and owners were. As long as I live in this city (and even if I leave) they will have my business and adoration. Glad I discovered this place during these trying times. It has become my sanctuary ????????????
10 months ago Giacomo Pane
I went to this place over the weekend, for what it is it's aesthetically nice. Very small, too many people on the weekend I'm sure weekdays are better? Anyways, what I found disturbing is that when I went for my brunch, (the food menu) not the drink menu, DISCREETLY has a satanic goal symbol on the top right corner. This is disgusting and if that's something your business aligns themselves with you should let people know ahead of time, it's not fair to your employees or customers. Had I known I would've never gone.
8 months ago Geo Rosales
Bathhouse is our favorite date night spot, now more then ever. The therapists and team members at the front desk offer great service while still making you feel safe and comfortable during these time. They are clearly very attentive to cleanliness, there was always a team member cleaning the common areas but maintaining social distance. We had dinner outside after our treatments and the food and wine list were on point. 10/10 will be going back.
9 months ago Hilda Dunemn
Beautiful spa and restaurant! Must see go to spot in Williamsburg
3 months ago Hashtag Mikey
Amazing experience while in the midst of a pandemic. Didn't think it was possible to feel so calm and relaxed while in a public space. They make it so easy by not letting people in the spa unless you have a treatment scheduled. So I basically got the spa all to myself. My massage was amazing, Marie (Maria?) was wonderful. I look forward to coming back again. Beautiful space as well. Worth every penny.
2 weeks ago David Grantham
Went in August 2020 (1pm on a Tuesday) and it was so great and empty! Well worth it for the 2 hour stay considering it felt like I had all the saunas/steam rooms/pools to myself. Highly recommend going with one other person for a little afternoon stint.
11 months ago Svetlana Bitutckih
Awesome place to relax, take shower and go to bath.
3 months ago midhu prem
Good food. It's noting wild but good. It's very close to being really great but we did enjoy it. The Shakshouka was good but not huge, I needed a little more love there. The tea was good and my Fiancée's food seemed good but not too big (she had the eeg sandwich) the bread took about 10min or so to get to the table & the side of sweet potato was not happening - good intention but just not in point.
11 months ago Joe Harlemert
The saunas were so nice and relaxing. I had a great massage that worked out all my knots!
7 months ago Abbas Bahrami
Great amenities for $55 for 2 hours.
4 months ago Miriam Herman
Peaceful, tranquil, and so clean! Staff were friendly and nice. Massage was amazing. I highly recommend
2 weeks ago Asley Aguero
Massage was great and space was cool. It's also neat to have a dining option. However, pools were a bit small/crowded compared to alternatives in NYC and should be a few degrees warmer at the very least. Also unclear why robes were not provided at this price point. Overall, a good option for Williamsburg and decent massages but I would prefer more/better pool space, even without COVID.
2 weeks ago Denis Carroll
Bathhouse is one of my favorite oasis in all of New York. Here's what you get: Like really really good food One of the best places in Williamsburg to grab drinks. Top notch service (thank you Natalia!!!!!!) And a dreamy bathhouse experience!!! Speaking of the service, everyone is sooooo friendly! Like I want to be their friends and hang out all the time?
10 months ago Rico Angeldones
It serves it's purpose especially during quarantine times. Book your reservation well in advance and take your swim trunks!
3 months ago Tis Rachel
Reasonable priced, cold plunge was life affirming
3 months ago alex carter
Lovely spot. Would be better if they offered shorts to or at least warned you to bring your own. I had to buy a $90 pair.
8 months ago
Popular places from the category Massage spa