BATHHOUSE
Massage spa BATHHOUSE, 103 N 10th St, Brooklyn, NY 11249, United States:
130 reviews
of users and employees, detailed information about the address, opening hours, location on the map, attendance, photos, menus, phone number and a huge amount of other detailed and useful information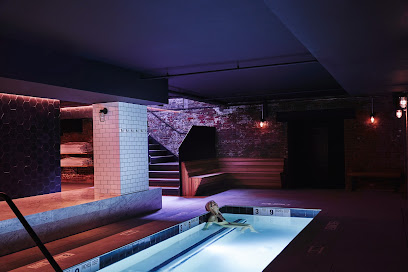 Address:
103 N 10th St, Brooklyn, NY 11249, United States
GPS coordinates
Latitude:
40.7204537
Longitude:
-73.9572868
reviews Ahmedullah Aziz
I loved it here. The staff is friendly and professional and the bathhouse is very clean. The massage I received from Nick was amazing. My body felt so relaxed. I uped it to 5 stars since they reopened the steam room.
10 months ago Kim Cobb
The place is beautiful don't get me wrong but the massage I received was horrible especially for the price !!! I am literally now in pain !! It wasn't a nice relaxing massage for my husband and myself and it's such a shame because I had such high hopes. When you first walk in your not given much information especially since it was my first time being there I was clueless and just like another reviewer my towel that I was given was dirty it had visible blood on it ! ????
10 months ago Stanley Luke
Very clean and modern! Not very big but worth a visit!
7 months ago Melissa Nobles
The ambiance was amazing. Allowed me to think, spend time with a great friend and generate some amazing ideas
8 months ago Richard Schagrin
Lol. They did a good job with this one.
6 months ago Chris Mccoy
Really relaxing, Covid safe environment.
5 months ago Obaida Shammama
I recently went to bathhouse since I had a gift card to use for my birthday. I was expecting 5 star service since the cost of all the services are very high. I got the Thai Massage. Which I enjoyed and no complaints there. What threw me off was the welcome reception, the confusion I had never going there and being directed to the locker room like I knew where I was going. The dirty towel that was given right at check in. It felt there was a lack of care for complete service from when you walk in and start this relaxing experience. My complaint is for the price of the Thai Massage $195 I didn't feel like a valued customer and. didn't feel like a high end experience.
2 months ago Nadine Bailey
Amazing place. Let me tell you this is a place to go. The bartender Joe is amazing. I cane far from Manhattan to this place and it was so worth it. The food the vibe. The service and the attention was AMAZING. WOw. Seriously WOW. I will for sure be here again and again.
1 month ago Su Zheng
Staff were in the pools / laying out with phones. Not appropriate. Would not recommend.
1 month ago Jim Laville
When it's not just disappointing experience but also a damage. Which ended up with surprisingly disrespectful reaction by customer service, we had a feeling that the owners absolutely don't care about their clients... wow, so so unexpected.
9 months ago Shanie West
Would highly recommend. The staff are great, super friendly and the building/amenities are immaculate. I had a full body scrub with head massage and it was amazing. Pools and saunas are on point and you can even go grab lunch and a glass of wine upstairs.
1 month ago Andrew Diederich
One of the best secrets in Brooklyn. Spa and restaurant! Must experience!
2 months ago John Pumphrey
It was the best experience I ever had. Me and my friends are coming back for sure.
11 months ago A A
Nick! Magic fingers! A little concerned abt going now bc last time was a bit crowded no masks in common areas. But can't wait to go back otherwise after this all simmers down!
9 months ago Tina Perkins
Best was Hamman Treatment with Ariel
5 months ago Guylain Lebel
Nice spot had a amazing time definitely will return
9 months ago Marcin Voshena
Nice scrub treatment. No robes + guests don't seem to wear masks while walking around + in pools or saunas and some not in the locker room
7 months ago B D
It's so great to have a brand new, beautifully designed, and impeccably clean bathhouse in NYC. Love the idea of mixing the old world traditional methods (steam, sauna, cold plunge, etc) with modern day tech (float tank, cryo, etc). Having a top notch restaurant there is a huge plus. You can easily spend an entire afternoon or evening at Bathhouse.
6 months ago Lynwood Waite
treated my wife to a couples massage for her birthday, staff and amenities are top drawer!
10 months ago Manny Ramirez
I'm so elated this came to the neighborhood. A high quality spa experience right in Williamsburg. We came here many times before the pandemic (when they had only been open a few months) and hope to come here a lot after. 3 pools, a steam room, multiple saunas. So much more relaxing than any Manhattan spa. I also love the sauna master sessions they have - so much fun and very immersive. In the meantime, please continue to dine at their restaurant to support them through this time! Their cocktails and food are so utterly refreshing - everything on the menu is the opposite of sweet, rather depending on inventive flavor combinations to entertain the tastebuds. Stellar service too. Much love, as always! ????
10 months ago Rajendra Pandey
Deleting comments on SM if they are not pleasant (even if they describe the actual situation) is a bad thing to do for your reputation. Customer service is very low quality. Sadly.
8 months ago Vicki Darnell
Place is kept up nice and clean. The only way to get in now is with a reservation.
9 months ago Karen Verham
Immaculate, comfortable, spacious, utmost service, a completely relaxing time. If you can book a massage with Alex, he is a genius. The entire staff is so present and accommodating.
3 months ago Jonathan Dudek
Bathhouse is very fun! We went on a Thursday night and it was a good vibe. It's a very relaxing yet social environment. There are two saunas, a steam room, a hot tub, a warm tub and a cold plunge (my favorite). Bathhouse has basic amenities like face wash, face lotion, deodorant and conditioner (curly hair reviewer), so it's easy to pop in and out without planning in advance. I can't wait to go back!
6 months ago Robin Stuart
I had an amazing experience here. My massage therapist Beverly was very attentive and sweet. The Bathhouse is clean and stylish. The owners Garrett and Jason were very friendly and accommodating. Overall great experience. Keep up the good work guys.
5 months ago Brenda Lore
Great enjoyed it
4 months ago Gee F
The whole experience was great. Especially the message.
10 months ago Lee Walker
Massages are other worldly, best of my life.
9 months ago Kaitlyn Schneider
I had an amazing experience here.my therapist Beverly was very attentive and sweet thank u very nice place
1 month ago David Price
First and foremost, let me start out by saying that this is my first ever Review. I never leave reviews, however my experience at Bathhouse has been so exceptional that I felt the need to sit down and write this. I have been to Bathhouse more times than I can remember both pre and post covid. I have yet to find a better place to relax, recharge, and decompress in all of NYC. The Service and Staff are Extremely attentive. The Facility is gorgeous, clean, and feels very safe with the Covid Measures they have implemented. I highly recommend any of the treatments, however my favorite is the Bathhouse Experience Package which includes, a stretch, scrub, and hour massage. And dont forget to swing by the Restaurant after, in your robe of course, because why not! All of the food and drinks that I have tried have been great, however my Go Drink is the "Tropical Sauna" highly recommend if you like a spicy marg. As far As Food goes, you cant go wrong with the Chefs Tasting. Honestly, I cannot say enough good things about this place. Highly reccommend if you are stressed or looking for a great meal in your robe! Go Check it out!
10 months ago kimothy fong
What an amazing space! I've been waiting for this place to open for months and I finally got the chance to check out this weekend. They have two amazing saunas, 3 pools (a hot tub, medium, and a cold plunge), a steam room and heated marble benches to lay out on. I've been to a lot of bathhouses in the city and this place is top notch. Everything is brand new and is impeccably clean. Can't wait to come back!
4 months ago Vinit Mehta
Very unprofessional for the price. My fiancé and I did the couples massage today, and I will preface that the two massages were wonderful other than these two things that sadly made the experience tainted: 1. Every 3-4 minutes the song would skip and then come back on full volume... for a 60-minute massage it makes it really hard to relax when you're listening to a song skip like a 90s CD. After asking the them to turn it off since they couldn't get the skipping to stop, we were able to hear people talking in the pools and it was just offsetting. 2. The check in experience was overly minimal - and felt like it was lacking soemthing, and then when we got the bill on our CC statement, it has a $70 tip added that we DIDNT ADD OR AUTHORIZE. After calling, they said that "if you don't go to the desk to check out (which wasn't ever mentioned or asked) that they close out the payment with a 20% tip... without asking you. So, all in all, definitely a beautiful place but hard to feel good about a $400 hour experience with this sort of professionalism.
10 months ago Kevin Nham
Came in today to check it out. I've yet to find a better bathhouse in the city (and I've tried most of them). Amazing design, clean, friendly staff, and all the amenities you'd want (treatments, two saunas, a steam room, three baths, etc). You feel like you're entering a new world when you walk down the stairs into the bathhouse area. Street level has an attached restaurant and locker rooms. I'd recommend going with a few friends or your significant other. It feels more communal than most other bathhouses in the city (like bathhouses in other countries), so bringing a group of friends for a birthday or just to hang out would be great.
4 months ago Shaun Bourque
Adonis waded these pools
5 months ago Mary English
Is this spot intended for a relaxing sauna experience or for folks to hang out as if they were in a bar without the alcohol? The facilities were nice, but I found it difficult to enjoy myself with the amount of people and noise on Saturday afternoon. The locker room was small with only 2 showers (had to wait in line for 10 min just to rinse off). Staff was very friendly (thank you) but since it was my time, it would have been appreciated that someone give me a tour or tell me where to grab a towel/robe. From reading the other reviews, it seems it was loud and crowded when it opened and it apparently hasn't changed, so if you're looking for a relaxing spa experience, a place to get some quiet time in, I'd suggest searching elsewhere.
10 months ago Nachman Pinter
Best spa experience for your money. Exceptional massage, stretch and body scrub for only $145! With All-day access to the spa, which has thermal pools, steam room and saunas. On site restaurant as well which you could go to in your robe. Highly recommend!
4 months ago Teresa Lesure
My #1 go-to for self-care day. Amazing staff, beautiful space! I thought my belongings were misplaced, the staff was so helpful in locating and even the owner rushed in to help search. The items turned up, it was my error, and the owner even dropped them off to me since I live nearby. Amazing genuine hospitality and beautiful peaceful space.
10 months ago Jenny Carhoff
Just had dinner at the Bathhouse. I must say I was extremely impressed with the quality and presentation of the food. Anyone who can appreciate top notch food, you will appreciate this meal. My only advice is to maybe increase the portion size a bit as I had to have three appetizer and two entree's for 2 people and still left somewhat hungry. I appreciate your European position sizes, but we are still hungry Americanos!
5 months ago Debbie Chase
F your algorithm. ????????
5 months ago Tina skeeterz
I loved the experience I had with my mother today!! We both enjoyed our experience, and left feeling so cleared and cleansed. I loved the starry steam room and cold plunge especially. The weekends only french toast was to die for, and the bone broth soup was a MUST for immediately after sweating out all the toxins in your body. A very busy Sunday, yet still comfortable, and staff seemed to have everything under control. Make sure to bring a swimsuit and stay hydrated. Will definitely be back, and trying out a sensory deprivation tank! Thank you bath house team for such a great experience.
8 months ago y Faas
Clean and a definite experience you need to experience.
6 months ago Chad Petersen
I love this place! You get to hang out with your friends and they have the nicest saunas. The staff is so friendly and always smiling :) I can't wait to go back. Also their drinks are not to be missed, I highly recommend the Spur!
6 months ago Brandon Juan
Facility is really nice, the lights in the steam room are amazing. A little confusing your first time because signage isn't very clear. There's no bathrooms down in the common spa, it's back in the dressing rooms. The towels are at the back of the ladies rooms, but I couldn't figure out where the used ones were disposed, I saw a lot of towels just left on the floor. It was nice to have slippers provided in the dressing room but they kept getting taken away in the spa. There weren't any slippers down there so I had to keep going up to the bathrooms barefoot. I do love that they have a good supply of water & cups down in the spa area. Dressing room vanity is a bit tight on space if it's busy. I loved the food in the restaurant, duck leg was cooked perfectly, cocktails weren't my favorite.
7 months ago Rigo Fuentes
This place is amazing! Nicest Bath House I've ever been to. So clean and smells great!
4 months ago Sean Coyle
We had a good time there, although we found saunas and steam room not hot enough. Please make them a bit warmer! Exited to have it in my neighborhood.
5 months ago BONNIE RUBIN
So excited that this place opened in the neighborhood! Went with a friend and cryo wasn't open yet but space absolutely blew us away. Massages, scrubs, steam room, saunas, hot and cold pools and a restaurant. Staff was friendly and knowledgeable. Will definitely be spending time here this winter!
5 months ago Clarissa Ali
Was amazing great staff
9 months ago Vintage Beauty
so glad this spot opened in williamsburg. great place to spend a weekend morning/afternoon
6 months ago Gail Barsalou
did not like the experience. They also try to pressure you to tip 20%, even if you don't like the service.
9 months ago Scott Menia
Hands down the best bathhouse in NYC with the largest (and fairly priced) float tank. Exceptional service. I have taken so many people here.
6 months ago
Popular places from the category Massage spa