BATHHOUSE
Massage spa BATHHOUSE, 103 N 10th St, Brooklyn, NY 11249, United States:
130 reviews
of users and employees, detailed information about the address, opening hours, location on the map, attendance, photos, menus, phone number and a huge amount of other detailed and useful information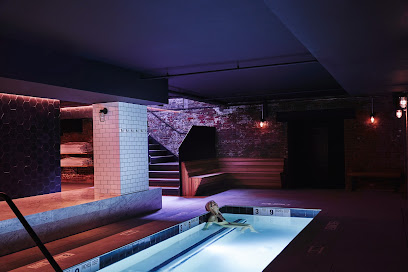 Address:
103 N 10th St, Brooklyn, NY 11249, United States
GPS coordinates
Latitude:
40.7204537
Longitude:
-73.9572868
reviews Charles Ratcliff
A refuge from the chaos of city living. I found Bathouse to be a perfect place to recalibrate without spending an arm and a leg. An everyday luxury you can actually afford. Looking forward to going back!
6 months ago Lisa G
Bathhouse is designed very well and feels like a quick dip outside the city. Very modern and clean asthmatic is very relaxing. Didn't try any of the services but the staff was very friendly and next time will try a few add ons. You can likely walk in for a day pass, on the weekdays, but should definitely book services a week in advance. The prices are high, but justified for the quality and size of the place. There are two saunas and one steam room, but they are definitely spacious. Loved the heated marble benches staying true to an original hammam! Don't be afraid to dip into the cold bath, it's extremely refreshing. Feeling extra rejuvenated- thank you bathhouse!
10 months ago Kurt Hinds
Great/ helpful staff. The people who worked there were all really nice and helpful including Christian and Maya. 5 stars for them. The experience gets 3.5 stars. As everyone else mentioned the place gets super crowded. They let people on every to minutes but there is no limit on how long u can stay. So it gets packed. No where to sit, pools full. People are loud and you get a lot of bro's in there as well as obnoxious soul cycle types of women. No one has common courtesy for others personal space. The website makes the space look a lot bigger then it is. They have three small pools. The cold on is cold, the largest which is still small is like lukewarm bath water and the hot pool is tiny and not hot enough. Found both saunas and steam rooms to not be very hot. Marble slabs to sit on where not heated well and overrun by those taking it up I. Themselves to lay down and take over the whole area. Locker rooms were ok, not enough hooks for jackets or towels. Not enough bench space. Also they needed better signage and should consider some lounge chairs around the perimeter. Overall it's a great local edition but they need to limited the amount of people who can go in. I'd try going back during a weekday.
5 months ago William Wright
Great service & clean
8 months ago Marty Piper
Really clean and beautiful space. A good offering of toiletries in the bathroom, ample towels, clean slippers, and lots of seating inside the saunas and nice placement of the ice bath. Staff were nice and very accommodating. I do have a few recommendations. The hairdryer in the women's bathroom was sad. Please get the Dyson hairdryer!!! It is a game changer and necessary given the clientele and demographic of the neighborhood. A hairdryer that actually dries hair (and quickly) is also a practicality in the winter months. Recommend doing fruit water or teas at the beverage station. That's usually what is done in the Russian bath houses. This would be nice. Dry saunas were not hot enough. Need to increase each by at least ten degrees. It also just makes people have to sit in the saunas longer for the same effect. This is a must. Have birch branches and/or cute sauna hats for sale. Would be cute for it to have the bath house logo. I would purchase and use at each return visit. Some more tables/lounge chairs in the pool or upstairs. It would be nice to be able to lounge and play cards or chat with friends while sipping tea. Understood if this is not the vibe but this would be much more representative of European style bath houses.
10 months ago Dwight Gary
Management, please impose a silence or quiet policy in the bathhouse to control conversation levels. The noise levels kind of ruin the experience for people who are there to relax, not hangout with friends (that's what bars are for). It makes the experience less than ideal.
8 months ago gary steffens
Loud and overcrowded. Pools can fit 2 people before feeling crowded. Not the nicest staff. Questionable cleaning practices and lockers constantly stuck!
1 month ago Darrell Young
Great place highly recommend
10 months ago Anthony Aussel
The place itself is nice but you should know what to expect when you book; noisy,loud and with zero privacy place. It is another chaotic space in NY, no relaxing areas, no quiet anywhere. Music is quite loud, people is hanging out as if it is a party; it feels more like a dating/social space than a real bath house. I tried the floating tank and didn't receive any advise about the possibility of having issue at my eyes: during the floating they started to be itchy and after few hours they eye contour is all red, itchy as if I have an eczema. I was supposed to spend few hours at the bath house but, after the tank experience, I left almost immediately as it was very chaotic; i payed three admission fee for almost nothing and although I immediately shared my concerns (and I was told they are hearing them quite a lot) I wasn t offered any attention but a simple "I am sorry". Never again
10 months ago Rachel Morton
Ok finally! We have been waiting for this place to open and what a pleasant surprise! Very cool vibe, the space and the decor are on point, nice menu and great staff ????????????
8 months ago Kenny Wolf
Decent heat although saunas could be hotter, better than Korean spas though. Great wifi speeds, 200/350.
7 months ago Sam
Great new spot in a perfect location in Williamsburg. The amenities are well done with huge saunas so no worries of overcrowding as well as sizeable pools that allow you to cool off or heat up. Great social atmosphere and perfect for group events. I was very impressed!
5 months ago Caitlin Smith
Wow this place is special. It's a great combination of luxurious and fun. I'm going to be here all the time.
5 months ago D Shorten
Horrible! trying to book a private space here is impossible. They don't even care about the client. had to book the space at Aire in manhattan which I really didn't wanted to. Event department staff please answer when someone is trying to book your space or don't even offer it fro private events!
5 months ago Leigh Houston
Overall a decent place..at times small if over 20 people show up But main concern is about cold iced water which is the only thing to drink there It has been proven that cold water is not good for your body at bathhouses It should be room temperature water or even better herbal hot tea Hopefully they will add that
6 months ago Trista Bliss
A much welcomed AND needed addition to the neighborhood! Loved my first experience with a simple Daypass. Spent the afternoon cycling between the different pools (hot, cold, warm), the two saunas and steam room. Very interested in trying the sensory deprivation tank and cryo. As an avid listener of the Joe Rogan Experience podcast, I've heard the great benefits both have. Will come back next time to experience first-hand! My holiday shopping is also done! Spa treatment packages for my family!!! Highly-recommend everyone check this place out!
3 months ago Modern Ego
Amazing place. Loved it. Great atmosphere.
5 months ago Gagandeep Singh
like a warm bath on a cold winter's day - actually that's exactly what it is
6 months ago Chris Bierman
Hard to find Pét-nat and dino sized bone marrow just sealed this place as a favorite. Staff is friendly and design is spot on. The spa and restaurant immediately gratify like a perfect hand shake. Can't wait to come back...
5 months ago victoria gonzales
Love ????
11 months ago Israel Gomez
Great ambiance and hospitality! Thanks Aaron
10 months ago hojokono uploads
Stellar time there
7 months ago Nadorcityworld
This place is nice and small very clean and quiet place to relax
6 months ago Milton Miranda
Restaurant was underwhelming. Food was comically small and the service was a bit of a mess. Need to figure out the sound/noise situation and the entrance. People were just standing around all over the restaurant waiting for seats or standing in robes while we ate.
4 months ago Jonathon Dunaway
Beautiful place !
2 months ago Francisca Cochran
Great idea for girlfriends doing a birthday, full disclosure: barstools at the restaurant are a concussion deathtrap
8 months ago chad rozelle
I'll hopefully be posting a review within a week, but unfortunately, I can't seem to get to actually book a service here...phone number is not receiving calls, and no response from email sign ups (tried that twice), or from an instagram message....the pictures look nice.
5 months ago JinHee Han
Quiet
9 months ago Nathan Dunning
amazing
5 months ago Melissa Brown
Clean!!
4 months ago
Popular places from the category Massage spa