Great Jones Spa
Massage spa Great Jones Spa, 29 Great Jones St, New York, NY 10012, United States:
114 reviews
of users and employees, detailed information about the address, opening hours, location on the map, attendance, photos, menus, phone number and a huge amount of other detailed and useful information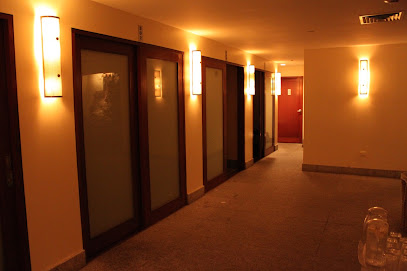 Address:
29 Great Jones St, New York, NY 10012, United States
GPS coordinates
Latitude:
40.7269684
Longitude:
-73.9933900
reviews Ivanice Carvalho
Best massage I ever had. Not exaggerating. The staff was delightful and professional. My masseuse was obviously very well trained. It is the next day and things that have been bothering me for months feel unnoticeable today. Beautiful facilities as well. Will be going here from now on. Why this place doesn't have a 4.5 or higher is beyond me.
5 months ago Emma Schutte
Very nice for Manhattan based spa. We just did the water lounge pass for $50 ish each for 3 hours. Nice jacuzzi pool, cold plunge pool, steam room and sauna. It isnt huge but was fine for a Sunday with about 10 - 15 others there while we were. Most chairs are plain plastic, not very comfy or relaxing, so not very spa-like. Lockers are handy using a code you set yourself, so no need to keep a wristband / key on you. Nice extras in the changing room in case you forget things like a comb or hair ties. Would definitely return, but you do get a lot more value for your money at the huge spa retreats in Queens/NJ - but if you don't want to travel and are Manhattan based this is a great option!
4 months ago jimmy smith
Wonderful masseuses. Best massage I've had in years.
3 months ago Joe Liska
THEY WILL STEAL YOUR FINE JEWELRY. BEWARE. Camille gave me a facial and removed my gold necklace and never gave it back. I have called countless times and have spoken to the manager Ginny Dean who each time I call acts like she doesn't remember what I'm talking about! And supposedly the general manager is aware! Yeah right. I'm filing a police report on this joint.
6 months ago Eric Collins
Very relaxing and nice place. We'll definitely come back!
4 months ago Jack Hobin
My friends gave me a gift card to use here so I wanted to get a nice mani-pedi. First; They didnt have any white color options which was weird to me. Also my nails looked no different than how they looked before I got the mani-pedi. Thank god I didnt pay anything because I had the gift card but normally it's pricey! You can definitely do your nails better yourself for free.
3 months ago Steven Hester
Amazing and so relaxing. Best facial ever.
5 months ago Krys Archabald
I booked my husband a massage for his birthday and of course booked myself one. Jacob was extremely professional and highly skillful. I have problems with restricted movement in my shoulders and spine. Jacob really opened up my range of movement and was very impressed. My husband thought it was one of the best massages he'd had and that is high praise indeed. It's like hitting gold finding a practitioner of this quality, planning on booking every month as part of self-care and improving my range of movement. The staff at the spa were extremely helpful and the facilities were good but not exceptional. It's a bonus to have use of the facilities as part of the massage so nice to relax, drink tea (or bubbles) after an amazing massage. Highly recommend Jacob and to enjoy the facilities.
4 months ago Taylor Bradley
My sisters bought me an awesome gift card to use here for my birthday, and what a great gift it was indeed! I got the New Beginnings package. My skin was feeling like silk and smelling of a garden in Heaven! The Great Jones Spa a was everything that I needed and more! It was beautiful, relaxing and refreshing. The staff was extremely respectful and friendly and the atmosphere was so inviting! Great job!
2 months ago WONDERLAND DOLL
I enjoy spas and thought I'd give this one a try. It is in a very bad neighborhood and is geared more toward socializing than relaxing. There is a bar and restaurant on a floor and the patio near the tv lounge is nice. If you're a woman I recommend going with a companion.
5 months ago Jenn Folster
My sister treated me to a body scrub for my birthday. The scrub was nice, the only thing I didn't like was having to go outside the room to rinse off. Common area is small, such as plunge pool and hot tub.
8 months ago Lian Oyerbides
The Great Jones Spa does amazing things with a NYC space. How many places do you go to for a massage that has changing rooms, sauna, jacuzzi, cool water dip, and showers with all of the amenities? Essentially,I go there for an excellent massage and each time I am never disappointed. Everyone there is kind and helpful and I cannot think of one bad thing to say! One suggestion that I have is to add a tip or put out somewhere in the locker room a place to put a tip for the cleaning lady. I rate fair mindedness and certainly their hard work is as important as anyone else there.
2 months ago Luke Hill
We were a little nervous about going here because of the reviews. Overall the facilities were good so was the massage. No frills, but it definitely did the job. I would definitely return.
4 months ago Tim Hamilton
Really hit the spot and exactly what we needed to recharge the holiday batteries. Incredible massage but pricey for half hour at 110. Water lounge was refreshing and perfect with sauna steam cold plunge and hot tub but got crowded quickly after 3. Would give 5 stars had a giant cockroach not roam across the floor... I alerted an attendant who quickly squished it and kicked it aside.... so weird.
5 months ago Doug Hirsch
Fabulous gem. Enjoy a massage & relax in the pool/spa.You'll thank me later
4 months ago Michelle Duec
Really difficult experience here. Generally the facilities are clean but the staff are tough. From booking to payment, I was not treated well. Look at your management closely. Are you really doing a good job?
4 months ago George i
I had a wonderful experience at Great Jones Spa! I booked a 60 minute Swedish Massage, and it was incredible. My masseuse Mileidy was so kind, and did a wonderful job! The water lounge was very relaxing, it was nice to have a cold pool, a hot tub, sauna and a steam room. My only complaint was that it was a bit small, and there were only 4 lounge chairs. I was never able to use a lounge chair, and it was a quiet Monday afternoon.
4 months ago Linda Mills
Four of us went for the first time. The place is confusing to navigate for the first time. I'm in the service business myself and for 30 years I know how important customer service is. There should have been someone there to show us around. I spent time running up and down looking for assistance. It was awful. By the time I was ready for my massage I was through. The massage was nice but the first impression and service was unwelcoming. The only person who helped us was Ada in the changing room after 5 minutes of running around. Won't be back. Shameful.
4 months ago Annette Allen
If you want the worst experience of your life, then come on down to Great Jones Spa! During business hours, your phone calls are greeted by 5 minutes of constant ringing only to be told you cant even leave a voicemail. Want to cancel or reschedule your appointment? Well you're in the right place! No one will get back to you and when you arrive for your appointment they'll tell you that they already cancelled it. Not like the consumers deserve to know before they make the trip anyway, am I right? So now you want to have the situation rectified because having your time and money wasted isn't good business, well you can send an email to them! They'll respond to your email swiftly, a day later, with a response that clearly shows that they didn't even read it! No one to answers the phones and no one to handle customer service? No problem! In all seriousness, this place is horribly run and staffed. You'd be better off going literally anywhere else. You can get massages elsewhere for a third of the price and they'll actually answer your phone calls and emails. I pity anyone who puts up with the low level of care and diligence that this train wreck of an establishment provides.
2 months ago Jonelle Maras
Adam gave me the best deep tissue massage treatment of my life. Knowledgeable and professional.
4 months ago Peter Carey
This place is below average. The 60 minute tissue massage was good but everything else about this place needs a makeover. The locker rooms were worn down. The jacuzzi was barley warm and the cold pool was extremely small. I did enjoy the sauna but overall I wouldn't pay to come here. Thank goodness someone gave us a gift card.
4 months ago Clay Baker
Long time ago I went to there for Thai massage. Receptionist told me to brought comfortable clothes to have Thai massage so I brought them and wear them and went to the massage room. I was already embarrassing because only I had my own gym kind clothes lol. Then at the room a guy showed up even I said I wanted a woman. Besides, I didn't need my gym clothes.. I had to be naked anyway for oil massage that was not not not Thai massage that I wanted.. I don't know why but I just remembered and got question mark about this experience so decided post it. That was very bad spa experience and never went back to any spa.
6 months ago Julie Wiggins
A very strange atmosphere that's kind of like chilling out in a dark basement with cheap furniture and chairs. The sauna is fantastic, but apart from that, it's a very poor experience.
8 months ago Collin Black
Excellent and quality service! The team is professional and prices are fare. Thank you
4 months ago Brynn C
The worst experience I ever had, if there was a way to give 0 stars I would. When I first walked into the locker room a cleaning lady was trying to open a locker that was locked, soon as she saw us she quickly pretended to pick up a towel. She stood there the whole time staring at us while we undress. That made me feel very uncomfortable. In the pool area we were sitting on chairs and a male employee started to clean/brush the walls right next to us so the sounds of brushing was totally unpleasant. Another lady was cleaning the other side of the wall as well, it is called a spa but sounds more like a construction site. We complained to the front desk and nothing was done. Then another employee follow us into the locker room and stood there until we left. The Brazilian wax was awful seems like the lady never did it before or she just don't know the process. She left me with hair and wax all over. I was told that it didn't matter if I get the wax before or after going to the pool, so I got the wax done first after that I was told I cannot go into the pool because I got the wax done. I was only able to sit on a chair the whole time. My pedicure was awful too, my 5 year old daughter does a better job. Don't waste your money on child like work that is supposedly done by professionals. Oh I almost forgot to mention one of the most disturbing thing happened the lady finished my wax and says "It just like a little girl" who in there right mind would want to hear that.
5 months ago Lee White
Not worth what I paid for Everything was nice and clean and smelled great. The massage was ok I relaxed. Even if I didn't leave the generous tip I did, still overpriced. Water lounge is small and the surcharge for setting up a bottle and my little slice of cake. Not worth it at all. First and last time coming here
6 months ago Dominique Lindsey
Great spa for the money! Go to Ian if you are an athlete and need deep tissue massage work. Really cool space and will definitely be returning with my girlfriend for next time :)
2 months ago Julie Wiggins
I ordered a gift certificate for a 50 th birthday gift to be delivered on the birthday. It was not delivered. Very upset to have this happen, of course. I hope the spa experience is better than the ordering process?
5 months ago Nessa Acosta
My Wife and I attended this Spa for our anniversary and this place did not disappoint. Awesome small spot, not too crowded, amazing hot stone massages, and pleasant staff. Definitely would go again.
5 months ago mattdre tv
Incredible, very nice service very relaxing, clean, friendly, and prices not that bad.
8 months ago Jamie Salis
This place is just okay, I really don't understand any of the hype that it's received on the internet. Certainly does not belong on any "best spas of NYC" list and will be sure to let down after expecting a place that does belong on that list. It's a shame that we are so used to sacrificing quality for convenience in Manhattan but this well located spa was not worth the price. The place is old, crowded even during off hours, only has 1 hot tub (which can only fit about 6 people) and has no quiet or relaxing area. The "three story waterfall" is merely a wall sculpture of trickling water that can barely be heard over the roaring chatter of groups of friends and loud tourists in this triple height echo-chamber. All of that being said, my massage was great, shout-out to Nick for the wonderful deep tissue treatment.
5 months ago Emmanuel Severino
The place is so relaxing, highly skilled staff and very accommodating as well.
3 months ago Tj Duty
I had an amazing experience at Great Jones Spa earlier this month. I waited for my facial in the water lounge which was wonderfully relaxing. The facial treatment was wonderful and Kim made sure I had as much information as I needed. I finished off my stay with a smoothie from the cafe upstairs. Exactly what I needed in the middle of a hectic week.
6 months ago Cap Beatz
This is one of the best spas in NYC. A very elegant layout with steam room with jasmine and eucalyptus oils, sauna made of large rounded river rocks kept at 168*F, hot tub with varying intensities of bubble jets, and cold (very cold) plunge pool on the bottom floor. This level is 2 stories under the busy manhattan streets and really feels like an escape, also on this level is "the water lounge" a restful array of chairs and chaise lounges surrounding an indoor waterfall from the street level where you can relax and listen to the babble of the falling water. The locker rooms are very well kept and have restrooms, showers, lockers, and a well stocked sink area (soaps, moisturizer, cotton swabs, etc...). Lush robes, towels an slippers are provided in the locker room too. I went most recently for a couples massage and the experience couldn't have been better. We came a few hours early and decompressed for a while in the water lounge and steam room. The couples massage room is huge and smelled great. My masseuse took my direction perfectly and really worked the aches and pains I described to her and tailored the treatment to my needs (I'm an athlete with many intricate muscular and skeletal issues). My partner, also an athlete, had an entirely different set of instructions for her masseuse who also took the direction to heart and performed a wonderful deep tissue massage. After the massage we went back to the lounge and spent some more time in the sauna and steam rooms which was a great way to extend the feeling of the escape. I really can't recommend this spa highly enough. A wonderful and attentive staff, a great facility, a flexible schedule, and above all fantastic practitioners. Thank you!
6 months ago Smith Schwartz
Professional and non obnoxious employees behind the desk. Prices are reasonable, given the high end demographic. Can't comment on the services however, as I simply entered to obtain a gift certificate.
5 months ago Naoshad Islam
I was here several times and can say that every massage I got here was very professional, comparing to other spas I've been. Plus they have steam room, sauna and pool which are included into massage price, and you can stay there as long as you want. Definitely recommend this spa.
6 months ago l graziano
My husband and I had an impromptu spa day at Great Jones Spa. We spend around $55 each for 3 hours use of the water lounge. Had a perfectly nice time without spending too much. Facilities are nice and clean, towels are fresh. They offer you robes and slippers too. Employees are diligent about cleaning up and refreshing supplies. The water lounge has a smallish but pretty hot tub, and a 2 person ice bath, dry and wet sauna as well as a comfy lounge spot with magazines and chairs. This is all in the lower floor of the building so it's not big but the space is nice and the high ceiling gives it the illusion of a larger space. We went Saturday night around 6pm and it was not crowded but pleasantly full of other people. Dressing rooms have showers with shanpoo etc. They also offer lotion, hair product, shaving needs, and blow dryers. It's a trendy area so going out for drinks is pretty typical of the spa goers. Overall very pleased and will probably go again. Only comment was that I wish they had a little more space but in NYC that's pretty much the norm.
7 months ago Francine Sheffield
Really clean and good services. Only a few details, which could take it to the next level. Chair and recliner availability is not that great. That sauna door hinge was so squeaky, every time someone was getting in or out, it was messing with the peacefulness of the place. At one of the massage rooms, every few minutes, you could hear from behind the walls, some kind of machinery, like a water pump, going off for a few seconds, every few minutes, again messing with the whole tranquility experience. Lastly, the men's showers could use an upgrade. Every time someone flushed the toilet, the water was getting really hot momentarily.
2 months ago Myckel Saintpierre
Great place, quality services and therapists are lovely, kind and skilled with their work. Thank you
8 months ago Bree Bree
Went in for a massage. There was a little mixup with the reservation, was supposed to be a couples massage but was booked separately. The manager did a good job of making it right. Had the best massage I've ever had at a spa. I highly recommend Ian. The rest of the spa was a little small. The steam room was nice post massage. It was pretty good value for the cost. I'd definitely go back for another massage.
8 months ago David Desautels
I had a 90 minute (deep tissue) massage but in this case, the massage was missing the deep tissue. The therapist lacked the agility to perform the treatment. It ranked as one of the worst treatments to-date. On the way out, I asked to speak with a manager but no one came. Poor customer service.
6 months ago Rebecca Rutgers
Just had a really good massage from a knowledgeable guy called Michael. Thanks! His service was great. As were the reception staff, welcoming and friendly. Didn't find the common parts relaxing however. Loads of young hipsters saying "oh my god" to each other, quite bustling and didn't feel very special. Would not put me off revisiting at all, but if this was a special treat luxury spa day maybe I would pick elsewhere.
5 months ago Kellee Ward
I loved it! Had a great massage with Adam. Great water lounge area with steam room, sauna, jacuzzi, and showers. It's a fun place to go with friends and the massages are actually incredible.
5 months ago Svitlana Volochai
I had a nice experience at the Great Jones Spa. The Thai massage that I booked was good but not amazing; I did however feel relaxed afterwards and my masseuse was very friendly. More than the massage, I really enjoyed the use of the facilities. They have a nice sauna, steam room, and jacuzzi. I also like that they have the option of bringing your own food in. I would definitely return for the use of the facilities but I probably would not go with the Thai massage again.
2 months ago diane bergeron
My fiancée and I were so pleased after visiting this place - see Jacob for the best massage. The space is not as small as other reviews suggest... unless there's another 50 people in the water lounge. Such a relaxing area with the pools, sauna and steam room - you go spend 2 hours there. Definitely recommend after a week navigating Manhattan by foot!
2 months ago Parker Beall
I love it here!! Great facilities with hot pool, cold pool, sauna, and steam rooms.
3 months ago Nicholas Dietschler
I had a deep tissue massage, which was pretty bad. I would not go back. Too many other much better spa's In NYC. Also the locker rooms are old and dirty with poor facilities.
6 months ago Teresa Simon
The water lounge was a great way to relax. Nothing fancy but clean and enjoyable.
6 months ago regina jones
Relaxing spa, quality services, therapists are kind and skilled.
4 months ago Matthias Meister
Their steam room is really great.
4 months ago
Popular places from the category Massage spa