Flixbus - Midtown
Bus company Flixbus - Midtown, 300 W 31st St, New York, NY 10001, United States:
28 reviews
of users and employees, detailed information about the address, opening hours, location on the map, attendance, photos, menus, phone number and a huge amount of other detailed and useful information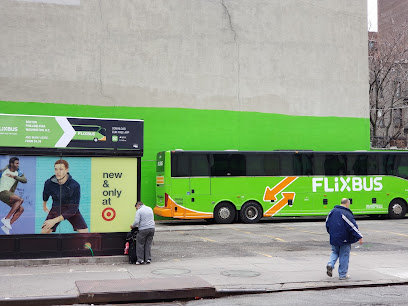 Address:
300 W 31st St, New York, NY 10001, United States
GPS coordinates
Latitude:
40.7501251
Longitude:
-73.9952079
reviews Tina Gui
Seats so uncomfortable, so many stops. From new york to washington dc was 6 hours. very dirty, no covid social distancing. you got to put your own luggage inside. HORRIBLE
5 months ago Ryan Olsen
No regard for COVID. Bus was fully packed and masks were not enforced. Tiny "dividers" were lazily made with rubber bands and hot glue. We paid extra to reserve seats and the driver said it meant nothing. Parents had to sit separately from their kids. AVOID.
2 weeks ago Linda Arsenault
Affordable prices but the buses are often late,they don't have a comfortable waiting area which make the waits frustrating.
4 months ago dj knudson
Took Flixbus for the first time a couple days ago round trip from NYC to DC, and i will definitely say i was impressed, tickets were cheap, buses were modern and clean, not packed, drivers were very professional and safe. I also had to switch my return trip to a earlier date and i handled all that within the app. I will definitely be using Flixbus for future trips, 100% better than Megabus and greyhound!
11 months ago Phyllis Brower
Took FlixBus last week to Philadelphia as they were the cheapest around at $12. Bus was clean and the driver was courteous. I found legroom to be very restricted compared to other buses like Peter Pan, and did not see any outlets or USB's near seat. Plus WiFi was really slow too, though it did work. Bus left 2 minutes late (nearly on time) and got to Philadelphia 15 minutes early.
7 months ago Tyson Quick
It was a bit confusing at first, everyone put their bags on the wrong bus...there wasn't any clear indication of which bus was which. The bus is very clean and has space between riders.
6 months ago keya das
Very good time
5 months ago James Green
Cheapest safe way to travel across most states in the US
1 month ago C Martinez
Cheap, convenient and fast. We took a bus from NYC to Washington. The driver was nice. We were scared because of some comments but everything was great!
6 months ago Max Bogdanov
Flixbus some time no phone chargers No good
9 months ago Benny Louie
Took a FlixBus to Boston and then a second one on the way back. They were vastly different experiences. The first arrived 30 minutes early to my location. Cost about $20 to ride, $2 to reserve a seat. WiFi was fine, free movies and books through their portal. There were two outlets per set of seats. The bus however didn't arrive until like 10 minutes before we had to leave the station (rather than the 15 that the website tells individuals to). Nice enough seats, pretty comfy, nice and high (I'm 5'6" and my feet didn't touch the floor went sitting back). The windows are nice and large. Of course I'd never suggest someone use the bathroom unless it's an emergency. It's a straight drop from the seat into a sloshing tank of the blue liquid from portapotties. Pee at your own risk as a bump could send some splash back up at your bottom. The second bus has lower seats that were smashed together. When the guy in front of me leaned back, my knees touched the seat in an uncomfortable way. There was no WiFi on board, though that is what I paid for. Also, the outlets that were available, did not work. About 10 times along the trip the bathroom would randomly emit this large slam noise as something was knocked around followed by a very scary splash. We had 15 minutes to grab lunch at a Burger King along the way which was nice and unexpected though made us not arrive early as I always wish for.
5 months ago Amy Huntley
i miss Eastern Bus. bus arrived a little late, but nothing too serious. after the buyout; Eastern's old buses were traded in for newer, more updated buses. however, these buses have a lot less leg room and don't recline a good distance compared to OurBus or even Eastern, the bus was clean though. wifi was okay at first, but got worse along the ride. also, bus drivers drove somewhat eratically. speeding, rapid lane changes, slamming on brakes; but it got us to our destination faster. their spot in Midtown is a makeshift parking lot, but it's location to transport (across the street from Penn Station) is really good.
6 months ago Allyn Gaston
The trip to Washington DC went very well, shorter than what expected, and the driver was very nice!
6 months ago Mark Draper
The service was good, and the location right next to Penn Station was very convenient.
6 months ago Edward Gradel
They need to fix their website for not accepting cards.
2 months ago osama hussain
Cheap tickets can be purchased. Good access to cities near NYC.
6 months ago Velkumar Thangavel
Just start using the service and like it so far. Prices are great.
5 months ago Ariadna Hernandez
Flexibus stop is in midtown.
11 months ago Sylwia Celej
Good service
10 months ago Hilliard Malone
3 people not wearing mask. And the driver didn't address it. No Good!!
1 month ago Manuel Mendoza
The place was hard to find and I missed my bus!. The busses are very clean including the restroom!.
8 months ago Darya Agarkova
Very comfortable
11 months ago pratibha rv
Same disorganized as before under Eastern Bus. We bought a direct bus NYC to DC and we stopped in the middle of nowhere for 25 min.
8 months ago Elahe Hessamfar
Clean bus good prices
5 months ago David Miles
Clean, and on time
4 months ago Sidra Burget
Very good
8 months ago Heather Goncalves
Los precios más bajos, autobús cómodo y limpio, a tiempo y con viaje seguro.
2 weeks ago Melinda Stone
Excelente
1 week ago
Popular places from the category Bus company