FlixBus
Bus company FlixBus, 7th Avenue &, W 33rd St, New York, NY 10120, United States:
30 reviews
of users and employees, detailed information about the address, opening hours, location on the map, attendance, photos, menus, phone number and a huge amount of other detailed and useful information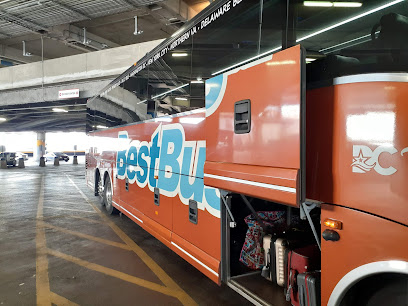 Address:
7th Avenue &, W 33rd St, New York, NY 10120, United States
GPS coordinates
Latitude:
40.7503293
Longitude:
-73.9911014
reviews Michael Brown
No regard for COVID. Bus was fully packed and masks were not enforced. Tiny "dividers" were lazily made with rubber bands and hot glue. We paid extra to reserve seats and the driver said it meant nothing. Parents had to sit separately from their kids. AVOID.
2 months ago Katrina Boozer
Idk about flix bus but best bus is the best bus lol
5 months ago Hannah D
For my trip from Washington D.C. to New York, I choose to use FlixBus since I am a frequent customer of #flixbus in Germany and Europe. I am excited about the trip but it turns out to be a horrible experiences thay, the bus stop at a gas station and the driver announced to take a break forOn e w 30 minutes. I went for food and when I came back in 25 minutes, the bus was gone. I left all of my belonging containing my suitcase, my computer; Ipad; keys; warm clothes; and especially my passport and money. I have nothing with me except for my jeans, hoodie, and smartphone. I am in the middle of nowhere and not even have enough warm clothes I immediately search for #customersupport of FlixBus but on G+oogle search, I only got the German one. i call but no one picks up since it is like 2 am in Europe, I even call #911( image) for help and the police got me the hotline number of FlixBus in the US I got into the hotline after 30 minutes of waiting, I explain my situation and ask a favor of the CS team to call the driver and preserve my luggage. The guy told me that they do not allow to or do not have it but they will note it to the driver. + I got socked, I have nothing with me, I booked Uber to Greyhound Bus stop nearby but they sold out a ticket to New York that day. The lady at Greyhound told me that I should come back to the gas station, wait there and just add for a ride. I call FlixBus again since my bus has arrived at Newyork, they said that they have no info from the bus driver about my luggage. Then I ask further info about any FlixBus will come from DC to NY ( I know that there are more via my app) would go this way; might stop at this gas station that I can buy a ticket go to NewYork with them. The guy said I can not do so due to company policy... even though I explain to her that I have nothing with me, not even warm clothes in minus degree weather in the middle of nowhere. I even urge to talk to her supervisor to further assist me but they said they only got Danish supervisor atm. I ask for their flexibility and understanding but nothing comes. I remember what they said to me " I HEARD THAT BEFORE AND I AM SURE YOU COULD FIGURE IT OUT YOUR SELF".That hurting me a lot, I feel like being betrayed by my friend since I like FlixBus a lot like a friend just turn back on me while I am facing difficulties + I wait, and luckily a guy from Dc Trails Hop On Hop Off (image) just say " get on" let me go to New York for free and remember this guy "COUNT CUSTOMER BEFORE LEAVING THE GAS STATION TO MAKE SURE THAT NO ONE LEAVE BEHIND" + I am in New York, I am depressed, I have no clothes in -8 degree, no passport no cash but still I got my smartphone and Google Pay. I just ask FlixBus to call the driver to ask whether he found something. If he found st; I wait for the return process if he did not I just make a new passport and fly back to Germany right away. After 14 days of waiting; after your drivers costing me lots of money from losing computers, iPad, clothes to cancel the hotel, flight making a new passport, I received an email " as stating in the procedure after 14 days" they said that they can not find it. I have no hope of it and will go through the process to make my new passport and fly back to Germany. Bye-bye #newyork and FlixBus ***Just wonder how can FlixBus in US is so bad*** 1. The driver is the worst, do not have clear communication with the customer, do not count customer onboard to avoid missing one 2..The Operation systems are the worst, they do not know who drives the bus and keep control it, they can not even contact their own driver 3. the customer support team is the worst, very bad communication with customer, long waiting time and have no solution and sympathy for customer problems
7 months ago Mandy Rope
Their services is poor. Instructions were not clear of the bus stop, and there were like 10 people equally confused. When I tried to express my concern at their counter in Union Station I was received by two very disrespectful ladies that yelled to customers and even called security when they were the ones being disrespectful, they yelled at is that they only sold tickets and they can't do anything. They told me the only choice I have is to buy another ticket, so I did. Moments later the same lady that told to buy another ticket, was giving an exchange of ticket for another time to another customer, she simply at the beginning didn't want to help us. Their customer phone number is a disaster. I tried calling them to verify the bus stop and nobody answered for almost 40 min. I don't recommend this company at all.
8 months ago S MEYER
I'm suppose to give them zero star instead of one star because their services were so terrible at new york area. The instruction of bus stop was not clear and we waited that spot for over pick up time where the bus was supposed to pick up us. However, we didn't see any bus coming, so we tried to call them. No phone number on their website and finally found their service on 34 st. They didn't even apologize it to us and said "you have to wait there until the bus is coming"... We can't get any refund of the ticket. App is not informative as well... Never ever take this bus again!
7 months ago Christopher Allen
Terrible service ! Staff barely talk English , my bus is late one hour! Truly don't recommend! It's not worthy pay less and have this experience
7 months ago Ivan Lupyna
Great experience! I travel back and forth to DC quite often and the pickup location is perfect to avoid the craziness at Port Authority. I've also some great prices for my trips as well. Will totally travel with flixbus again!!!
7 months ago Kenneth Jenkins
We took the Flixbus for a day trip from NYC to Washington DC and back. The bus was on time, the tickets were very affordable and the driver was friendly.
7 months ago lynn smithson
Boston area was excellent 5 stars. 1.New York service was awful and horrifying. We simply asked the bus driver if a certain bus was going to Boston at a specific time, he looks at us and says "how would I know" and proceeds to get on that bus we had a question about and shut the door. That was just utterly rude. 2. The bus' bathroom was TERRIFYING. Looked like it wasn't cleaned in months. It smelled like pee. The floor was sticky from how much pee was on there. YIOKKESSS
7 months ago james spencer
DONT BOOK WITH THIS COMPANY. I was 30 minutes before the departure time on the bus stop, along with 6 other people. The bus DIDN'T COME, we tried calling the company and they said we had missed it and were at the wrong stop, which was ABSURD. It ruined my plans for the trip, I had to run to another company and beg them for a bus ticket on the same day. Just save yourself the headache, pay more and book with a TRUSTWORTHY company.
8 months ago Elvis Renolla
Not sure what the problem is with everyone. I've taken Flixbus before in Europe and it was fine. Took Flixbus in the US on a weekend - roundtrip. From NYC to Baltimore. The bus left on time and the bus driver was very helpful. Do recommend to reserve your seat.
7 months ago Jennifer Guthrie
Never traveled with flixbus. Never will. On 295 south/ GW parkway--a horrible strip known for accidents-- flixbus was tailgating me with heavy traffic due to....a traffic accident. When he finally passed black dude driving bus 9926 flipped off everyone, then continue to practice extremely dangerous driving right up New York Avenue/ rt. 50 into DC. FYI aggressive driving is now a crime in Maryland and DC.
11 months ago Brandon Knitter
Horrible experience with Flixbus. Would never take it again. We reached the bus stop sharp at departure time but driver refused to open the gate of bus. Bus company already has 2.1 rating on google and there are good reasons for it.
5 months ago Becky Green
I was aware of the negative reviews but it was fine. The bus stop in midtown NYC is not yet on Google maps, but there's a new (small) bus station on 31st St and 8th Ave - complete with green Flixbus signage. The driver? Pretty normal for NYC - not super friendly but gets the job done. Bus left on time. It was a clean new bus. I hear this is a European company trying to break into the US market, so tickets are cheap for now as they want market share. Would book again.
8 months ago Random Name
I am completely displeased with the customer service. The seating arrangements were unorganized and the tickets are overpriced. As a returning customer, I surely will not take this bus route in the future. The quality of service and comfort have declined over the years.
7 months ago greg moore
Took a round trip new york - dc. The bus was on time and the tickets were very affordable.
5 months ago Eisa Abusida
New clean Flixbus got me to my destination on time, even with bad weather. My driver was friendly. He had us wait inside the bus 20 mins before departure on the coldest day of the year. No complaints here.
7 months ago Adam Wahlberg
Left a bag on the bus. Notified the company right away. None of the bus offices have direct phone numbers. Customer service was useless. Despite multiple follow ups for 2 weeks, no one can tell me the status of my luggage. It's not clear if anyone even tried to look for it. Customer service has no access to the lost and found department. You absolutely get what you pay for. Very disappointing.
7 months ago Ahmed Serag
I saw a lot of bad reviews after buying a round trip ticket from nyc to Richmond, and I got a bit worried. But generally my experience riding with flixbus was very professional and seamless. I think the outlets didn't work and the WiFi was a bit unreliable, but otherwise it was a very normal reliable service.
7 months ago Mariyka Kolyesnikova
Awesome experience, nice and friendly driver, good trip to DC, slightly late on departure, but caught up and arrived in DC just on time for my meeting!
8 months ago Maria Windham
Don't waste your money the worst
7 months ago Sandeep Goraya
FYI the office is located 300 W 31st St There is no office here
7 months ago Wilma Torres
Same disorganized as before under Eastern Bus. We bought a direct bus NYC to DC and we stopped in the middle of nowhere for 25 min.
8 months ago Debra Yokoyama
It is good bus/
11 months ago CA SB
bad...... and long ..... will go with washington deluxe bus and pay a little more
7 months ago Julie Roda
The worst bus service. Rude driver screamed and swore at passengers. 4 hour trip took 9 hours with 4 extra stops!!! Avoid at all cost.
5 months ago water bed
????
7 months ago Michael Brost
Garbage bus ever.....
7 months ago vincent heflin
Very good
5 months ago Sonny Havlicek
Exelente passeio
7 months ago
Popular places from the category Bus company