Eastern Bus
Bus company Eastern Bus, 28 Allen St, New York, NY 10002, United States:
27 reviews
of users and employees, detailed information about the address, opening hours, location on the map, attendance, photos, menus, phone number and a huge amount of other detailed and useful information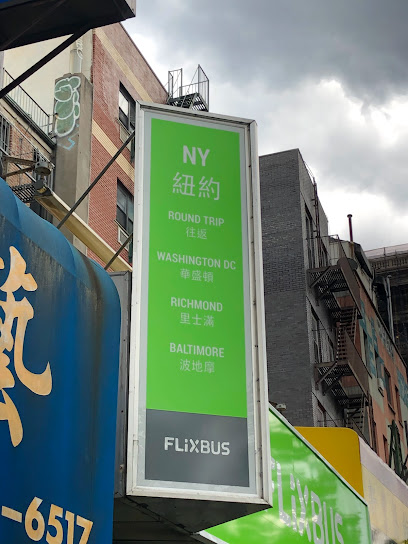 Address:
28 Allen St, New York, NY 10002, United States
GPS coordinates
Latitude:
40.7156498
Longitude:
-73.9918476
reviews Anushka Srivastava
Great price, comfortable and fast. A bit bumpy with some drivers
5 months ago Grinny Tolliver
Absolutely horrible. I bought a ticket for an 8:30am bus from NY to DC. The ticket says to arrive a half hour before so your seat is not sold to someone else. I get there at 8:00am. The bus is not there. I wait until 9:00am, and I call the company. Someone answers and says the bus will be there by 9:30am. She said there was no 8:30am bus, but I was sold an 8:30am ticket. Liars. I was supposed to arrive in DC at 1:00pm and didn't get there until 3:00pm. I wasn't able to do what I wanted because I had no time. So horrible. I will never use Eastern Bus again.
5 months ago Geoff Kerman
The best experience I bought a ticket going Richmond VA for $12 the bus came on time with no delays and I also ordered a ticket from VA to NYC for $7 yes $7 and the bus came on time with no issues I will use a gain.
11 months ago samir munshi
Just Horrible customer service!!! cheap price for a bus ticket but it is not worth it. I taken this company once before and it was not a good experience. Aside from the bus smelling like toilet the whole time they make 1 too many personal stops which is very sketchy because it'll be in the middle of an empty shopping lot and one one guy will get out with slot of boxes and bags.. but against my better judgement I decided to give this company one more try. I was looking into purchasing 2 tickets for a weekend trip and accidentally pick the dates but the wrong months simple mistakes but an easy fix I thought..so i call them right away to rescheduled to the correct dates and the lady that picked up didn't let me finish explaining what happen when she started yelling no refund no refund! I explained that i was not asking for a refund just to change the date because it was the wrong month but said NO and hung up.I wasn't able to fight the charge with my bank because it was not fraud since i did wanted to purchase the tickets. The day came and of course I didn't show up to use the tickets. I called them again and explained once again i needed a rescheduled, another man picked up saying that i needed to call ahead of time and I could of rescheduled, I told him I did but i was getting hung up on, he was not helpful either and basically blamed me. I know that when people dont show up they resell the seats to people on stand by, and its so frustrating to know that I am out of 120 dollars for a trip i never got to take and the made twice the money on those seats!!
11 months ago Genesis Quinteros
I have always had a good experience with Eastern. I have used Eastern to Richmond Va, Baltimore and found it to be a clean and safe trip
8 months ago Proud Deplorable
Flixbus needs to be fix operator said 2min it's been 10min need faster response
8 months ago Ed Wiz
DO NOT TAKE THIS BUS. I had a 5:30 bus from nyc to Washington DC. Bus didn't get here till 7. Guy who was taking tickets had no explanation and could not give us any answer or anything. Eastern was bad before Flix bus bought them but now flix is even worse. To make it even worse If I want to cancel my bus back which is 4 days from now I have to pay an extra fee for it. This is ridiculous. No matter how cheap it is it is not worth the frustration of waiting out in the streets. To make it to it, bus driver is texting and driving
6 months ago Mathew Haramut
Horrible horrible service . Waited an hour and a half for my 5:30 bus and then the bus driver had the audacity to say "I'm not even pose to be working today". The man who was taking tickets straight up lied when I asked him if he knew when the bus was coming. Called customer service and they had no remorse. No wonder the ticket was $7. The service was trash!!! Never again ????????
11 months ago JHP NETWORK
Flixbus is just the same old Chinatown company Eastern Bus, here in NY. Wich means: Non-existent customer service. Employees barely speaking English. Rude, careless ticket sellers. Buses with broken seats, some with no WiFi at all, smelly and unsanitary WC. Stops along the route NOT described when booking the trip. You'll ride along less than desirable travel companion. The only way to "recommend" this company is if someone ask you for the absolutely cheapest way to travel to DC.
9 months ago yvette Cannon
Booked an 11:30am bus from outside Penn Station. I get a text the day before saying: "Trip Reminder: Bus: New York, NY to Washington, DC, 11/21/2018 11:00 AM departure provided by Eastern Bus. Please arrive 30 minutes ahead at 7th Ave & W 33rd St (In front of Bank of America), New York, NY 10123 to check-in." I called customer service. Surely they couldn't have changed the departure time for my bus to 11am with only 24 hours notice. However, the customer service rep told me that was in fact the case and that I should be there at 10:40am. I was annoyed for them springing this on me 24 hours beforehand as I'd have to take off more time from work on short notice. Well, I get there at 10:40am as recommended and the guy checking tickets tells me the bus is leaving at 11:30am. So now I'm stuck outside in the cold and not at work for an extra half hour all because customer service decided I was stupid enough that I couldn't understand the departure time I myself booked. If that wasn't enough, guy checking tickets tried to justify Eastern's error by telling me that the departure time for 11am is from Chinatown. I HAD NO IDEA THE BUS WAS EVEN COMING FROM CHINATOWN. It wasn't indicated anywhere. And still, why are they informing me of an irrelevant departure time that would only add confusion? Don't book Eastern unless you want confusion, condescension and disappointment. I wrote this review with my extra time outside. Can't wait to see how the actual bus ride is!
11 months ago Jozy Thai
I purchased my ticket to leave from Washington DC to New York. Got to the bus station and realized that the actual location was the bus departed was a 5 minutes walk away. An emergency on the highway caused me to get to the location on my ticket 10 minutes before the hour. So I waited, then a homeless guy told me that the office was two doors back. When I went to the office, the agent told me to run three blocks basically to catch the bus. By the time I got to the 2nd block, the bus had already left its post. After this, I walked back to the office and the poor arrogant customer service that I received from to Asian men and a woman was very unbecoming of good customer agents. As a first time customer who has never been in the area, they were so rude and not understanding. If you are looking for a bus to take you around the country, EASTERN BUS is not the one! Then they have this no exchange/refund policy that was strategically placed in the fine prints to undermine any emergencies or mishaps.
5 months ago stephannie vasquez
I only wish I can give this 0 stars. I arrived an hour early for my 6:30 ticket back to DC today. They actually cancelled the bus without telling all the passengers who, like myself, were waiting and oblivious of why our ride was delayed. Very, very, very bad service and terrible professionalism showed today. I would never go back to them. WORST SERVICE EVER!!!!!!!!
8 months ago Payton Capone
Got me from NYC to DC cheap and with no problems. Thank you
5 months ago Swapna Vinod
I waited an hour after the scheduled departure for my bus, called 3 different "regional" numbers, only for no one to have any answers whatsoever. When I finally relented and bought a train ticket instead (at the usual inflated price for day-of purchases), the app informed me that the bus skipped my stop. SKIPPED MY STOP. IN BALTIMORE, a major city! This was a Sunday and I had work the next day, but that didn't stop multiple baffling failures on Eastern's part. Absolutely, positively, never take Eastern Bus. If there is a zombie apocalypse where you happen to currently reside, and the only way out of the area is Eastern Bus, kiss your ass goodbye because one Eastern's myriad methods of failure will certainly occur. If Eastern offers to PAY YOU to ride its bus, just pay for the train. If Jesus Christ comes back from the dead and says "my child, you must ride Eastern Bus to get into heaven," consider Buddha's path to enlightenment instead. Do not take Eastern Bus. If you do, consider yourself warned.
9 months ago Jessica Trombley
Horrible Service! Never Book tickets! They had us waiting for our bus for 1 hour and 20 minutes. Then the bus that came didn't even let us on. Never Never Ever Book a ticket with them.
7 months ago Dylan Thompson
My original NYC-DC bus ticket was for 2pm from their Chinatown NY location. I got there almost an hour earlier, and exchange my ticket for a 1pm bus, which was late. The ticket office charged me $5 for the ticket exchange! When the bus arrived to its midtown location to pick up more passengers, there was some issue with the parking spot on 7th Ave. The bus stood in he middle of 7th Ave for 10-15 mins and then drove further to make a slow circle around of couple of blocks. By the time we arrived back to the pick up spot, boarded the passengers and departed the spot, it was 2:15pm! Let me remind you that it was a 1pm bus from Chinatown. 2:15pm departure means that my original 2pm (Chinatown) bus was probably going to pick up the passengers on 7th Ave in about 15 mins! Almost one hour wasted just driving around Manhattan in a bus that doesn't have outlets to charge phones, does not have any WiFi on board and the light in the bus toilet is not working! Absolutely terrible! I'll be requesting a compensation once I finally get home!
10 months ago GB B
It is better than most of the China town buses.
2 months ago Donna Joyner
Bus service okay. Customer Service sucks balls. After all t
11 months ago Alissa Carrier
Rude employee at the counter Ticket at counter is 50% more expensive than if booked online There's no Wi-Fi on the bus as advertised Bus arrived 30 minutes late
1 month ago Erik Roman
The worst bus service. Rude driver screamed and swore at passengers. 4 hour trip took 9 hours with 4 extra stops!!! Avoid at all cost.
7 months ago Chris Holton
Very bad service, no tracking option, no responsibility about customer.
5 months ago Nathalie Mack
Nice and affordable
8 months ago Linda Southern
Poor service. Won't ride them again.
8 months ago Elizabeth Brewer
Nice prices
5 months ago Epimenio Velazquez
Okay
8 months ago Rachael Ramos
Worst ever
2 months ago Deanna Hoffine
PETITE PANNE
11 months ago
Popular places from the category Bus company