Renningers Antique Market Adamstown
Antique store Renningers Antique Market Adamstown, 2500 N Reading Rd, Denver, PA 17517, United States:
220 reviews
of users and employees, detailed information about the address, opening hours, location on the map, attendance, photos, menus, phone number and a huge amount of other detailed and useful information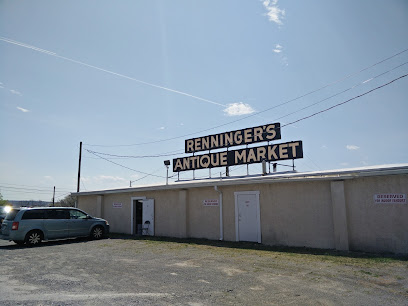 Address:
2500 N Reading Rd, Denver, PA 17517, United States
GPS coordinates
Latitude:
40.2307938
Longitude:
-76.0823012
Location on the map
Reviews Erika Freedman
Nice indoor antiques market with lots to choose from. Many different categories of items, from furniture to comics, it has a lot to offer. I was very impressed the the selection of older handles, knobs, and door/cabinet hardware. If your looking for anything of the like, there is a very broad selection to choose from. Just be prepared to search around a bit as the market is quite large. Very friendly people willing to help.
9 months ago Jaye Danya
Many of the vendors were closed or there was unrented spaces. The place is not very clean. You have to look hard to find what you want. There are vendors that are organized.
5 months ago Danielle Brissette
BIG place!! A ton to look at. Inside and out. Retail prices at most booths but that is to be expected. Lots of great deals if you look hard. Very knowledgeable sellers. Take your time to look around.
11 months ago Jaime Flowers
Amazing vintage toys, mid century furniture, and clothing. I have seen things here that I have never seen IRL before!
9 months ago Kendra ward
Great place free to go to lots of interesting stuff,try it you'll like it !
9 months ago Eloiza Delgadillo
I am a dealer here since 2000 under Bob Roth's Antique Hardware
2 months ago Brian Baggott
My first time there. It was just as I hoped it would be. It is definitely an antique and vintage market. You won't find anything modern there. All the vendors are great. Answered all questions we had and were willing to point you in the right direction if there were something specific you are looking for. The layout of the place is a little haphazard, we had a hard time looking for the entrance we came in on, but a vendor pointed us on the right direction. We will definitely be going back.
2 months ago jake kiser
I actually bought this china. The vender is very nice. I also purchaed a goose egg. Hope to return again soon.
10 months ago Shawn Graff
A great variety of things here, but today many of the booths weren't open.
11 months ago Robert Porterfield
Lots of interesting antiques!!! Too many people without a mask or mask not covering mouth AND nose in tight quarters during Covid crisis : (
10 months ago Preethi iswariya
Very nice place to find a assortment of items that you don't usually see in stores and great place to set up and sell some of your old stuff to make some extra money
8 months ago Marcy Davis
Always the same old venders with the same things, are they there just to occupy their time and gab with one another, you rarely see anyone buying inside, best to go when it's nice outside and the outside vendors are there, those people want to sell their treasures not hoard them years on end
10 months ago David James
Quality still ok but definitely slipping, a lot more overpriced low end stuff than before and half the lights were off today, definitely needs some updating
8 months ago Nekesha N
I love roaming around the outside and inside on Sunday's. Come early because the outside vendors start packing up around 10. The inside is open until 5. You can get some great finds.
3 months ago Yun Huang
It was an okay place to go to for antiques and collectibles but some vendors had so much stuff on the floor and packed into their spaces that it was hard to manuever around to look at things
11 months ago David VARUSIO
Great place. Something for everyone!
1 month ago Lusia Mendoza
Always a treasure hunt. Some sellers have complete junk, others have really cool.antiques. Lots to see and well worth a trip.
3 months ago Sherry Veal
Will always be a legend in the antiques circuit.
7 months ago Tom Bratton
Just about anything antique or collectible can be found here. If you're a regular here, you can see some amazing things. I've seen everything from a 25 cent comic book, to a $10,000 Tiffany lamp, during my 30 + years exploring Renningers. Definitely worth a visit. Summer visits include the outdoors market. Get there at sunrise during the summer to find the best finds.
9 months ago Andres Hurtado
Very few vendors were there. Most of the stands had curtains over them.
10 months ago Travis Roy
If you cant find it here ,its not out there
9 months ago Donisa Hughes
It's not what it used to be but still a fun stop
9 months ago Mike Miniaci
You can always find good deals here. Some dealers are overpriced.
1 month ago Danielle Slaughter
It's as if time stood still when you walk inside. The same tired merchandise with faded price tags or dealers who really don't want to sell what they have. The place is like a museum. Many times I've seen booth's unattended that look more like they are being used for storage rather than for sale purposes. The place is too dark and seems outright depressing. I hope somehow someone comes up with some new ideas as I think this place is heading for it's demise sooner rather than later. Being open on Saturdays would be a good first step but some dealers would probably have a kiniption if they had to change their 20 year routine. I say it's time for this place to enter the 21st.century. After all we are all ready into it for 20 years now! I will say that there are a dozen or so fine dealers who truly want to make money and realize that prices are not what they were 5,10, or 20 years ago.
9 months ago Angel McBean
Great place to find one of a kind treasures. You never know what you will find here but it is always worth the trip. The only thing I would change is it would be great if they were open Saturday.
9 months ago Justin Lindh
Kind of overpriced. In fairness, more antique than vintage. Inside dealers stuff looks like it's ben in the same place for years. Outside dealers, no prices - have to ask. Can tell it depends on the day and how it's going for price. Found a couple of deals , but not many.
8 months ago Bill McKee
Loved it!!! Purchased a one if a kind home made lamp from a wonderful guy!
9 months ago Spikerspeed
Great picking bad weather
8 months ago sam knutson
A little bit of everything you might be looking for and wonderful merchants make for a very enjoyable day. Thanks ????
6 months ago Victoria Epstein
The building had an electrical fire
9 months ago jesse anariba
Always interesting to visit
9 months ago Diane Naoum
Love the outdoor market on sundays. Had alot of fun talking to the dealers and found a few good buys for me and low enough for re-sale.
1 month ago sergio santos
Great place to come on Sundays and a great place to find some really good deals on antiques.
7 months ago herminia garcia
Absolutely the best way to spend a couple of hours sunday. We have become huge fun's of a wood and iron artist Ed Redcay. His booth is towards the back and everytime we have to get one of his tables. Last week we found 1943 cinema posters!
10 months ago wkencel
You never know what you'll find here. There's a broad range of stuff, whether your into instruments, tools, watches, coins, jewelry, even plants. Vendors inside tend to be more established, their stuff has been sitting there a while sometimes. Outside you'll find people readier to part with their stuff. As with all flea markets, prices vary from seller to seller. Renningers has a fast turnover, every week there's new deals. I highly recommend stopping by, get there early for the best experience, be prepared for sun.
11 months ago Cecil Shepard
Some people are maskless!!
9 months ago Jennifer Meador
I'm surprised at the reviews saying items are overpriced. A few items, yes. But most items were very reasonable and well below retail value. Some really friendly venders shared some history on the items (a really neat handmade smelting spoon for $3). Everyone was pleasant during some friendly bargaining. I had so much fun shopping here and I will definitely be back. I'm driving from almost 2hrs away and it's totally worth it for a fun day of flea market hunting & neat finds. If you don't find what you are looking for, there are also antique shops in the area that are fun to browse and reasonably priced for a retail shop. The market opens early and is closing up by mid-day so plan to hit the market first and then the retail shops!
11 months ago Joey Harrell
Always an interesting mix of stuff
3 months ago Kimberly Spanton
Great place
8 months ago Williamson Joelle
Many vendors with a large variety of merchandise. Some displayed better than others. All of the vendors we encountered were very friendly. We also enjoyed talking with the owners of the snack bar who are friendly and informative.
9 months ago Teron Hess
A neat experience, both the flea market and the mall. Shame so many vendors weren't open when we went.
6 months ago Ashley Davis
I've been going to Renningers since I was a kid with my parents. Always been a Sunday thing to do. The past few years, I've been going to "my plant lady" She's outside at the back right corner of the lot. She's so helpful, her plants are unique, and her prices are so reasonable. Also love the hotdogs at the food stand and homemade baked goods inside. The stand has been there forever, doesn't look like much, but the dogs with sauerkraut are perfect. As far as the antiques, you can find ANYTHING.
1 month ago Malika Ramsaroop
Not a place for me .Probably.good for people who enjoy aisle after aisle of things in a very small place not a place for quick shopping visits at all unless you know exactly which vendor your going to and how to quickest navigate there.This is just a place of just too much of everything for me .They definately cover about every vendor you can think of.
9 months ago Walter Lachman
Sprawling, well-established antiques operation with many vendors offering mostly high quality items. Friendly people often willing to bargain. A few dealers were haughty, laughing when asked to provide better pricing. It takes all kinds, I guess.
7 months ago Eric Leblanc
A bit overwhelming. So much in one area! Good for a wide variety of browsers. There are organized booths, not so organized piles of junk, flea market prices, items the the sellers obviously have no interest in selling ("How much do they want?!) etc. The hard part is finding what it is you're looking for. It you like to get lost in the experience, this is a good place to lose an hour or so. I don't regret going, but I didn't end up finding what I was looking for at a price I was willing to pay.
1 month ago Eunide Elysee
Great place to sell and buy Militaria.
7 months ago Lace Stokes
Delusional antique dealers still around with pricing not reflective of reality. Mostly a social scene now - weird vibe...outdoor vendors just not what they used to be. Not really worth the trip anymore.
9 months ago Jessie Klisz
It's got many vendors booths to choose from. A bit far for me to frequently come to. People are friendly and has the down home feel.
9 months ago Saiyami Mehta
Great Flea Market, outside and inside. Easy in, out, plenty of parking. Layout is fantastic. Must see. Must visit for antique vintage & collectible items.
9 months ago Kathy Conlon
This place is huge! From the front, you have no idea about all the buildings and vendors outside. Lots of friendly vendors and deals to be had. I'd recommend a good pair of shoes, a cup of coffee and plenty of time if you decide to visit.
9 months ago
Popular places from the category Antique store