Bernie's Bait & Tackle
Fishing store Bernie's Bait & Tackle, 3035 Emmons Ave, Brooklyn, NY 11235, United States:
205 reviews
of users and employees, detailed information about the address, opening hours, location on the map, attendance, photos, menus, phone number and a huge amount of other detailed and useful information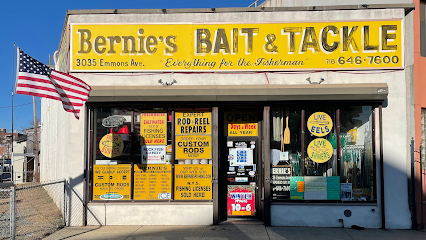 Address:
3035 Emmons Ave, Brooklyn, NY 11235, United States
GPS coordinates
Latitude:
40.5841267
Longitude:
-73.9375278
reviews Sean Hallstrom
They are awesome. Well stocked , knowledgeable staff that can help guide you with your tackle needs and have the experience of local waters to stear you in the right direction.
11 months ago Kendrick Earvin
Finally, I found such a great fishing store around New York City area. It is small store, but kinda busy and huge collection. Customer service is great. The guys will explain you the good and bad side of the product you want so that you can …
5 months ago Libby Khan
One of, if not the Best fishing shop in all of NYC area! They have a wide selection of gear and helpful staff. The staff are always nice and answer all my fishing questions! They also have great quality fresh bait all year.
4 months ago Larry Brown
The guys that work there are very respectful and very helpful..they took there time to help me and was not trying to make a quick buck..thank you for all your help....went to give a worker a 20 dollar tip for his help..said noway it's way …
2 weeks ago Stephen Mcnamara
It's a very good spot to get all you need and they treat you nice and they have to best stuff I ever seened, go there and you'll see.,the prices are great
4 months ago Kendall Gaskins
Great shop. Unbeatable selection & a rock solid staff who really know their stuff
1 month ago Mark Pelc
Great selection. Good competitive prices. And knowledgeable staff.
2 months ago Natalie Simpson
OMG my first time there. At the window the guy actually said first time , I got you. I had one of the best roast beef sandwiches outside of French dip had a fancy Steakhouse in a long time. Definitely a bucket list place.
4 months ago Stephanie Georgen
Bernie's Bait and Tackle is the best fishing store on the planet. Great atmosphere and service. Excellent rod repair. Enjoy the experience.
4 months ago Ramiro Fire
Cozy shop! Good assortment of goods! Polite staff! Professionals in their field!
3 months ago Frank Wilson
Great store, very helpful! Big selection
3 weeks ago James Whitsel
Very RUDE and GREEDY OWNER!!!!!!!!! Store doesn't provide full customer services, especially for beginners. Don't expect to be treated well if you are beginner. They have no time to explain and answer all of your questions, even if you pay …
8 months ago Jill Christine
Nice polite knowledgeable people. I'm always come here for fishing nerds
5 months ago Monte Cristo
Bernies has it all from bait to tackle. Don't be afraid to spend some cash here
5 months ago Wayne Vaughn
This is why I absolutely love Bernie's! Not only do they always have what I need but their customer service is above and beyond! Even during these times when NY is going through a crisis, they managed the line perfectly and helped me find what I needed. I especially want to thank Mike for being so helpful.
6 days ago Jason Connelly
Mainstay bait and tackle spot in Sheepshead Bay. Nice variety of lures and gear plus repair rods and reels too.
7 months ago zishe katz
The place to get all your fishing needs!
3 days ago Kelly Haskee
This store is a fisherman's delight. I was fascinated by all the fishing paraphernalia. They've got equipment in there that you could catch a whale with. The guy behind the counter was very knowledgeable and informed me all about the …
3 weeks ago Meiyappan Rajamanickam
Very nice staff.
2 weeks ago Jeffrey Schneider
Need fishing equipment or bait? This is the place to go. They give great recommendations.
9 months ago Debbie Jones
I bought my fishing ???? pole today amazing staff.
8 months ago Amos Suttelle
Love this place, I've bought all my rod and reel combos here and always received great service. Lots of fresh water tackle too!
9 months ago Charles Bartone
Honored covid. Everything was better than expected. Young worker stuck with me thru my freshwater experience. License issuing was a snap. They are on point.
10 months ago Natalia ODonnell
Best Bait and Tackle period..... there is none better in NYC.
8 months ago Alexander Ayala
Was taking my 5 year old daughter fishing and visited Bernies Bait and Tackle for some starter rods and reels. The service was exceptional! The staff really took the time to make sure I had anything I would need for my day out with my …
1 week ago Roberto Primo
Good place to buy fishing goods but some items prices are high
8 months ago Rob D
Get your fishing license there.Store is well supplied with all your fishing gear and bait.
11 months ago Nate Crump
Bernie's Bait &Tackle it is by far one of the best tackle store. Friendly great costumer service. If you can't find what you are looking then you must be in the wrong store
3 months ago Lilwariokart
Well stocked tackle store. Has everything you need. Prices are reasonable.
1 month ago James Fritz
Great people great prices
9 months ago brenda rice
Awesome staff. Very helpful and professional
2 months ago Samantha Sorabella
The store has everything ! When I went in I was looking for reels, the salesman didn't try to sell me anything I didn't need or expensive reels. I got a decent reel and it was a great investment but what I noticed it that they will do a …
2 months ago Angela Metzger
Hands down my absolute go to bait shop. I can't say enough great things about this shop. From the selection of reels to rods to the great people who they have there to help. Over the years of going there I am happy to say I consider them all family now.
11 months ago Daniel Morton
They provide fishing license. If you are getting license for Ocean(salty water) you don't need to pay any fee.
11 months ago Son Lee
They have a huge supply of various fishing items n excessories.ask a question n theyll help you.check em out.
8 months ago Olivia Raya
Excellent place to get anything you need for fishing
10 months ago James Copen
Great place .. they always have what I need.
3 months ago Glen Hogard
Mike is amazing. I got a great deal on an expensive rod. Amazing customer service. Good job. Thanks!
2 months ago Chad Chatman
It's a good shop. They have almost everything you will need to get started. You go in get what you need and get out. The employees are also really knowledgeable and can help you find exactly what you may have in mind.
3 weeks ago SIDDARTH VENKATRAM
Great store. Great staff
11 months ago Bryan NoiseMX
Fishman nest.
2 months ago Elizabeth M
They have most fishing and hunting items
6 months ago devon meeks
I am not a Fisher Man .... just a local guy that loves to patronize a local business that is stand up As anyone would wish for a local store to be! Staff is GREAT .. they are very friendly, knowledgeable & answer the phone eager to …
3 months ago Susan Williams
Went there to find a bail spring for a vintage diawa spinning reel from 1975.Showed the spring to there repairman and after a few minutes he returned with 2 springs he thought were compatible.Went home to SI and the spring fit perfect.Great service,great price,and worth the trip!
1 month ago Laughing Monkey
Great selection and prices, the people need to be friendlier tho.... It's a business. Be friendly to your customers
11 months ago Janeen Gorman
The employees at this bait shop were so friendly and helpful. They gave us tips, helped set up the reel, and were overall very resourceful. Very professional!
11 months ago Shantal Brown
Great local tackle shop. Helpful staff and great selection. If you are a surfcaster you wont be disappointed in the plug assortment.
4 months ago Deborah Beckett
As a kid they gave me 370 dollars worth of gear at a 70% discount and free spooling. Thank you for getting me into the sport
5 months ago Thomas Ferrell
Went in for my son's first rod as well as one for myself. The guy helping was patient, knowledgeable, and didn't sell me what I didn't need. Definitely my go to place now for tackle. Great selection as well.
3 months ago Steven Laan
Great selection fresh/salt. Great
4 weeks ago
Popular places from the category Fishing store