Chadwell Animal Hospital
Animal hospital Chadwell Animal Hospital, 3004 Emmorton Rd, Abingdon, MD 21009, United States:
220 reviews
of users and employees, detailed information about the address, opening hours, location on the map, attendance, photos, menus, phone number and a huge amount of other detailed and useful information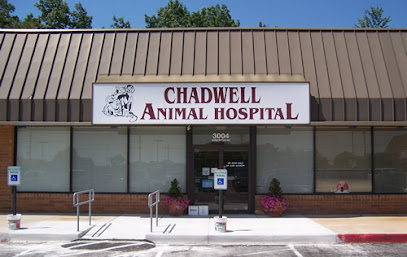 Address:
3004 Emmorton Rd, Abingdon, MD 21009, United States
GPS coordinates
Latitude:
39.4768320
Longitude:
-76.3109220
reviews Johanna Cooley
Our veterinarian was Dr Gold. It was easy to see that he was very experienced and knew what he was doing upon examining our guinea pig. The staff that worked there was very friendly and knowledgeable also. We will be back again with our other guinea pig in the near future to have surgery. I think I have found the veterinary association I will stay with.
5 months ago Tamyka Tucker
Saw my Pearl rat as an emergency case within just 30 minds after calling! Great place for all animals, and also cares for exotics
3 months ago Ruth Holsinger
Excellent veterinary practice with laser focus and priority on their patient's health and well being. From check in to check out the staff performs professionally, efficiently, pleasantly, cheerfully and compassionately. Diagnoses, treatment plans and costs/estimates are thoroughly discussed. Medications are dispensed with clear instructions and staff are always available for questions. Front line staff are experienced in identifying emergent and urgent situations and the immediacy to see a vet. Big shout out and thank you to Dr. Gold who treats my rabbits. And kudos to Chadwell for taking in injured wildlife and their rehabilitation and release program for injured turtles. In the past I've been in the lobby when Good Samaritans have brought in injured wildlife. Keep up the great work!
6 months ago Cindylou Godard
Hazel had a scratch which turned into a hot spot under her ear. It doubled in size quickly. Chadwell arranged to fit her into their schedule immediately. Dr. Gold did a great job cleaning it up, and giving her medicine to quell the itch, numb the area, and heal any infection. They followed up next day on how Hazel was doing. Everyone is wonderful with pets and people there. Our pets have been lucky to have such well skilled and caring people care for them for over 20 years.
6 months ago andre castro
So, I had a Vet that I loved, and have had for over 30 years, but due to him moving to a new location that was just too far to drive, I decided to try Chadwell Animal Hospital. I am so impressed! Everyone that I have come in contact with has been friendly, professional, kind, understanding, and clearly love animals. I love my fur babies, so all these things I must have in my Vet office! They made my transition a smooth one! I highly recommend them!
7 months ago Thays Santiago
Wonderful experience when my ferret broke her leg. The staff and the veterinarian were very patient with me and my questions and were kind when my ferret escaped from her cast. Made me feel welcomed and their checkin process was fast and easy to use. 10/10 recommend
6 months ago Nic Jooste
This is my primary vet for my dog. They're always professional, polite, and have a very noticeable love of animals. Prices aren't terrible, my only complaint is that they are generally running behind (I know, I know, doctors office!). I'd recommend them to anyone, but I would plan on spending any extra 30ish min there just waiting to be seen.
6 months ago Alexander Janik
Great doctors and staff. Workable procedures for during the C19 pandemic. Very responsive to urgent care requests.
6 months ago andrianus sembiring
Chadwell has taken exceptional care of my animals for many years and I appreciate their patience and guidance for pet owners. I would highly recommend their practice. I only wish they had more appointment availability but I know that everything is a bit off kilter during the unusual circumstances of 2020 and 2021 and they are doing their best!
7 months ago Rashika Guna
I have been coming to Chadwell for over 15 yrs. Amazing staff, this hospital is able to care for all of my pets! From tortoise to cockatoos and my dogs. They have always made a slot to see my pet in crisis and I would trust no other Animal hospital. Dr Gold is straight forward, compassionate and experienced. He is a very important partner in caring for my pet children.
7 months ago Shane Hargrove
My rabbit had cancer and the practice did a fantastic job at removing the infected part. I have been very happy with Chadwell and recommend them.
6 months ago Bethany Aston
Chadwell's staff is very courteous and knowledgeable. Although very busy, they will take time to answer questions and go over vital information. Not afraid to accept a challenge and always fit us in for emergencies. Price is very reasonable as well.
7 months ago Victoria Kalogerou
We are so glad we are part of Chadwell , I trust this Animal Practice fully! Knowledgeable and caring staff. They Will get to the bottom of what is wrong with your pet. Friendly vets ,techs and Receptionists! I have never had a bad experience. I would highly recommend any of the doctors , they work together as a team.
6 months ago Eddie Littlefield
Chadwell Animal Hospital is the only place I take my guinea pigs. They're about an hour from where I live but worth the drive. The Veterinarians and techs are so knowledgeable and always happy to help you. They are also very affordable! I started going to Chadwell right after COVID hit and I have been there probably 4 times with my Guinea pigs and every time has been very pleasant. I recommend Chadwell to anyone who has exotics!!!
8 months ago Seethalakshmi Perumal
They are phenomenal! My pup actually doesn't mind going there. Their hours are so convenient and they are always fantastic to work with.
6 months ago Tricia P
I've had NOTHING but POSITIVE interactions with this group for the last 15 years. Shots, injuries, illness and final goodbyes. Exotic rescues too! I won't go anywhere else because of a fancy website or big ads. Vets are kind, listen and informed.
6 months ago Ken Shows
We we were able to get a same-day appointment for our guinea pig. When we arrived there were a lot of cars in the parking lot, however, the staff was really hustling. Each staff member we spoke to was professional and patient. Although they were quite busy I never felt as though they were trying to rush us through our appointment. The vet spoke to us by phone and seemed thorough with the exam, diagnosis and treatment. The cost was very reasonable. I would definitely return to Chadwell if we need future vet services.
9 months ago Shylaja Manikandan
I was very grateful that my Vida was able to be taken promptly by Dr. Haskins last week. Vida had come down with pneumonia. She already is medically compromised from former abuse prior to be taken in by Metropolitan Guinea Pig Rescue. Therefore any issue can quickly escalate to a life threatening condition. She received antibiotics, X rays, etc. She has recovered well as a result of the treatment she received.
7 months ago Ayanna Smith
I chose Chadwell due to several referrals from folks I know who take their pets to Chadwell. Even though there are several vets within minutes from me, I take the drive to Chadwell. Always have had a positive experience and they have been great with my Maximus! I trust them for his care and their guidance on questions I have.
6 months ago Joseph Goodwin
The best vet service around. I truly believe they go above and beyond to care for the animals without performing unnecessary tests the cost a fortune. The staff is amazing.
8 months ago luis vega
We have used Chadwell for all of our animals for years. They provide compassionate, and quality care. They are honest and affordable. I don't feel like they push unnecessary treatments and they always explain all options. I highly recommend them!
9 months ago Lisa Bowles
I have had a few dogs that Chadwell cares for. Every member of their staff is helpful, professional and compassionate when dealing with our dog's needs. I always recommend them to my friends and I can't say enough about the wonderful service I consistently have received.
8 months ago Cecilia Brown
They did an amazing job with my buns. After having the sex of my rabbits misdiagnosed by another vet, Dr. Gold resolved that issue and set us up immediately for neutering and spay. Not only that but, the condition in which I received my pets was 10000% better than previous other vet. Their carriers were clean and I know my buns were fed as well. Thank you, Chadwell.
8 months ago Austin Bodnar
After trying several local veterinarians, came here on a friend's suggestion. Never looking back. They handle cats dogs and birds with the utmost professional skill even during covid.
7 months ago lena marie
Always pleasant and professional! Very well trained Vets to take care of our exotic birds/pets! Never have any complaints taking all of our pets there!
9 months ago Ryan Nguyen
I have a African Grey parrot. They drew her blood and trimmed her talons. My parrot was relaxed looking with the Veterinarian and they got her blood with out any issues, first draw and fast. I definitely recommend them.
9 months ago Nargis Nazary
I have been going to Chadwell for some time now. We recently moved to Rising Sun and I still drive 40 minutes to take my pets here. I trust them, I love how responsive and reliable they are and I know they always have the best interest for my pets. Last year we had to put our cat Dylan down. We brought him in not thinking we weren't taking him home with us. The doctor told us her honest opinion and although it was devastating and extremely hard, we knew it was the right thing to do. She even told us that which made us feel better about our decision. My husband was at work and she allowed us to wait until he got there to do the procedure. Everyone was so kind to us and felt our pain. The box we received with his ashes was beautiful and we even received a card and paw print of our baby. I love knowing that every time I call a friendly voice will answer. The extra steps they take and the kindness everyone shows really does mean a lot to me. So much that I refuse to take my pets anywhere else.
3 months ago TheonltAndy
Staff did a great job accommodating my Corso and I. Thank you!!
6 months ago Josh Ryan
I will start by saying I've never had an issue with Chadwell in 12 years which is why I continue to make a 45 minute trip for my dogs though I've moved. This last instance however, was an awful experience. My dog has a history of incontinence so she is medicated and we're used to an occasional piddle. Lately she has been having large piles of urine around the house so I suspected a bladder infection. I made an appt for her (told the receptionist my concern), took off work, and made the 45 min drive. The vet said she had an empty bladder so she couldn't collect a urine sample. Had the receptionist told me to bring urine, I would have. She knew why I was bringing my dog. The vet sent me home with a collection kit. I asked when and how I should collect the urine and how to store it. She told me "collect it tonight and put it in the refrigerator until you bring it down at some point tomorrow." NO TIME FRAME GIVEN. It took two of us to collect the urine, so we did it that night when we were both available to collect. The next day my husband took the urine 45 minutes away to the office to be told the urine is no good. They told him some people want it tested in 8 hours, some 12, and some 24. (We were in the 24 hour range). He was extremely frustrated that no one was on the same page. They however, took the urine, charged us $60, and tested it. I received a call from a very unfriendly woman letting me know the urine was too diluted and the vet wanted to do bloodwork. If bloodwork was a possible route, this should have been done the first time I had my dog in the office when she had no urine in her bladder. Correct directions for urine collection should have been given. I am now out $60, with no answers, and I certainly don't want to bring my dog back to the office so they can take more money from me. At this point I don't trust Chadwell and will not recommend them.
7 months ago Derrick Young
Been going there for years. Dr Gold is the best along with everyone else that's there????
6 months ago dinesh kvb
been with chadwell animal hospital for about 20 years, my dogs were always taken good care off and treated when necessary. Dr. Gold is the best
6 months ago WC HIEW
Always very caring about my pets. Very professional and staff is always friendly and caring!
6 months ago Ethel Garrett
Chadwell is hands down the best rabbit or exotic vets in the unites states. They have all the trust and confidence. They see rabbits regularly and are very good with their neuter and spays. My rabbits recovery time was minimal compared to when i took rabbits yo other vets. They are quick to get you in if you really need it and the office staff for the most part are knowledgeable enough to answer questions, but they are happy to get doctor confirmation. If their prices are too high for you then get insurance because i wouldnt recommend anyone else within hpurs of this clinic as highly and with 100% confidence that if they cant fix it, then it cannot be fixed.
10 months ago Gayle Murphy
This was my dog's regular vet for a few years. There was always a really long wait, but I liked that they had evening and weekend hours. I went a few months ago to get a dental evaluation for my dogs. Her teeth had a LOT of buildup. I was sent away saying she looked fine and had "moderate tartar." I said okay, but I didn't really like their answer because I could see parts of her gums receding. I took her last week to get a second opinion, and she's getting surgery today. She has severe dental disease and needed about half of her teeth pulled. If it was THAT bad, how didn't the vets at Chadwell catch it?
11 months ago William Eddy
Have found all the vets that have treated our three cats to be very professional and helpful.
6 months ago Adrian Gusa
I called chadwell with a issue on one of my cockatiels they worked me in fast.Very reasonable rates. Prescribed medicine done the trick with my bird she is better. I am very satisfied and happy with chadwell animal hospitals Staff and Service
7 months ago Andrew M
They always care and take care of my baby better than anyone else ever has
7 months ago Robert Sanchez
Love Chadwell-staff is always good to our animals and they always do their best to fit us in. Vets are wonderful. It is no wonder they are always busy! Highly recommend!
10 months ago Henri CHRETIEN
Always friendly and very lovable to Ace. Easy appointment making, Highly recommended.
7 months ago Perks Advisor
I was so impressed with the efficient and incredibly friendly service Chadwell provided us. They have done a wonderful job incorporating a strategy during this pandemic to serve their clients. Additionally I can't express enough how friendly, kind, and patient the staff was with us. They answered all our questions with care and empathy. Dr.Gold was wonderful with treating our dog Sammie. I could tell he was gentle and took amazing care of our pooch. Thank you for all your amazing work!
4 months ago Shelby Harksell
Great vets been using them more than 10years
6 months ago Harpreet Bawa
This is the best place to take your animals! I always trust their advice.
6 months ago Xin Weng
Awesome staff and doctors. My animals are well taken care of specially my birds. Thank you ????
9 months ago Jessica Liu
THANK GOD FOR CHADWELL ANIMAL HOSPITAL. I was the 90th client when they opened. All my rescue Shelties received excellent care. Everyone is so professional and caring to me and my furr kids. Mgr Lisa is my hero. Dr. Keith and Dr. Ruby are wonderful! They have my complete confidence and trust, that all will be well for my dogs. Emotionally they have also helped me, especially when my Furrs' cross over The Rainbow Bridge. I am very grateful for their service.
6 months ago Brian S
I've been bringing my cats here for a decade and Chadwell staff has always consistently been extremely courteous, helpful, and considerate. They were truly valuable to have as our vet during difficult pet times, and they have done an exemplary job continuing to provide service during the pandemic. Can't recommend Chadwell enough!
11 months ago Jennifer Collins
I took my sugar glider into Chadwell about 2 months ago because he was walking strange. I did my research and found that it was most likely a calcium deficiency causing the problem. I took him to Chadwell because I was recommended them by another vet and told they have experience with exotics including sugar gliders. I took my little glider in for an x-ray and fecal sample, about 230$. Fecal sample was normal and THEY TOLD ME HIS BONES WERE FULLY CALCIFIED. Fast forward to 2 days ago, my glider has a seizure in my hands. We take him into Falls Road. They do an x-ray and tell me he has a severe metabolic bone disease. I am unbelievable upset because I caught this early and took him in to Chadwell and they told me they couldn't identify the problem and that his bones were fully calcified!!! That was clearly not the case because the exotic vet doctor at Falls Road immediately identified the problem after the x-ray. My glider can barely walk now since the seizure, which was caused by the calcium deficiency. I am furious. It is clear someone was not doing their job. My glider is now going to be on calcium treatment for the rest of his life because someone at Chadwell couldn't read an x-ray.
4 weeks ago Stephen Meyer
These guys are just the best. My gecko got an infection in his ear canal, they got him in quickly and we're able to help him. I'm very grateful!
10 months ago tina smith
Chadwell has the friendliest staff I've ever met at a vet. Not only they are fast, super caring, they are cheap for a vet! They are here to help your pets, not their pockets. Chadwell is a little booked up sometimes so if you can't get a appointment asap, Call daily when they open at 8am to secure one of the appointment times they left open for that day. Personally I use this option and its not hard to secure one but your not guaranteed either.
3 months ago Naushin kiran
Our HRS group uses chadwell as their preferred vet so we bring our foster rabbits here. For an exotic vet they are decent. Scheduling a non emergency appt is a joke, at least three weeks to a month. The level of care is also decent, by far not even close to the best. Dr. Gold can be standoff-ish if you have any kind of objection to what he wants to do. If you want a better all around experience go see Dr. Buchanan at Bayside.
3 months ago Shantal Brown
I was referred to Chadwell as being agle to treat birds. I took my bird there because of a huge tumor that had grown very fast. They recommended a blood test for $275.00. I was told I'd be contacted in 2-3 days with results. Five days later I heard nothing back. My bird's growth had grown substantially and he was suffering. I called Chadwell and they then told me the result from the blood test was inconclusive. Then Dr. Gold got on the phone and tried to bamboozle me with a lot of medical jargon. I told him to stop and just tell me what was going on. At which point he said the test was inconclusive and they could see my bird the following week and put me on hold to make another appointment. I ended up getting a call from another vet, a bird specialist while on hold so I hung up on Chadwell, accepted an appt for the next day with the other Vet hospital. After examination at the other hospital, it turns out my bird had a cancerous tumor. So I had to have him put to sleep. With Dr. Gold and Chadwell I was in debt for $275 and my bird suffered for five more days. Thanks Chadwell, glad you made the money off of me. I only paid $85 at the other vet for the examination and to have my bird pass peacefully. I have NO idea why Chadwell gets five stars. I've heard nothing good about this practice from many people when I did animal rescue.
9 months ago
Popular places from the category Animal hospital