Bree's Animal Hospital
Animal hospital Bree's Animal Hospital, 7436 Frankford Ave, Philadelphia, PA 19136, United States:
220 reviews
of users and employees, detailed information about the address, opening hours, location on the map, attendance, photos, menus, phone number and a huge amount of other detailed and useful information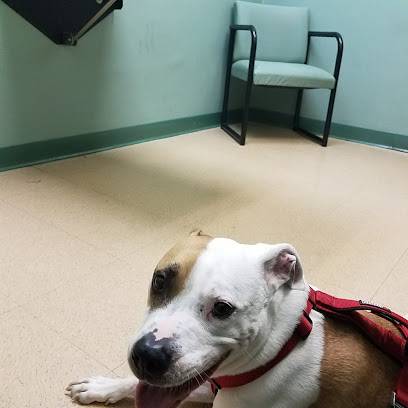 Address:
7436 Frankford Ave, Philadelphia, PA 19136, United States
GPS coordinates
Latitude:
40.0385659
Longitude:
-75.0365110
reviews Nandan P
The doctor was very knowledgeable about our cane Corso diet . The staff is awesome and treated and talked to baby the cane corso as their own .... this is baby at bree's The muzzle was precaution. ????❤️
6 months ago Robert Schneider
Bree's was wonderful. They did a excellent job patching my baby (Timmy) up. The staff is awesome and the services are hands down one of the best. Timmy is recovering well.
11 months ago Surendra Vishnoi
Dr. Mark is the bomb very thorough and wonderful prices and they took care of my baby
6 months ago Antoinette Hart
When in with my dog real friendly great place just wish the prices where down not up. Feel like being rob
6 months ago Randy Evarts
They show that they care about your pet. I will definitely go back if needed.
6 months ago ripika kapoor
Loved them. Very nice and personable with my big pup.. Raven the vets assistant was great and comforting too my pup..
7 months ago Adam Castaneda
I love this vet. I put my trust into this place like I would my child's pediatrician. Im never let down. I might not always what to hear if theres something wrong with my dog but i know i never have to worry.
6 months ago Sin D
It's a pets hospital which is perfect in case there is an emergency. Real pets lovers. They fix my buddy"The Shadow ". Professional!
1 month ago Jacqueline Manzano
They were a really good help but i lost my dog blue that day and they did all that they could do R.I.P Blue Major.
3 months ago AJ Moellenbeck
Quick, in and out within an hour. Staff is masked and following protocols. You sign in, then wait in your car with your pet until they call you in.
8 months ago Patricia Rivera
In the beginning ok than became the worse ever. My dog almost died because of Dr Mark neglect to call on time with results from test. She is diabetic and he was suppose to call the next morning. He didn't call till 2 days later, a day after I had taken her to hospital. and the only reason he called was because we called his office attention to it that morning. When he called he was very rude to my daughter and refused to talk to her when my wife and I were extremely upset and didn't want to talk to him. He heard us over the phone of how upset we were and even refused to talk on speaker and my daughter be the mediator. Now I have my dog in the hospital for a week. I am going to take legal action against them. I know it is hard to get legal action done against a vet malpractice but I'm looking for a lawyer that handles this to take them to court. So far our expenses are $9000 for something that could have been prevented. Ill make sure this goes viral he's not going to get away with this. We want justice for Chispi! This week was a nightmare for my family. If anyone else has had a problem report or post it here so others wont come here. I will post and update on my dog. Please keep her in your prayers.
8 months ago April Wagner
They taking good care of Maui
6 months ago Dennis Fiore
Bree's animal hospital is filled with a genuine loving staff. I've used this place for both of my dogs and always felt confident with their diagnosis each and every time. The only down side is it is first come first serve. No appointments. So unless an emergency you have to wait until your turn.
11 months ago Shanna F
Two different days this week we have tried to get my dog to the vet. First time we went we checked him in and was told wait in the car they would call this was at 10am. We sat in the car for 3 hours, went home and called them and the girl said "oh my god i forgot" come thursday at 10. We go back thursday @ 10 tell them we're here we have a appt. the girl at the desk says "we don't do appts" so we go back outside to wait. it's now 1:57 still no phone call to bring the dog inside. GLAD I WASTED 2 whole days on these unorganized people.
6 months ago Elijah Ray
Their quality care and concern for our special baby is always a delight. I would not trust anyone else with my pet.
6 months ago Reed Kreger
They were so patient in me explaining what was wrong with my ???? Husky and and advised me on allot of things I had to do with Husky, I appreciated very much....
5 months ago Trish
Extremely friendly and caring staff. I feel confident and pleased with the treatment my cats have received.
8 months ago Nick Ramsey
The worse the worse what you did to my dog was horror. You will see me in court . Your a horror of a doctor . You should be ashamed of yourself i will not rest until I see you in court. . . Your are a monster. Of a doctor. Yes this is Gonzalez chispi mom remember her always . You monster . Everyone please help me get this monster out of practice.. I will take him to court.
9 months ago Kimberly Dunn
Very knowledgeable staff, will answer any questions you have at all. If you care about your animal, I'd take it here dogs cats bunnies (yes BUNNIES!) are all welcome. Parking is tight sometimes *PRO TIP* try & make a appt if at all possible, they are very by the book keeping them.
10 months ago Daune Baumgarner
I Highly recommend Bree's animal Hospital. Doctors do an excellent job. My cat has stomatitis and also had a urinary blockage they helped him every time he needed. I'm so grateful I can say thanks to Doctors at Bree's my cat is alive and lives a better life. Thanks so much!
7 months ago Viktor Ageev
Did a fantastic job operating on my baby and at a very reasonable price
6 months ago Callum Osborne
Professional and thorough Veterinarians. Our dogs have always gotten great care @ Bree's.
7 months ago Iina Annunen
A quick visit for a pick up... easy safe visit
6 months ago Jonathan Cedillo
They took us last minute with no appointment to put our dog Foxy down i paid cash $218 dollars My dog was suffering and needed peace. Only problem they insisted that foxy be sedated before being put down i asked them not to do that but they said they would refund my money and send me on my way TOTAL DIKK MOVE i had no choice but to agree against my wishes.????
9 months ago Stephanie Jimenez
Friendly and helpful staff. Love the "no appointment needed".
7 months ago Pat Fisch
Update on our baby dog Chispi.. our baby passed away yesterday from complications of diabetes and pancreatitis that lead her not to eat. She was at Penn hospital for almost 2 weeks and unfortunately although all her levels were normalizing her body wasnt strong enough. Please do not bring your furbabies here, they waited 2 days to give her blood results that wouldve made a huge difference. She wouldve still be here with us. I hope Dr Marcos sees this and know that this was his fault. We are trying to get legal case against them. If you have experience similar stories please share to help others. Pray for baby and family!
6 months ago Rita DeFelicis
I don't know if we caught the doctor on a bad, busy, pandemic day but man no sympathy was shown by that man during our visit as owners of a beautiful energetic pitbull that's usually full of life but hasn't been acting hisself lately. He means a lot to the entire family. But he did show us through living example on not to overreact in emotions but to be more passive. Other than that the female nurse was the sweetest and loved on East, our dog. May everyone live their life in joy.
4 months ago tom tobin
I do not recommend this Animal hospital at all! Their all about the money. They actually took the medication back for my cat's vomiting because I didnt have another $80 to give them after paying them $50. How does a dr let your animal experience the horrible feeling of vomiting for days? Is that a dr that truly feels for an animal? To me no! They didnt even let us go back in bvb the room with our animal. You have to wait in yr car all because of the Covid. The mask dont matter to them. They were hitting people up for over $500, $300, and so on. Money Money Money! I will never go there again. The Dr there didnt even have the courteous to speak to us at all about what was going on with our cat. They charge $250 for bloodwork too. Bad, place, I do not recommend it. If your a veterinarian you should have a passion to care for the animals.
6 months ago Stanley Jones
Horrible experience My sister had to put her 11 year old dog down. 1. Went back and forth with us about her age 2. Told us the wrong price 3. Someone popped in the room and said get the payment as soon as you can to the other nurse. 4. We waited hours from the time we were told to come to be seen. The best part of the experience was the vets attentiveness. He is good at his job, the other people should find another job. They lack the compassion needed to do that job.
3 weeks ago Candice Martin
They're really nice i took my dog thereabout two years ago for surgery not long after that my dog started having hearing problem and becoming more blinded but i really don't know if it had something to do with the surgery or her age she was 18 years old unfortunately i recently about two weeks ago we had to put our pet to sleep something we were trying to avoid by this time she was about 90% blind and about 90% death her name was Lilo like lilo and stitch, she woke us up about 4am screaming and walking tours the wall or in circles my wife stayed with her for about two hours trying to calm her down my wife caged her with cushings so that she doesn't harm herself when Lilo calmed down my wife went back to bed but minutes later Lilo went at it again she must have been in alot of pain i stood with her for a couple of hours until she was calmed morning came she went at it again so we took her back to the vet and they told us that because of her age she would not survive another surgery or possibly the anesthesia we believe them we knew the day was getting closer as she kept getting worse oh tough we never seen her this bad we thought that it was time that to ease her pain it had to be done there's not a day that goes by without us coming in the house and look down at her sleeping spot and missing her screaming with joy everytime we came in the house, as i said this was recently we still to pick her ashes sense we had her cremated, my kids wife and i will miss her dearly. R.I.P. Lilo
1 month ago Josh Evoy
Would not recommend. $ 125 for just consultation and fees? Are you serious? Also did not call me about an appointment I had for surgery. Seems they are busy concerned about charging people high price and all about money.
10 months ago Chelsea Plomin
Attentive to animal care and comfort. Friendly staff. Clean office that complies with Covid-19 safe practices.
9 months ago Melissa Vaughn
Mabel and her family loves Bree's Animal Hospital. The veterinarians and staff are knowledgeable, informative, loving, kind and friendly. The entire office is always clean and smells great! Mabel loves their delicious treats..... today was pizza!!!
7 months ago Priyansee Rahangdale
The folks at Bree's are very gently with animals.
10 months ago Kellee Williams
Good prices. Nice people! Would have got 5 stars if the person who answered my call had a welcoming demeanor but upon arrival it overall was a very nice experience.
2 weeks ago sneha lal
A good hour or 2 wait but so worth it. The Doctor and his staff are great. Highly recommend you come here if your pet needs a veterinarian.
2 months ago Katrina Uher
Had provided good service prior till this week. Due to them not being responsive for bloodwork early our dog almost died. Went monday morning was suppose to get it tuesday morning and they didnt call till wednesday noon. Called on tuesday morning and the results were in but said dr will call. My dog is a diabetic and was suspected to have pancreatitis. My dog has been in the hospital since Tuesday night. She is family, please pray and hope that our baby can come home. NOW WE ARE IN DEBT OF $10,000 for something that could have been prevented. Justice will be served and its not a threat. Everyone needs to be aware so it won't happen to you. Im also trying to find out if they are accredited withe BBB. If anyone had problems with them comment so that can know. If need be a petition can be made to get justice for our furbabies.❤University of Penn animal hospital is expensive but worth every penny. That is my recommendation!❤
8 months ago APRIL JARVIS
I went in to see i believe Dr Marc and he was nothing but kind and courteous to me and my Giant Schnauzer Klaus❤️ I spoke with him about correcting my dogs flopped ear and he was very understanding about the procedure. He explained the risk and the potential issues that could happen and we gave it a try. On June 7th i dropped my dog off and all the vet technicians were amazing with Klaus, they know that he is hyper when he goes to the animal hospital and they greeted him with lots of love and affection????????????That helped me trust them that they would take care of my boy. I dropped him off at 7am and anxiously awaited a phone call i could go get him???? around 11 o'clock one of the techs had called to let me know he was out of surgery and into recovery???? i was so happy???? she reassured me that everything went well and that i could pick him up around 2pm. I arrived and Dr Marc spoke with me and said everything went well and to come back in a week to check up. I went home with antibiotics and pain meds for Klaus (before i left they gave me a paper with an emergency contact number and the main telephone number) About 3 days later i was cleaning the ear when i noticed it was leaking from the out side ( not where the incision was but on the backside) i called them immediately and they said to bring him in. They tried to drain the fluid out but Klaus kept shaking his head making it worse so they kept him there for a few days ( at no charge to me i was full of anxiety and i was upset this was the first time he stayed away from home)June 12th i picked Klaus up he was so happy to see me he smelled really good ( they bathed him because of a little accident he had) Dr Marc came in and told me they did another procedure to slightly move the implant to stop it from rubbing the ear???? it has been 8 days since the second procedure and there is a lot of progress, we had our check up yesterday ( i have posted the ears on Sunday night because the incision looked great and posting the ear is super important!) and dr Marc was very happy that i had the ears posted. Plus i did them my self ( i haven't posted his ears since he was 10 months when the left ear flopped) i can't wait to see the full results!!! I forgot to add the called me multiple times to check in on Mr. Klaus ❤️ that is what i call love ???? Thank you Bree's Animal Hospital, ????Angelina&Klaus????
7 months ago Billy Tran
Love this place - very friendly and knowledgeable I highly recommend them dr Marc diagnosed our dog/best friend with 2 slipped disk in 1 min when v-sec told us he had indigestion and charged us $250 dr Marc told us what to do and we avoided surgery and had many wonderful years with our best friend A big THANK YOU to all you guys at brees from the Davis family Adrian and Paulie
7 months ago Courtney N
The doctor and staff at this hospital took such great care of our Bella when she needed surgery. They were so caring and gentle with her. Í would definitely recommend everyone to trust them to give your fur baby great care and attention.
1 week ago Lauren Taylor
Dr Conrad, Dr Marc and their staff are amazing! I have been going there with my dogs since 1991!! They also have the same staff now as they did then.That's got to say something about how much they care for our animals, how dedicated they are, and how much they love working together to help our pets. They've saved 2 of my dogs from various long term illness issues that were discovered after we rescued them. I will always be and still am grateful for all they have done for Snoopy, Holly, and now Charlie. Thank you all! The Eschert family
7 months ago FIGURKA
My only issue was the waiting outside for a little over 2 hours. I think they should do it on apt only visits. Everything else is great
11 months ago Tom Z
Great great Great Dr. ! Great staff! This place truly is the "REAL-THING" Thank you Bree's
9 months ago Cathy Murphy
Dr Marco and staff are wonderful for taking care of my gizmo they are the and I am forever greatful to them happy holidays be blessed
11 months ago Conner Marston
I just came from visiting my cat and she looks like she's doing so much better
3 months ago Aidan Noon
I wouldn't recommend this place to my worst enemy. They turned my mother in law and her badly injured dog away, because it was close to closing time. This place is unreliable and unprofessional.
9 months ago Robert Miles
The best place to take ur dog for an acl surgery. Because they saved her leg. They have the best.. ask for Dr Conrad
1 month ago Veronica Alvarado
Great ???????????? Hospital I ???? takingaria there
6 months ago Chelsea Wilson
The staff at Brees are a blessing the compassion for their craft is definitely shown the doctor was such a gentleman and kind buster is on the road to recovery and doing much better top-notch operation over there
10 months ago Douglas Myers
Love it. Very caring the Vets don't rush into unnecessary test and my baby got so much better with the first Treatment.????????????
7 months ago
Popular places from the category Animal hospital