Gym GYM NYC
Gym GYM NYC, 227 Mulberry St, New York, NY 10012, United States:
48 reviews
of users and employees, detailed information about the address, opening hours, location on the map, attendance, photos, menus, phone number and a huge amount of other detailed and useful information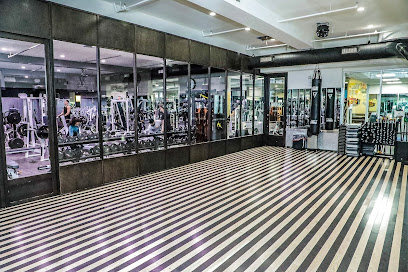 Address:
227 Mulberry St, New York, NY 10012, United States
GPS coordinates
Latitude:
40.7226743
Longitude:
-73.9961133
Location on the map
Reviews mullah jee
Great gyms spot! All the instructors were very down to earth, relatable, and easy to follow. Beautiful gym class. Gorgeous studio full of light. They squeezed us in a packed class, and I'm thankful they did. It was the best way to start . If I lived here I'd definitely be practicing at this studio.
8 months ago Ronnold Rosenburg
Nice & clean powerlifting friendly gym with some Hammer strength machines & Rogue equipment. There is a deadlift platform, 3 full racks and a rogue Westside bench cage. Went there twice during our NYC trip and didn't missed anything.
8 months ago Jamar Wright
GYM NYC has been a godsend during this pandemic! This family-owned business takes genuine care of it members. The staff is friendly and responsive. The equipment and space is great. This is the perfect place to come and get a great workout in to destress from the day. Support local businesses, because they are the life-blood of our country.
8 months ago james winston
Super dope spot! Junior and the team are awesome - thanks for your kind hospitality. Great location, space and equipment. Hope to see you guys back soon! x
9 months ago Ross Smith
This gym is astonishing. They got a marvelous facility, top equipment, and a great environment. Good service with friendly staff and super clean and comfortable gym for everyone! Highly recommended!
11 months ago Jacquelyn Farley
Loved GYM NYC! The classes at night we're awesome! They really know how to motivate you!!!
7 months ago Thomas Ng
GYM NYC is a great, well kept together gym filled with friendly staff who are willing to help you with whatever you may need. The building is super sanitary and well taken care of making it feel safe and comfortable to enjoy a workout during a pandemic.
8 months ago Robert Airaudi
Great gym ,clene,comfortable. The trainer was very helpfull and friendly staff.I hightly recomend.
8 months ago Diana Ciccolini
Really nasty people! Avoid this place!!
6 months ago Sierra
Love this gym the workers are awesome even the people that goes to work out there also it a plus for me
2 months ago David Goldberg
I used day pass in this gym during trip. And it was awesome! They are very kind and carefully explained what i asked. Machine and platform are good. Barbells are also good. I think it is best gym among gyms which i went in new york.
7 months ago Destiny Ivory
This gym has a great variety of cardio and weight equipment. It was pretty empty when I went there around 11 am on a weekday. The workout area is pretty spacious. They provide locks, which are a nice touch. The locker room is smaller than what I'm used to though, but wasn't a problem when I went, as the gym was quiet at that time and the locker room was clean too.
8 months ago Josh Engel
Great environment and good trainor
9 months ago Ron Hampton
Best HIIT Training in South New York... I'm a more powerful and stronger athlete when I play tennis. If you are looking for a killer high-intensity workout in a friendly, high-energy and positive atmosphere, you'll never hit plateau at GYM NYC.
7 months ago jean cobon
Honestly one of the best gyms in Manhattan! A empty gym that's full of variety, i feel like a kid at a playground when i come here because there's literally so many options when it comes to equipment! What makes this gym even better is the fact that it's honestly never packed, so i rarely have to wait to use a machine or a piece of equipment :)
8 months ago Diana Moon
Very clean exclusive gym
7 months ago sister squad
Well equipped gym, friendly staff and not too crowded. Moved to the neighborhood recently and checked out several gyms and picked this one. Very happy with the choice.
7 months ago Nikki N
Very exclusive gym
7 months ago Sunil Mushran
By far the best GYM in the city, especially in the Soho area! Not over crowded like other clubs in the area and it has everything you need to get a seriously good session in!
7 months ago Scotty Adams
Went to Gym NYC for a year and a half until I moved neighborhoods and I have got to say I miss it. So much so that I am considering becoming a member again (despite the longer trek to get there now)! Staff are cool and easy going. Has all the equipment one needs to hit any body part hard. Clean shower/locker rooms and it is the kind of place where you can be in your zone without distractions or having to wait in line for a machine. 10/10 Would recommend
2 months ago abdelhakim ouchabab
Best gym in NoLita! Great staff and equipment. Clean and amazing customer service! Keep it up!
7 months ago Deb DenHartigh
Great gym , great atmosphere & up-to date equipment
10 months ago jandy delacruz
The entire gym has been upgraded since I joined. I especially like the brand new locker room and showers. There's a good selection of professional quality cardio and weight training equipment. If there's ever an issue, the staff respond immediately. Nice to have ownership on site.
9 months ago Patricia Burbach
Updated equipment, not too crowded, no bs. Great gym two thumbs up .
10 months ago Douglas Noss
I just joined a week ago, after moving to the neighborhood from Brooklyn, and so far my experience has been pretty good. The prices are super reasonable although at the moment they're going through renovations so I'd say the facilities are not what they could be. That said the staff is nice and I have high hopes for a reasonably priced gym in the area. The fact that it's not a corporate chain is also great. If you're in the area and looking for a new gym definitely come check it out, you won't be disappointed.
11 months ago Stephanie Johnson
I'm a big fan of this gym. Super clean, great staff and affordable. The equipment is very well maintained as well. Highly recommend.
9 months ago Brian Hadler
Very clean area and helpful employees!
7 months ago okan oral
Very friendly crew, remodeled locker rooms with showers, razors, soap, bodywash, conditioner, and shampoo. Lockers require you to bring your own lock. There is a lot of equipment and it is right around the corner from the Spring St stop amidst a bunch of breakfast, lunch, and dinner options. The staff is extra friendly and the cost per month membership is the most affordable in the area.
10 months ago Marjorie Billot
The most affordable gym in the area with and upscale custom atmosphere. Jon the owner is an extremely knowledgeable and customer service oriented individual. I would also highly recommend him for massage therapy.
10 months ago Harish Kashyap
A excellent gym always clean a hidden Gem
6 days ago Carol Rand
Good place to get a fit body.
6 days ago John Cambora
Really love where the new owners are taking this gym!! I was a member at synergy and can already tell these guys mean business with the changes that have happened so far. Its about time the Nolita area got a nice upscale gym for a reasonable price.
3 months ago joseph downing
Really great gym that fills the spot left by the departure of NYSC. No-nonsense month to month membership (a bit cheaper than NYSC), three power lifting cages, tons of machines, dumbbells, kettle bells and other gear, and never too crowded. Not a great option for folks looking for more instruction, but if you know your way around a gym and just want to lift in peace, it's perfect.
3 months ago Patrick Williams
Family owned business (not corporate). Friendly staff. Upgrades constantly being made, clean and reasonably priced neighborhood gym with personal training.
7 months ago Dustin Depriest
Just a really great gym to go to. New equipment, great location and positive people focussed on working out rather than looking in the mirror.
11 months ago Ryan Manuel
Love working out here, been a member since 2012
6 months ago Virgil Woodward
Nice gym, clean complete. Locker room is undesirable. Only 2 showers and not clean
6 months ago little foot
I myself do not like to be judged! And here they do!!! They should not even get a ????... Just trying to be nice to a place that wasn't nice to me.
8 months ago Sarah Sapouckey
All new equipment, around the corner from the spring st station.
6 days ago Mohammed Razzaq
Love this place... Empty every lunch workout...
6 months ago Bill Peters
The new owners are amazing,loving all the changes,come join.
1 week ago Joan Allotey
This is not your cookie cutter cardio-focused gym. Only those serious about fitness need apply. The gym space is mostly targeted towards weight training, however they have a dedicated roomy - yet - (glass) enclosed studio for fitness classes for HIIT / Cardio / etc (stuff I don't really follow or know much about, I only see them while in the gym). Most importantly, I've been going here for more than a year and I see the same faces every week. They have a very dedicated and respectable set of regulars as well as a great set of trainers who can accommodate just about anyone's goals. While some people may complain about the lack of outside-looking windows since the gym is at a basement level, that just serves as a filter for people looking for a serious gym with serious equipment and most importantly serious clientele who care more about their own fitness more than the view. If you give this gym a shot you will not be disappointed as they have an awesome knowledgeable staff as well as awesome equipment. Just because this place is a serious weight training facility doesn't mean they neglect anything else. They have up-to-date cardio equipment, their website has a calendar for group fitness classes (Zumba, Pilates, Yoga, etc). Lastly the place is *clean*. The bathrooms and changing space are up-to-date and in better condition than a lot of more expensive gyms. This is the best example of how much care the owners and management put into this gym.
3 months ago Patricia Spencer
nice little small gym
10 months ago towand hill
Great place to workout
7 months ago Nicole Spencer
Decent little gym in a great area
10 months ago maria crandall
Looking to join on a group membership program for $520/each person. Please message me if you want to cooperate
9 months ago Billy Cheong
Can I pay for the daily use? If can, how much would it be? Thank you!
1 week ago Devan Brown
Overpriced for a small basement gym with old equipment
11 months ago
Popular places from the category Gym