The Car Exchange
Used car dealer The Car Exchange, 756 S Military Hwy, Virginia Beach, VA 23464, United States:
220 reviews
of users and employees, detailed information about the address, opening hours, location on the map, attendance, photos, menus, phone number and a huge amount of other detailed and useful information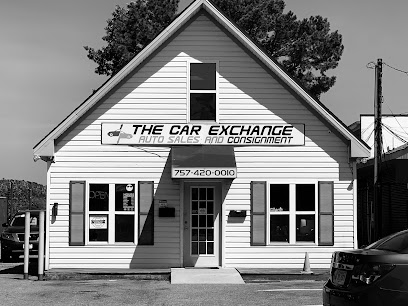 Address:
756 S Military Hwy, Virginia Beach, VA 23464, United States
GPS coordinates
Latitude:
36.8211017
Longitude:
-76.2112544
reviews Lisa Kelley
We went in to look at a truck and they were able to offer us a great price! They were very friendly and easy to work with. All our paperwork was done quickly and they even filled up my tank before we left. The only downside would be that …
11 months ago Delvia Jennings
Great experience in purchasing vehicle with The Car Exchange. Location has a wide selection of quality vehicles. Staff was very helpful and answered all/ any questions. Process and experience was easy and low stress level. As a parent, I …
1 month ago Tonya Gregoriades
Brooke was amazing!! She was so kind and patient and wasn't pushy at all I felt supported throughout the entire process and not once did I feel like I was being taken advantage of like I did at other car dealerships. 10/10 hands down would …
3 weeks ago felisathomas
As a first time car buyer, I was anxious about finding a good deal without feeling pressured. When I arrived, I was helped by John. He was super helpful and professional. I never felt pressured during the buying process and John's upbeat …
3 weeks ago Danny Chong
I had the most wonderful experience. Sean was a great representative of the Car Exchange. He was very patient in helping me pick the right car that would meet my needs. No pressure just very helpful. The Car Exchange was my first stop and my last stop. I am so happy about my vehicle!
3 weeks ago Xarviar Cooper
I came in looking for a Honda Fit I had seen online and called about , Brooke immediately had it ready for me to test drive. I had a great experience. There was tire pressure light, they agreed to fill them all and I had fun buying my first car! Definitely will be recommending my friends and family here :)
3 weeks ago Roger Sturgell
Brian and Joey were amazing in helping us with my son's first vehicle purchase. He picked out a 2005 Volvo V70, saw a few problems and pointed them out. The dealer was very immediate on the repairs and it truly felt like they cared about …
2 weeks ago Jen Hill
Had a great experience purchasing a Jeep today. John G. was very helpful, courteous, responsive and professional. I'd definitely recommend this dealership. I don't expect to need another vehicle any time soon but when I do I will return here first.
2 weeks ago glenny tc
I had the best car shopping experience ever! Brook Draper is amazing! She is friendly & was helpful from the start to the end of the process. She kept me updated with any changes in the process and was very helpful to any questions asked.
3 weeks ago CJ McKinney
John was an incredible sales associate to work with. He balanced being proactive and hardworking without coming across as pushy. He made the process incredibly smooth and he worked with me and was flexible to my situation.
3 weeks ago Pranav Agarwal
Ghost was actually great help and full of energy. He made me make the right decision in choosing a wonderful car!! And I am in love with my Audi thanks ghost I love it!!
4 days ago Edward Simmons
Really helpful people! Got in and out with the car the same day. Reasonable people and prices! Definitely check them out :) Ask for Joey!!
3 weeks ago Maranda Throckmorton
Brooke was awesome with selling me my second dream car. She was very attentive and cared about what I wanted. I would highly recommend her to anyone in the market for a vehicle! Thanks, DB
3 weeks ago Hantie Bester
Just bought a 2006 Jeep Grand Cherokee from this place. They have the best service and the best used cars available at a very fair price. Joey Daversa helped the process go fast and smooth. He was nice and friendly and did everything to …
2 months ago peachymillz
My wife and I had been looking for a used Volvo and found The Car Exchange on the Car Guru website. I'm glad we did because the experience was great. Brian and Joey did a great job and made the experience easy and fast. One of the best car buying experiences I've had.
1 month ago Mary Mathis
Brooke was amazing. I would recommend her to anyone anytime of the day. She was kind and extremely helpful. She definitely made my car buying experience easy. Thank you Brooke.
3 weeks ago Donald Reynolds
Brooke was an amazing sales associate. She was quick and easy and knew exactly what she was doing. She made my car buying experience very easy and had the exact car I wanted.
3 weeks ago Arvind Prabhakaran
Of all the used car lord I've been too, this one has definitely hit the number 1 spot in my book. A nice variety of cars within a affordable price range, military friendly, and overall have a good morale to them. I appreciate Joey going over my options, and helping me find my right choice.
3 months ago Cara French
Brooke was very helpful, patient and kind. She made the process quick and easy! The car seems to be in great condition for a good price!
1 month ago Roy Smith
Had been shopping around for months for a safe and reliable Nissan vehicle for my daughter. Came across the Car Exchange as we were about to call it a day. Joseph came out and greeted us and very pleasant and courteous. We explained what …
6 months ago kim p
John was very helpful and made the process quick and easy. Will definitely come back again
3 days ago mike birkle
John was fun! Sense of humor, answered my questions and knowledgeable! With children I needed to find a car fast, and was able to find my car from them! Thanks!
1 month ago Ryan Beserra
Brian, I appreciate you for making sure all of my concerns were acknowledged and fixed. Thank you for a smooth transaction.
3 weeks ago Janice Mitchell
Very nice & friendly people. I was helped my Brooke. She is very sweet, and accompanied me on buying my first car. Highly Recommend. Lots of different styles and options & great prices.
4 months ago May Can
Great experience and was fast and quick! Joey is the man! Very knowledgeable about the vehicles that I ask about. Come see him for your next car buying experience!
2 months ago Koren Hairston
Brian was very attentive and answered all of my questions. I was very weary on purchasing a used vehicle but he reassured me and made me feel very comfortable. I was in and out in 45 minutes. Thank you Brian for making me feeling comfortable.
2 months ago Morgan Baughman
Found a great 2002 Toyota Tacoma at this lot, went in to take a closer look, and was immediately greeted and helped by Joey Daversa who took his time going through the vehicle with me, accompanying me on a test drive, and working with …
2 months ago fawzi hamdallah
Joey was a great help, had us in a vehicle within an hour. Highly recommend
1 month ago Keith Lickert
John Gregory was awesome!! Very personable and an honest person! Definitely recommend this place!
1 month ago Juan Olveda
Please review BBB.org or all one star reviews listed below before making decisions concerning this business. My wife drove 5 hours to go check out a vehicle on my behalf and upon arrival she FaceTimed me and I got a good visual on the car. …
4 months ago Clifford Snabb
Brooke Draper was amazing. She made buying a vehicle so easy for me.
3 weeks ago Ian Townsley
Brooke Draper was amazing she was patience with me and talked me through everything she made my experience wonderful
3 weeks ago Vanisha Rounds
Great experience here! Brooke was awesome, super cool and not pressuring whatsoever! When I test drove the car I sensed an issue, but they are fixing it immediately! Some dealers would just say that's how it is and leave it at that. They gave me a great deal and I definitely recommend this place! Thanks you guys and thank you Brooke!
5 months ago Nicole Foster
John did an outstanding job helping me get into the SUV I wanted fast. He is very helpful and knowledgable
3 weeks ago Absetou diakite
Brooke was wonderful. We had a terrific experience. We called on a Friday and Brooke held the car over the weekend for a Monday appointment. VERY friendly and helpful service and comments. We were worried about a airbag light and Brooke …
6 months ago BISHOP SORONKO
John helped us and was great! He made the process very easy and was great to work with!
3 weeks ago asmita subedi
Great service "Ghost" took outstanding care and made the process a breeze.
1 week ago Alice Friedman
I came to the car exchange this afternoon and the sales woman Brooke made it such a easy stress free process. She answered all my questions and walked me through the whole process. Thanks to her I'm leaving the lot with a great car !!
5 months ago Spencer Anderson
Brooke and Brian helped my wife and I get a great vehicle ! Very easy to work with!
2 weeks ago Carlos Lopez
Brooke was AMAZING! We came to look at one car that didn't work for us and with so much patience she helped us look at many others until we found one that fit! We needed two very minor items corrected and she made sure to put them in our paperwork to be corrected! Definitely recommend for a used car purchase and ask for Brooke!
3 months ago Kate Green
Joey was amazing. He was informative and honest and helped me a car I can't say no too. I recommend him and you won't be disappointed.
3 months ago Val H
John was so helpfull i highly recomend him and the dealer ship
1 month ago Alana Trowbridge
Joseph helped me out a lot I really appreciate it. I highly recommend doing businesses with them.
2 months ago Neil Davy
Brooke has been a great sales person. She has been supportive in my journey to purchase a car. She was not pushy and led me to the right car. I would recommend her to help anyone buy a car.
7 months ago William Herragi
Really enjoyed working with Brooke and the folks at the Car Exchange. Extremely grateful that she suggested checking out Langley for financing. Great price on a used but reliable vehicle. Covid conscious and safe.
7 months ago Jon C
Brooke was very helpful in getting me in my 'new to me' car. The staff was all very friendly and helpful. I highly recommend checking them out.
4 months ago Tis Rachel
Great customer service. Fast service. Joey was great
3 months ago Fabiana Cristina
Got my first ever car from here !!! Has great staff and very informative and helpful through the entire process, I was helped by Brian.
2 months ago Patrick Lamont
John was great and patience ,helped me with all my questions and helped me save money I would highly recommend this place
2 months ago Matrix Hazen
I had great experience with joey win buying my 15 passenger van thanks
1 month ago
Popular places from the category Used car dealer