H&R Block
Tax preparation service H&R Block, Cross Pointe Shopping Center, 5075 Morganton Rd Ste 5b, Fayetteville, NC 28314, United States:
220 reviews
of users and employees, detailed information about the address, opening hours, location on the map, attendance, photos, menus, phone number and a huge amount of other detailed and useful information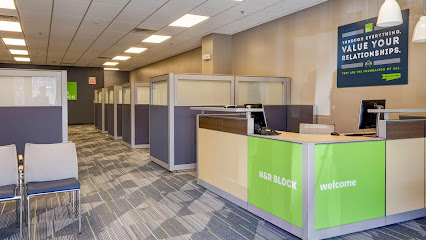 Address:
Cross Pointe Shopping Center, 5075 Morganton Rd Ste 5b, Fayetteville, NC 28314, United States
GPS coordinates
Latitude:
35.0680535
Longitude:
-78.9650599
Location on the map
Reviews Carolyn McLemore
My mom told me about this location and specifically Jessie who has started doing taxes for many of my family members. Jessie is amazing!! I was stressing over doing my taxes, but after walking out of there today it feels like a big weight …
10 months ago Brenda Ramsey
Mrs. Margaret Reid was a GODsend!!!! My taxes were complicated because they involved numerous states. She carefully went over each document and sought help from other states when necessary. She gave the time that was needed to file my …
10 months ago Muriel Geoffroy
We have been going to Tess Pang for the past 10 years. She has wonderful customer service and is so knowledgeable. We completely trust her judgement and tax advice.
10 months ago Tylinda Lawrence
Mrs. Miller was awesome she is so kind and such a loving spirit. She is so proficient in her job and she does her job with such grace and ease and wonderful customer service. I will recommend her to everyone that I know. Thank God after I wonderful Mrs Angela retired Mrs. Miller picked up where she left off.
1 month ago Larry Downer
The customer service. I have never met the person who completed my tax returns. She was amazing and provided clear and timely feedback.
9 months ago Ryan Levine
Your associate has the knowledge and wants to do his best to satisfy the customer.
9 months ago John Bundy
DO NOT GO HERE. Our first appointment completely wasted our time, we wait over an hour and the Tac person we had an appointment with never came out. Then we got our taxes done and the women clearly didn't listen to anything we said because …
10 months ago Chopperfreakcm Cm
Our tax expert Mrs. Miller was terrific. She is exactly the reason we go to HR Block and not another tax service. Extremely helpful and clearly understood.
1 month ago Ray Crayton
Professionalism and Friendly personalities of all staff. Makes you feel that they care and that they are like family members.
11 months ago Ash Kumar
We saw Eunshin Miller. Excellent service. Timely.
10 months ago mrs artteacherlady
I am always pleased with h&r block every year they have lived up to the standards I look for in filing my taxes with
11 months ago Jerry Garcia
The rep i had was very knowledgable and knew what exactly what she was doing
9 months ago Marissa Stiles
You always manage to find some credits/deductions I miss when trying to do them myself or with TurboTax or other tax prep programs. It helps that my regular tax guy with H&R Block is retired military and his wife is retired civil service so he knows exactly what I'm dealing with since I'm both retired military and civil service.
10 months ago J Doe
My tax filer is personable, makes you get the best refund possible, and communicates with you so you always know what is going on.
1 week ago Lisa Phillips
The outstanding performance and expertise by my tax preparer, Valerie Watson.
10 months ago Justin Ladenthin
I can use the same agent every year. He earned our trust years ago, so will come back as long as he is there.
10 months ago Laurel Rancitelli
It was quick and easy. Great Tax Pros
1 month ago A Bricj
Tax prep through h&r block is great every year.
11 months ago Maartje Kluiters
I'm impressed with the tax business that they do
9 months ago James Comiskey
I have confidence, with the staff and overall results of my returns for many years. Regardless of the bottom line.
11 months ago Craig Matchett
My tax preparer was extremely knowledgeable and explain everything to me about my taxes.
1 month ago Emi Medina
Mr. Jesse is a great tax preparer. He's always knowledgeable on all the latest tax laws.
1 month ago Myrna Renteria
It was fast and easy and I understood everything on what they were saying.
10 months ago JEFFS SPOTT
My tax person is very nice and cool. Everyone is nice
11 months ago Robin Cote
Ms. Miller is very knowledgeable of tax preparation and a very nice person.
10 months ago Mark Hiersche
Mr Jesse is a good tax preparer and he is a big help at the Morganton Rd store in Fayetteville NC
10 months ago Tyler Bower
The people. They made sure I was well taken care of.
11 months ago Jarret Swales
Used HR BLOCK for years, this year had a really good service
3 weeks ago maurice cherry
Do not go to this location. And don't let Jessie do your taxes. He processed ours last January and we still have not received our refund. He has had no answers for more than a year!
2 months ago Amesha Dunkins
Mr. Hairston has prepared taxes for me and my family for several years and is the best.
3 weeks ago Laurel Rancitelli
Bob Rolleri is very knowledgeable and I love working with him every year!
3 weeks ago Vrinda Naik
I filed with her last year.. very nice and caring person
3 weeks ago Lillie Hardine
Mrs Miller did a great job with my tax preparing. She was able to resubmit my previous tax year on a re-look and get me a very sizable refund. For my 2019 tax's she was also able to prepare my return so as to receive my fair refund. She …
1 month ago Dan Wood
The service was great and my tax preparer was very helpful.
2 days ago kandy sheldon
Professional environment, precise documentation and clear communications from tax preparer.
1 day ago Chistopher Maxim
I always have a good outcome after my taxes are prepared.
1 month ago DJ CONNECT
Ms. Dorothy was very thorough as far as explaining everything to me!
2 days ago Katelyn Volk
Always a pleasure to tax with mr.coleman
1 week ago Oakley Miller
My tax preparer was extremely helpful, informative 10/10 service
11 months ago Robert Perkins
The service I recoeved from Ms. Tessa was amazing
11 months ago Valentina Tedesco
Professional and organized, Staff is so knowledgeable and efficient - Ms.Pangu
1 week ago Emma Luttrell
Robert has been doing our taxes for about 10 years now and he never did us wrong always tell us straight up forward what to do and what not to do. we would be lost without him.
3 weeks ago Will Meyer
Tax preparer, Ms. Tess Pang, is very accommodating and is reliable.
1 month ago Rebecca Marsella
She knows what she doing an was very kind and respectful
1 month ago Tim Taylor
Bob will always make sure I don't overlook anything that I can get my best return possible
9 months ago Jacilyn Clark
Jesse Hairston was amazing and helped me more than anyone I've ever filed with. He took the time to explain everything to me that I needed to now. I've always been nervous about whether or not I've got everything I need or that I'll mess up …
3 months ago Jacob Krampf
Continually great job yearly.
10 months ago Briann Wilson
Great service!! Tess goes above and beyond!! Makes a big difference in getting a professionally prepared return and the most money refunded to the client!!
8 months ago Winton Koh
If audited I hope H & R block will handle this for me.
10 months ago Alexandria Pauli
I had an awesome experience.
11 months ago
Popular places from the category Tax preparation service