Target
Department store Target, 50 Spring Valley Market Pl, Spring Valley, NY 10977, United States:
220 reviews
of users and employees, detailed information about the address, opening hours, location on the map, attendance, photos, menus, phone number and a huge amount of other detailed and useful information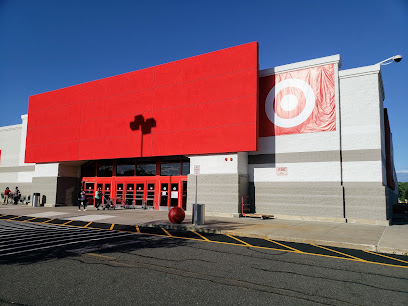 Address:
50 Spring Valley Market Pl, Spring Valley, NY 10977, United States
GPS coordinates
Latitude:
41.1047026
Longitude:
-74.0224842
Location on the map
Reviews JoseATurner
This target ???? it's really nice, very organized and clean. Loved it ❤️????
9 months ago Steve Perillo
The representative was the absolute best I have seen in a long time. She greeted me as I walked over, introduced herself and asked how she could be of assistance. She was patient kind and extremely knowledgeable. After assisting me she even directed me to the Agent in Tech by name. This made my visit fast and effective if she could pass these qualities on to every rep no one would shop anywhere else but Target!
8 months ago Rahimi Kabuli
I am very happy with the way the store has recently upgraded itself to be fully stocked with almost anything I need when I shop there. Alexia stayed an extra few minutes to check out the woman in front of me and myself as we were already waiting at her register for at least 5 minutes. Thank you for keeping our local Target so neat and clean!
1 week ago CJ Woodworth
This store I like it, it has great selection of products and is very clean. However, store pick up or curbside pick up is a pain. It takes too long, the purpose of this way to shop is to be in and out in less than 3 to 5 minutes. Every time I order something at this location I expect to wait at least 20 minutes to get to an associate then I have to wait an additional 5 minutes to get the order I placed. Target, needs to provide more help for their associates, that is the root of the problem. You can't have 1 person handle returns, store pick up, curbside pick up and any other customer issues. Which I don't understand because they have a sign that they are hiring. Target please provide more help to your associates.
8 months ago Kristen Lombardi
On Tuesday they allow me and others like me with underlying conditions to shop early and you will never know how much this means to be able to shop safely.
8 months ago santal foundation
This a smaller target and only carries a sampling of items. In the few trips that I've gone in I have yet to find whatever it was that I was after. Though that said it is a well organized clean store. Good parking and helpful staff.
11 months ago Marsha Revere
Love this place, one of the best Target stores I had been. Really organize, I find all I need and more. I recommend to everyone this Target. Good products, variety and good prices. Compared to others Target store, this one is more organized and located in a easy and accessible area.
9 months ago Arlene DeBeck
Come and go here a couple times when I need to run my last minute errands since it's around the area, only negative thing here is they usually don't have registers open but on the bright side this handsome young man named Sherwin I believe always has assisted me and offers help everytime at self checkout. Not just at self checkout he would assist me with help around the store also ! Great customer service indeed! This Store is small compared to others but has most of the essential things you'll need! Will come again !
11 months ago Betty Orme
The service and select and the overall helpfulness of the staff. Samantha was especially Helpful
9 months ago Ayesha Ayesha
Sadly, I had one of the worst shopping experiences in my life shopping at this store. I was racial profiled and followed around the entire store by a security woman who gave me the worst looks a human being can tolerate. Being a black woman in America is the hardest thing to be. We are looked at as criminals when we embrace or culture. I reported the incident to Andrew the store manager. I pray target takes actions. Seeking legal services, this is not okay. If you feel that you have been discriminated against in this store please contact the United States Department of Justice.
8 months ago Karen Wright
The efficiency of the ordering process cannot be overstated.
8 months ago Robin Branch
It was so fast and easy, especially since I had my grandchild in the car. The gentleman, Michael O was so kind and courteous.
7 hours ago P Day
Very good products at reasonable prices and the price match guarantee is appreciated. Thank you Daphney for excellent service.
9 months ago Ben Meagher
Nice layout, Clean and bright, Very good pricing. One thing that could use improvement is the checkout counters, It can take forever unless you use the self checkout.
9 months ago Ali Dickerson
The website is inaccurate. I checked online before going there to see if something was in stock, It showed that it was in stock and it was not there. Each time I showed them that it says in stock but no one was able to explain why it still shows in stock.
9 months ago Howard Barry
Beautifully renovated. Great selection. Beautiful comfortable fitting rooms. Great lounging chairs outside the fitting rooms woth charging station. And a beautiful comfortable nursing room.
7 months ago Fairy Gardens
Very upscale large Target store. Food, toys, cosmetics, and more. Target just keeps getting better.
10 months ago Jason Perry
John and Sarish (front end manager) were incredible. My target app with the wallet feature was not allowing the charge to go through for my red card. They walked me through resetting it and rang my order up fresh to get it to go through. If they hadn't spent time to help me I would have had to go all the way home and come back with my physical card.
6 months ago Yulanda Akhigbe
They have everything and good prices
8 months ago Satwik Biswas
Great customer service, lovely store overall great experience. (Unlike its competitors the employees are extremely friendly and helpful.)
1 month ago Sarah Hill
I had a great experience this evening. Tchasky was very professional.
11 months ago TR Rosenberg
Unhelpful workers crowding together talking in a circle and practically ignoring you. Rude service now this is why you shop small businesses. Much better service and a much more friendly atmosphere.
1 month ago Staler
This place was renovated recently and is beautiful. That being said, the shelves are consistently empty for many of their products. Doesn't make sense. Keep your shelves filled otherwise people will continue to flock to Amazon.
10 months ago Victor S
Very helpful employees. clean organised store. always a pleasure to shop here
1 month ago Tina Ma
Lack of good customer service, very messy and dirty store. Clothes are all over the place.
8 months ago Linda Ackerman
I want to give a Big Thank you out to Ian the store manager. It was 10:05 PM and the store was closed. I need a pair of needle nose pliers to fix my driver side window which had just dropped down on my BMW. Not only did he save the day for us - since we were driving from New Jersey to Maryland - his act of kindness just let us know people do care. He grabbed his tools and within 5 minutes we were back on the road! What a great store and great employee's!
6 months ago Stephany Nola
It's a good place to buy toys for Kids, clothes, and the option to buy online and deliver at home. Really care for the gest.
1 month ago Jeanne Barry
They have remodeled this store and it looks very nice.
3 weeks ago Renfei Song
I would like to wish Villegas. Merry Christmas to Allison Villegas and to let known to Target headquarters what a fine job this special lady is doing. We made a pickup order. My husband picked up, but didn't take the time to check for a complete order. After two days, when we decided to start wrapping the gifts, we realized there was five items missing. They were gifts for our grandkids. My husband called the Spring Valley store where we had done our purchase. Allison answered our call and listen very patiently to our problem. She said she would help as best she could. While talking we got disconnected. We were heartbroken because as it has happened to us many times, no one calls back. But she did. She took the time, on one of the busiest evenings and told us not to worry, everything would be waiting for us the next morning. Not only did she have the order ready, she took time to write us an apology note for the inconvenience the store had caused us. With three wonderful gifts. Who does that now a days? We felt really special to have had her answer our call. If only every single retail worker would treat their customers the same, it would be a much happier world. Once again, thank you Allison Villella.
11 months ago Elmo Rondon
Love it! Just Love shopping at Target Everything about it is on " TARGET" Neat orgainized polite checkouts food cosmetics Up and Up they keep going Relaxing to shop in
7 months ago Constantly Learning
Associate Tchosky made my trip quick and painless and he was super friendly and helpful!
1 month ago Chrissy Lindsay
Very helpful and polite ????
8 months ago John Lagnese
This store is usually very clean and kept up with. Staff is very friendly and customer service is usually pretty quick even with lines.
3 days ago Eric StCyr
I went into this target location today and asked for help in the home department, when I was told that the employee for that department was on lunch break and I'd have to wait for him to come back. I then asked to speak to a manager and when the employee went to call on the walky talky for the manager Ali, she said she is on lunch break and she's not coming out til she's done and that there was no one else to come out and assist. I was not satisfied with the customer service here. If you are a manager you should have someone on the floors covering staff that's on break or you yourself available . Terrible customer service here. I suggest if you're shopping you go to another target location.
1 month ago Brian Mcavoy
Great selection and good prices.
9 months ago K Har
The best drive up pickup.
3 days ago Jay Bale
A great store as other targets. Today was busy, but they had one long line with an associate directing everyone to an available cashier or kiosk. Great for COVID social distancing, and less frustrating from not being stuck in a slow line. A+
4 months ago Jeri Frank
Excellent customer service
7 months ago Travis Kennedy
Target has a variety of products that are excellent and exclusive to Target. I enjoy the quality of market pantry products and Tierra del Sol coffee carried solely by Target.
3 months ago B Smith
Great and fast pick up service!!
11 months ago Cara Baillargeon
My favorite target,,very organized,, you can find very nice clothing,, for a very good price ,, customer service is excellent,,im coming again and again love it
6 months ago Aliya Begum
I ordered from two different targets because neither store had everything I needed. Which in these times it's totally fine I understand that. I ordered curbside pick up because I have medical issues and cannot be in the stores right now. When I got two of the Clarkstown Target I was giving my bag right away. When I put it in the trunk I realized it wasn't my stuff at all. They came right back out with my bags and gave me the correct order. When I got to the Spring Valley Target my app told me the order was picked up already. I sat there for 15 minutes and then cold the store. No one answered the phone. I called again and finally got through to someone who transferred me to the pickup Center. No one answered at the pickup Center. Long story short I called back three more times twice got hung up on and once was told that my order had been picked up and there are no pass order showing in the system for me. I was not pleased because it was a $56 order. I was late for a doctor's appointment and so I had to leave, go back to the store later and pick up the order again. In the future I will probably be using other stores that offer curbside assistance.
8 months ago Mohamed Mustafa
Easy ordering process online. Minimal wait at the store and salesperson was friendly. They were sanitizing all the shopping carts while I was in line.
1 month ago c sul
Michael O was amazing! Very nice, professional and helpful.
4 months ago Platoha
Easy. And timely Excellent service. Amazing lead time from when I placed the order to pick up. Nd the pick up was awesome with the app
9 months ago Zulkarnain Ahmad
Great value. Great service!
3 months ago Amy Loewy
I love target and always have a good experience when shopping there.
5 months ago Nate Mcroberts
very easy and quick return policy
5 months ago GaleBraveHeart
Good selections
7 months ago Daysilyn Caban
The Staff is friendlier than my ex wife
4 months ago
Popular places from the category Department store