Notary Public Mobile - Kin Wong
A Notary Public Mobile is a professional who has been appointed by the state government to act as an official witness to the signing of legal documents. In this case, Kin Wong is a Notary Public Mobile who operates in the San Francisco area, with his office located at 2466 San Bruno Ave, San Francisco, CA 94134, United States.

As a Notary Public Mobile, Kin Wong is authorized to certify the authenticity of signatures, administer oaths, and affirmations, and take acknowledgments of legal documents such as deeds, affidavits, and powers of attorney. He plays a crucial role in preventing fraud and ensuring that important legal documents are executed correctly.

One of the benefits of using a Notary Public Mobile like Kin Wong is that he offers a convenient service by traveling to the client's location to notarize their documents. This makes it easier for people who have a busy schedule or are unable to travel to a notary's office.

Overall, the services provided by Notary Public Mobile Kin Wong are essential for individuals and businesses who need to sign legal documents with confidence and security. With his expertise and professionalism, Kin Wong is an excellent choice for anyone in the San Francisco area who requires notary public services.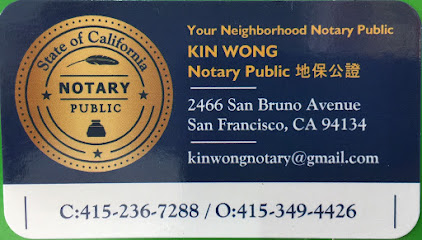 Address:
2466 San Bruno Ave, San Francisco, CA 94134, United States
GPS coordinates
Latitude:
37.7307934
Longitude:
-122.4050685
reviews Kevin Cozart
Highly recommend Kin! He's the best notary I have ever had! He went above and beyond! And not to mention he's rate was the best, while other mobile notary tried to jack up the price. I had some document my out of state lawyer prepared which was not inline with CA standard which I didn't even know of course. But he was so well prepared that he arrived my place with a separate set of documents updated with the right notarization language at the bottom of my original content in additional to our original document so that we didn't have to reprint and redo it! We did all on the spot! Thank you, Kin! You are the best!!
2 months ago