Oasis Hookah Lounge
Oasis Hookah Lounge is a popular hookah bar located at 510 Pine St in North Brunswick Township, New Jersey. The lounge offers a comfortable and relaxed environment for hookah enthusiasts to come and enjoy their favorite flavors with friends.

The lounge is decorated in a modern and chic style, with plenty of comfortable seating options for guests. There is also a large outdoor patio area for those who prefer to enjoy their hookah in the fresh air. The ambiance is complemented by the dim lighting, loud music, and overall friendly vibe.

Oasis Hookah Lounge offers a wide range of hookah flavors, including popular options like mint, grape, and blueberry. They also have a wide range of tea and coffee options to complement your hookah flavors.

In addition to hookah, Oasis Hookah Lounge offers a variety of snacks, including chips, candies, and chocolates. They also have a small selection of sandwiches and other light snacks for those who prefer more substantial fare.

Overall, Oasis Hookah Lounge is a great place to relax and enjoy hookah with friends. The lounge has a fun and welcoming atmosphere, and the staff are friendly and attentive. If you're looking for a great hookah bar in North Brunswick Township, Oasis Hookah Lounge is definitely worth checking out.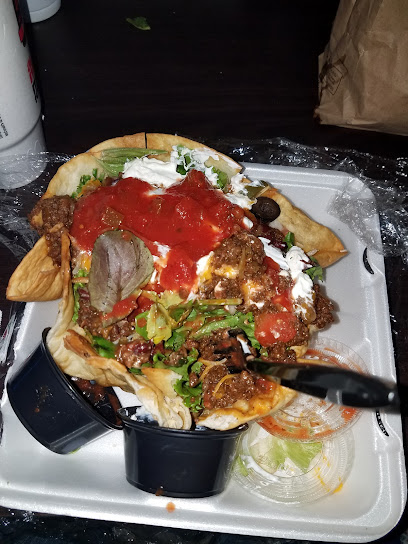 Address:
510 Pine St, North Brunswick Township, NJ 08902, United States
GPS coordinates
Latitude:
40.4722124
Longitude:
-74.4500689
reviews Mouse House
A daytime visit with a group of 4... Service was great, plenty of parking... Seating outside & inside... Reasonably priced... Overall good place to just relax.
10 months ago Jekaterina Morozova
Fast respectful service. Decent prices and flavors. Would definitely go again. Best part is they don't have a food and drink minimum like some places.
4 months ago Tomi Ayodele
It's an okay place. Chilled and relaxing. Its a BYOB place, great to hang with a group if you just wanna chill together, nothing fancy. It's not too loud and the prices are fair. Got here and played card games with my group, so we had fun in our own way.
10 months ago Tengbeh Fallah
Experience was horrible, doesn't look as advertised online. When we sat down they did not explain the rules, every time we tried to order something the man came back with another rule to add on to our bill, opposed to explaining before hand. The website advertises BYOB however it doesn't state that there is a charge for bringing your own bottle. We brought non-alcoholic margarita flavoring and they kept checking to see if it was alcohol, they even took our beverage out the bag to check after we told them it was non alcoholic. First and last time, I wouldn't recommend. They also don't take American Express. There has to be a drink for everyone as well as one hookah per 2 people.
6 months ago Blaise Sodano
Laid back n chillax place. Don't buy Turkish coffee though, it's not Turkish enough :( just some sweetened powder. But the rest is simple n fine. Hookah pots are not so fancy but will get the job done.
1 month ago Matthew Bradish
Great place to just relax, the atmosphere was chill. Once you order your hookah you are left to your own devices. This is a bring your own beer establishment and it's tucked out if the way so it's not overflowing with a bunch of people. There's a speaker that can hook up to your phones Bluetooth. Nice place
8 months ago Richard Bennett
Is there a way to give 0 stars? All the bad reviews were honest. I wanted to find out on my own and its true... Worst experience and he charged me double for a head refill. I called in and I was given one price. When I got my bill, the price was different. Please go some where else. I am not returning to this spot. Nasty sheesha, burnt taste as others mentioned...
8 months ago Sam Tip
Cozy atmosphere, feels as if you're in someone's home. Decent hookah. Can get a bit pricy!!
1 month ago Hemanshu Solanki
Very nice and cosy place.
8 months ago Tekno Lojistik
Ok hookah smokey dark Interior, and be ready to pay different prices than what's on the menu. Waiter charged me for 2 mixed flavors even though it was from tobacco cannister and added a Dollar to the price for the hell of it for no reason
8 months ago Matthew Chow
Great hookah! Low key and clean. Nice crowd and Great service
11 months ago Natasha KovalenKo
I have never had such great service at a hookah bar. Not even most restaurants. The owner and staff are very catering. The location is BYOB. And BYOFOOD. They recently remodeled. The new layout and paint style are gorgeous. Great for a small party. We usually go as a family group of 8 and have a blast. I've forgotten my phone there before (maybe more than once) and the owner has made sure to take care of it till we returned to pick it up. My husband and I went on one of our first dates there. We make it a point to go back at least once every two three months. I can't say enough great things about this place.
4 months ago patricia phillips
I drove multiple one hour to this place. Nothing fancy, but the quality of the Hookah and service was much better. Good place to Hangout with friends and always opens till 2am
1 week ago Steve Kroll
Great Turkish coffee. The hookah pack was very good but the hoses hadn't been cleaned and affected the taste.
1 month ago Тимур Djumagaliev
Worst hookah you will ever smoke. The hookah itself is dirty rarely gets cleaned properly the pice for things get more expensive everyday for some reason and nothing really changes if you want to get sick or don't know how hookah is properly made you may like it
7 months ago Rachael
Bad service and ambience, good hookah but very over priced..3 hookahs for $75 excluding drinks.
11 months ago Brandi Brunell
Excellent service and atmosphere!
10 months ago Angela Faughtenberry
Great hidden spot to get your Hookah on.
1 week ago Tracy Vallance
I had bad experience in that place the place is bad the service is beyond bad not recommend it for anyone to go there there's a group of people in the corner smoking weed not recommend it at all
7 months ago Gloria Tucker
Nice place for some hookah
3 months ago omid tamjidi
Very good
8 months ago brandie burnell
Nice place
11 months ago Kurtis Johnson
Friendly place
11 months ago Ted Brannon
They need a renovation.
7 months ago Kajin Mohammed
Best place ever
7 months ago neilsdunn
Gud service
10 months ago Sonya Trust
Best hoka
10 months ago