Adecco Staffing
Adecco Staffing is an employment agency located at 2427 Burlington St #205, Kansas City, MO 64116, United States. The agency specializes in placing individuals in a variety of fields, including administrative, finance and accounting, healthcare, IT, engineering, manufacturing, and warehouse and distribution. They offer temporary, temp-to-perm, and direct-hire opportunities to job seekers.

In addition, Adecco Staffing provides workforce solutions to employers by helping them to find qualified candidates for their open positions. They provide customized staffing solutions that align with a company's business goals, culture, and budget.

The agency has a team of experienced recruiters who are committed to finding the right match for both job seekers and employers. They conduct thorough screening and interviewing processes to ensure they find the best candidate for a position.

Adecco Staffing also offers career coaching and training to job seekers, helping them to improve their skills and increase their chances of finding a job.

Overall, Adecco Staffing is a reputable employment agency that helps both job seekers and companies achieve their goals by providing customized staffing solutions.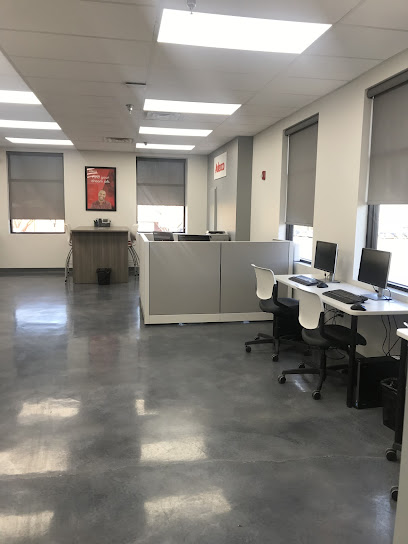 Address:
2427 Burlington St #205, Kansas City, MO 64116, United States
GPS coordinates
Latitude:
39.1466175
Longitude:
-94.5795710
reviews Patrick Aregano
I would stay far away from this company. It is not even a real company anymore. I have spoken to the CEO in Switzerland and they have stated major changes in the USA. These area's will be have managers fired and refocusing on training real staff to actually follow through to providing people with real jobs. Not doing favoritism for certain people. Adecco says it has a 5 star rating and ( have been personally told it is the staffing member that put this down or pay other people to put down the good rating. this is so not true.
2 months ago Steve Hullcranz
Wasted the gas to drive the 40 minutes there and back to there only for them to have me sit in the office not even 5 minutes to tell me that they don't have a job for me. I am currently still jobless. They could have just as easily given me a phone call to tell me the info it took them a minute to pull up.
5 months ago Donna Pruett
Don't waste your time. They don't look out for their employees when issues arise. I use to work at ventura kansas and was mistreated
6 months ago simone assaad
A good company to work for.
1 month ago Krittika Banerjee
I called to see if there was any jobs available. I have my own transportation, and don't mind driving. The lady that answered the phone wanted to tell me that an hour drive to Lee summit is too far for me, and discouraged me from furthering my job search with her. I hung up and am now still looking for work.
8 months ago Andrew Ingrum
Scheduled an interview for 11 am just to drive 30 minutes and see no one is in there offices. Yet the site still let me schedule the interview. Then called 3 numbers that they listed down 1 was disconnected and the other 2 didn't even answer
2 months ago Danielle Zito
Everyone there was pretty nice great attitudes and very professional
6 months ago Jason Gallagher
I didn't even apply with them yet, and they said I had applied once and had an interview with their client, stop making stuff up
10 months ago Helena Holder
Was scheduled for interview at 1:30, they put me down for 12;30 sent me a conformation email which stated 1:30. Excepted me to wait till 2:30 for the next time are you serious Amazon needs to find a better ran office to help them. Only gave 1 star cause 0 was unavailable
1 month ago Mississauga Dolphins
the staff are great at adecco they do a great job but my whole issue is you get to work and then your get in bullied that is just not cool at all the work place has guide lines and most of the works was not following the rules it does not want to make me work for that company and that was challenge manufacturing if they have guide lines and rules they should be followed and no part time jobs here frustrating And now I'm angry with this company due to how I was treated they need to offer part time jobs it's sad when the client is hurt if they had part time jobs this would be the place to go I told the staff I get SSI and SSDI and that was not even think abort and I'm just a failer in this now to the staff not listening or even paying atten to the paper work I filled out And the issues I have get blame on me If the job has guide lines they should be followed
1 month ago Boston Stout
This loser place deserves 0 stars. RUDEST PEOPLE ALIVE. Scream at brand new potential employees on the phone and they NEVER have jobs because their agency sucks.
7 months ago Lawrence henderson
The staff here is unprofessional and never return your phone calls. Yes, Jennifer Horne, I'm referring to you.
7 months ago Roman Budnikov
Been working through them since December WORST COMPANY EVER! Will lie about the hours you will be working, does not communicate well with the companies they represent and if you are desperate enough to go through them monitor your pay closely because they are good for messing up peoples checks.
7 months ago Payne Harmon
I called to inquire about a job yesterday... and I was asked a lot of questions on the phone... so I figured I'd be able to go in and simply start the process of applying... I drove all the way to North Kansas City from 110th Street in South KC... only to get there and have the interviewer ask the same questions again... I was a bit annoyed because I already told them my work history... I explained it's been a number of years since I've done the work I'm applying for.... however it was easy to get back in... he tells me that he's not going to move forward with me because I was short with my answers... he should have had all the notes up before asking me any questions... ask me specifics about each job... or it may have been possible that the agent I spoke with yesterday, didn't even bother taking notes... which makes this situation even worse... I don't like wasting my time... and I felt I was totally disrespected in that regard because I could have just skipped this whole experience entirely... Mark with Adecco!
1 month ago kamogelo khakhu
They sent a group of people out for a job. We all thought we would start. Never did. Plus they never pick up the phone
1 month ago Aleksey Sanych
They have no business working with people and their manners are nauseating. Adecco - you deserve to go bankrupt.
3 months ago Vlad Paraschak
Was offered a position and given a start date. Was told that I was unable to start due to delayed background check and that I would start the following day. Received a text from Adecco stating that the position is no longer open. Very unprofessional, i was never called and told
3 months ago Todd Harris
These people are scam artist, don't believe anything they tell you. If I could give them zero stars, I would have. They tell You lies just to make you think they've got it all together, then the bs begins.
4 months ago Sundee Ewings
WARNING:This place is a mess they are rude and blatantly disrespectful they talk to some people of color like they are disgusted with them . They send you on assignments and do not pay you for weeks and they have all these old systems even tho you update in one they still screw everything up and send your stuff to the wrong address. Oh and don't mention an issue your having with one of their clients they definitely act concerned and want it on paper but they really don't care and will get rid of you eventually from the client and will not investigate anything you tell them.I wish I could keep my star like the kept my paycard.
1 month ago Brian Halsey
Left many messages to see if I could get some work. They never called back. Called today and Mark screamed at me that he was too busy to return my call and also there were NO jobs for me. Condescending, rude, unprofessional.
5 months ago coleton sereika
This is by far the best Temporary service there is . Adecco has paved the way for me towards my career, I'm forever greatful to such a well established place of business. Thank you Adecco for making it all possible.
9 months ago Julie Stetten
Adecco has provided me with some quick jobs over the past few months but recently I've grown to dislike this company very much, First of all, the clients they place you with are almost always some terrible company that treats temps like trash & Adecco doesn't care enough to place you somewhere else...instead you're told "we can't help you". Sarah (a recruiter) should be fired. I'm only giving two stars because they have been a big help until this point. If you need temp work, there's plenty of agencies around KC. Don't bother with Adecco.
3 months ago William Goode
I worked with themn back in 2010 with the office in Overland Park. Those guy were awesome. Very professional and gave you personal attention. I remember a lady named Bee who was super nice and very helpful. That's why when I started looking for work again this year I decided to go back to Adecco. The Ks office was closed so had to go to North Kansas city. I walked in and no one even looked up at me. I sat down and waited..and waited... and waited. I finally left after about 45mins. Not what I expected. What happend to the workers in Overland Park?
4 months ago Stefan Baumgartner
This is the worst staffing agency in Kansas City save yourself the trouble and go through someone with consistent work and the ability to communicate with their employees effectively.
5 months ago Karen Proffitt
Wait for 1 hour, in the waiting area. I was interested in gaining employment through the staff agency. There was a suite full of adecco employee yet no one approached me about assignment or how to get start. Don't waste time or gas.
8 months ago abdulrahman seyhuni
The assignments are not good. They don't consider the distance you are traveling. They also lie about pay and benefits to get you signed on ASAP. No one came off rude except for Mark. He was chatting with another employee while interviewing me, I got a glimpse of the conversation was absolutely not work related. They were "gossiping" about a applicant who had walked in.
9 months ago Brad Ritti
They do swab tests and still pass you talk to mark endlsey he pass everybody.....They not professional...i went in did paperwork lol and started work....they do job fairs for jobs where they fire u the next day ...they dnt answer calls and if the tell you to go to a job called kansas city challenge dnt do it .....mark endlsey and Michael Morris will set you up for failure.......i have paperwork the need to fill out and they won't do it for me. ..if u been through adecco once second they won't help YOU ......thanks mark endlsey from adecco staffing and Michael Morris from Kansas city challenge/adecco they will tell you anything and the do swab test and still pass you
7 months ago Becky Dillard
This is a terrible place to work and try to seek employment. I was offered a job and excepted it (of course) and then found out I was pregnant. I informed them as soon as I could, since it was late Friday 6/8 evening when I found out. I explained on Monday 6/11 that the position I excepted, I wouldnt be able to keep, for the fact of I had to lift heavy items and stand for long periods of time. I was then told to hold on and that the job site would be able to work with me if I had restriction papers. I stated that I would be getting one soon when I was able to see an actual OB/GYN. I was told OK and to call the attendance line, until I had that form. I did EXACTLY what they asked for! For starters, no one told me I didn't have a job anymore. Two, no one contacted me letting me know they got my paperwork. Three, if it wasn't for me trying to get a hold of someone in that same week on a Saturday, I wouldnt have gotten told not to show up to work that following Monday. They had given my position away and I was told that they couldn't work with me after they got my restriction papers. Then I get told my attendance was bad. But I was told by the recurtiers to call in, until my doctor allowed me to go back to work. I was pretty much given the run around for a straight week. Not to mention, I tried to just give up my position at the beginning, so I could go find something that would better accommodate me. This place is a waste of time and I understand why the reviews are the way they are. The left hand don't know what the right hand is doing majority of the time. And then they allow who they hire to get screwed over. I don't recommend this staffing agency to anyone. If you can, go find a different place to work for!
1 month ago Cory Cheyne
Not going to lie it is a lot of paperwork, a lot of paperwork. However it is so worth it, you will leave with a good job, benefits, good hours and great pay. They worked tirelessly to employ everybody that walks through the door. 'No' walking around the bush or endless test like it FEC. They have computers for those of us who do not have internet access and they work with you to get you employment. Love the location less than 5 minutes from 35, it's on the bus line, right next door to QuikTrip. ????????????????????????????
10 months ago Shalini Karunakaran
Terrible company. Insurance offered, $12,000 deductible for health care. Somtimes dont get paid till a week after your suppose to get paid. Very unprofessional for a so called international company.
1 month ago Sruthi Sekaran
worst temp agent just wanted to use you to keep their business alive, they made me waited 3 hours in their office by serving other people that comes in and out at the same time they served me and finally did not even apologize me but when i mentioned i waited 3 hours, they said sorry by saying that they were short of staff, if i didn't mentioned, they wouldn't care for what happen. and guess, still not getting a job since the day i apply for a job up north KCK. they could of just telling me its no longer hired before i start the application in their office and waisted 3 hours the first time. the two guys that works are worst services, if u choose a representive, choose a woman maybe better
10 months ago Катюшка Daring
These people need to be shut down. I was skeptical when I first applied but decided to go through with the process despite hearing current employers complaints about not being paid. I have worked for Adecco almost 11 months now and was forced to quit due to pay issues that their staff has caused. I recommend "Pro Staff" temp agency. I applied and got my job the next day, not 1 issue has come up yet with me getting paid on time since working with Pro Staff, and I am getting paid $2 more than what I was making with Adecco. To each is own, but Adecco in my opinion sucks, you'd be doing yourself a favor by going with another staff agency.
11 months ago Paul DesRochers
Adecco has to be one of the worst agencies ever. I've worked for them for about 5 months now and I have witnessed up close the racism in the office, mostly towards the Hispanics since they are the majority that come into the office. They are either late paying for the hours you worked or they won't pay you at all, and if you are paid you have to constantly get on them for shortening the hours that you've actually worked. Mike is the worst of the worst, if you're desperate for work and have to settle for this company stay away from this guy. The other staff really act really fake as well, they act nice over the phone but they talk so much trash about the person after they hang up. A lot of the staff there seem to only care about a paycheck and not actually helping people in need of a job. I would recommend any staffing agency other than Adecco.
6 months ago Sylvia Harris
I don't know what all them people talking about but I work adecco for three weeks they are good people. Especially a girl name Amy and the guy mike them two are the most coolest friendly people I ever met. I'm happy I work with adecco
1 month ago Madalyn Jennings
The Best Staffing Agency In Kansas City, Giving Great Job Opportunities To All Of It's Applicants.
7 months ago Katerina Perevyazko
They are very I'm professional. They still have given me a check, and its going on the 4th week.
6 months ago Jessie Rider
Would not help me obtain my check stubs. No days off without Dr excuse even after 12 hours straight for 32 day worst treatment I have ever encountered in 35 years of employment.not to mention revers discrimination on job site at ventra
7 months ago Sandra Nichols
Remove my name and number from your contact list. Stop harassing me! Do not contact me. I am not interested in your mediocre low-wage positions. If you continue to contact me, I will report you to the Federal Trade Commission.
3 months ago Naomi Spencer
These are the most unprofessional people i have ever met! I have been without a chech for the last4 weeks. After i was supposed to get payed and didnt they tried to act like there was something i did wrong. They honestly should be shut down!
7 months ago Damien Earl
Wonderful...I have worked for them for 6 & 1/2 years and I have loved every minute of it....#GREATPLACE-GREATPEOPLE-GREATFRIENDS
5 months ago Elizabeth Palmer
Don't even take the time to get off the phone or stop talking to other employees when candidate's walk in there door. I sat there for almost 20 mins and got up and walked out the door because no one came to help me.
7 months ago James Sipes
Stay away from the ETS program. The people who you are assigned to are racist. I like adecco at first but I realized they have their favorites it doesn't matter how hard you work if they don't like you (for some reason) you are not going to get a lot of calls, also their receptionist is very rude when you call
1 month ago Beatrice Grimes
This is the worst company ever to work with.please don't waste your time.
5 months ago Alexandria Pauli
They don't return calls. Not honest
5 months ago Денис Odincov
They are racist and get mad when u don't like a job offer they give u
4 months ago Richard Klemundt
This is the worst agency ever please don't waste your time ????????????????????????????
3 months ago Fox Terrier
Everyone was kind and helped me AND my husband get jobs on the same shift. They went above and beyond my expectations of a professional company.
7 months ago Yossi Biner
The worst temp service please don't waste your time
11 months ago Jaime Bridges
Mark is very rude doesn't know to talk customer !!
7 months ago Nancy Haddad
This is the worst company ever!!!please don't waste your time to apply this company
7 months ago
Popular places from the category Employment agency