Dollar Tree
Dollar Tree is a discount store located in East Windsor, New Jersey. It is situated at 370 US-130 Ste 5 and offers a wide range of affordable products, including household items, food products, party supplies, and seasonal merchandise. The store is known for its fixed price policy, where everything is sold for a dollar or less.

The store has a wide range of products from various categories such as cleaning supplies, health and beauty products, snacks and drinks, pet products, toys and games, party supplies and much more. The stores are neat and well-organized, making it easy to find the item you are looking for.

Dollar Tree is a well-known brand that has many stores across the US and other countries. They offer quality products for a very low price, making them a popular shopping destination for those who are looking to save money.

If you are looking for a convenient and affordable shopping experience, then Dollar Tree might be the perfect store for you.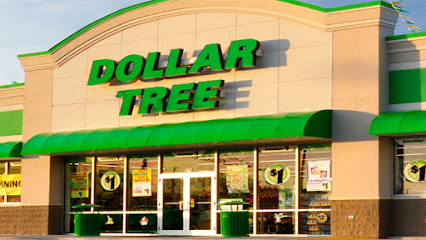 Address:
370 US-130 Ste 5, East Windsor, NJ 08520, United States
GPS coordinates
Latitude:
40.2769703
Longitude:
-74.5369906
reviews sonia basra
This dollar tree one of the best I have been to. Clean, organized and well stocked
3 months ago Eric Beal
It's a beautiful store with friendly employees.
1 month ago Kristopher Donovan
Bad Customer Service. Some women named Sue was very rude to me when I called to ask about my order, she hung up on me. I am never rude to anyone and she yelled at me before hanging up. I'm very disappointed with this store. Dollar Tree at East Windsor NJ.
2 months ago Craig Chmelicek
Consistent products. Good people working there.
4 months ago neabud
Nice place. For little shopp
5 months ago Tracey Kelley
It was crowded in the store, there were people smoking near the entrance and music blasting from a car just driving up and another leaving. I hate coming to this dollar tree on the weekends. I have asthma while trying to protect myself from covid-19.
7 months ago Papa Roach
Here is review. 1. At the best place. 2. Most disorganized store i have ever seen for doller tree. 3. Things out of place and out of stock. 4. Never find a single item looking for. 5. In pick hours always registers are busy . 6. It doesn't have seasonal items sometimes.
2 months ago Meiyappan Rajamanickam
Great location. Love this store. It always has exactly what I'm looking for. And I always find other gadgets and my all time favorite-kitchen gadgets-AWESOME. They have a little bit of everything. Would love to work here! Stocking and re-shop all day ????????
7 months ago Resmiye Demir
Nice selection and pleasant staff.
11 months ago Derek Fry
Not all Dollar Trees are the same. This one near my job in East Windsor is always disorganized, has lots of empty shelves and is a bit messy tbh. They were sold out of helium today too! If you go to this one, be prepared to side step around messy aisles. The Dollar Tree on New Falls Road in Levittown though? That one is legit. Better items and always super super clean and well stocked.
2 months ago Alex Larionov
One of the largest Dollar Trees I've shopped in the Central Jersey area. Pretty clean and decently stocked for a busy Sunday afternoon.
2 months ago Gemma Chadwick
You get very small quantities of any item that lets them sell for one dollar plus tax. So if you are looking for large quantities go somewhere else. But if you only need a couple of items it's perfect
2 months ago Дмитрий Petroff
Very happy with this store. They have a plethora of items and only occasionally do they not have what I'm looking for. However, they constantly surprise me with new items.
4 months ago stephen simpson
Restocked
1 month ago Tom Finley
Friendly staff and low prices. Always an easy, convenient, and affordable experience
3 months ago Jose Moran
Not crowded Manager friendly, he himself was on his knees putting Christmas bags on the shelf very helpful. Cliff
1 month ago Joshua Spears
With little money you got many things $20.00got you like 20 items can't beat that
4 months ago Heather Eady
Management is VERY rude!! I CAN'T EVEN START. bathroom is gross place.... I wanted to take pictures because it's unsanitary!!! Someone needs to go in and just see. Not even kidding. isn't stocked AT ALL! you can tell the manger doesnt care about there job. No one is at the sales desk. I will never shop here or any dollar tree again. I loved shopping here before. It just got worse now? The old employees were wonderful. Now I know why they left. Not safe to work there.
1 month ago Oren Rubinpour
Looks like they are trying to clean it up. It was alot better than the last few times i was there and looked like a hurricane hit inside the building!
3 months ago Bukola Adenuga
Great,alway filled with something for the whole house whole
1 month ago Arthur Jackson
No air conditioning. Like an oven in there. Never can find anything and nobody to ask. Store is a mess.
7 months ago Howard Mandel
store manager (i think) is a very rude person. a young gentlemen with a beard and ponytail was taking care of me and was very delightful and was really fast. Out of nowhere this women strted yelling at him & he said "plz dont yell at me in front of customers" n her response was "im not yelling u havent seen yelling" i was literally in shock bc i have never seen management handle themselves in such an unprofessional manner. If the mess in the store didnt make me wanna come back this situation was it for me.i feel bad for the staff!!!!!!
6 months ago Lamar Newsome
Excelent. I lovely Dollar tree
4 months ago Erika Sloane
It's Dollar Tree...If you know your prices, you will either get good deals or ripped off!!!
3 months ago Dan Nicholson
I usually run in to get quick things. Not well stocked and messy.. Prefer the one in Hamilton marketplace
5 months ago Lidok Bobrova
Great bargains, but stock moves very quickly. If you see something you might like, you need to buy it right away. Chances are, it won't be there next time.
5 months ago Suzanne Lewis
Great place to shop, everything available with satisfactory quality i.e. value for money. Lot of items u to shop such as personal care products like body wash, shampoo, cream/lotion, shaving razors n cream, etc. gifts, celebration and decoration items, frozen food, spices, canned food, toys, electronics, plumbing and technical tools, etc.
1 month ago TC Carl
Some dollar store charge more than dollar but this dollar store doesn't over charge. Every item dollar.
7 months ago Gracin Williams
Best place to buy Ajax with bleach cleanser and the Sunday Star Ledger.
10 months ago Andraya Hughes
A perfectly fine dollar store
3 months ago Henry Lau
Bad Customer Service. Not a Smiley face around.
3 months ago Jeff Perkins
Need more things????never have helium.
3 months ago Anita Issa
Unfriendly women to say the least
2 months ago David Bolle
So many things to get for a dollar... excellant
7 months ago Jamie Gottshall
GREAT. SPOT. FOR. ALOT OF YOUR. CRAFT. NEEDS
7 months ago Sylvia Buzzell
The bathroom is disgusting boxes are left unstocked and on the floor management is rude and unprofessional. Lines stretch all the way to the back with only one register open while the management does nothing. Scraps of frozen food can be found scattered throughout the store on the floor. I drive several towns over just to go to a different dollar tree and avoid this one at all costs.
5 months ago ebrahim sarwari
Always has what I need. Employees are very friendly.
5 months ago Turtle
Best place for greeting cards.
4 months ago Ryan Conley
Good place but need some clean up
7 months ago angelia brown
Fine for a dollar store
3 months ago Scott Deffenbaugh
Many items you wouldn't expect for only $1
4 months ago Chevy Nova
Manager was very rude and even cursed at me under his breath. Bathroom is filthy and stock is lying all around. Can't believe that OSHA hasn't shut the place down. On top of everything there is never enough inventory.
6 months ago Delcie Kraeger
Great finds!
3 months ago benny brown
Very good
1 month ago Lisa Journey
Very cheap
5 months ago Taylor Bishop
Price is right
3 months ago Henry Lau
Convenient,not expensive
6 months ago Nicole
Store needs a good clean up crew, always messy
6 months ago Hongye Zhou
Hot hot hot
5 months ago Photography Palache
Great selection, well maintained.
6 months ago