Musician's Pro Shop & School Of Music
Guitar store Musician's Pro Shop & School Of Music, 702 S Gilbert St #106, Iowa City, IA 52240, United States:
37 reviews
of users and employees, detailed information about the address, opening hours, location on the map, attendance, photos, menus, phone number and a huge amount of other detailed and useful information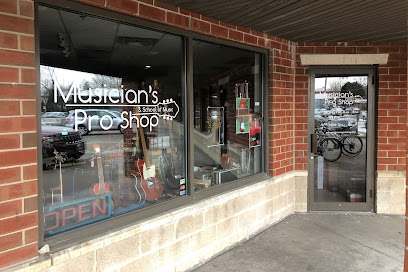 Address:
702 S Gilbert St #106, Iowa City, IA 52240, United States
GPS coordinates
Latitude:
41.6526167
Longitude:
-91.5303913
reviews David Stewart
I went into the shop first to get guitar strings. The employee helped me pick out the right strings for my guitar and a good capo for it. I later went in for my bass guitar, and another employee helped me find good strings and a good cleaning solution. Very nice and helpful!
8 months ago Ryan Bonnette
Music pretty much runs my life, so this place is like trying to keep the "biggest kid" out of the "Candy Store". The guy I end up talking to when I shop there is a great "down to earth" type of guy, he has never made me feel out of place while browsing in the shop. Very smart and courteous. If you are looking for a place to get yourself a new instrument, you REALLY need to stop by the the Pro Shop!
9 months ago Jim Sciulli
Awesome place and a wide variety of selection. Very helpful!!
8 months ago Natalie Smith
Great selection of guitars from manufacturers you don't get to see in stores in our area. Staff is great too.
11 months ago Renata Durham
If you are looking for instruments in the Iowa City area, this is THE place to go. The staff will go above and beyond to make sure what you want is what you get. They will also work with you to make sure you can get the equipment your heart desires. Their luthier service is top notch. Dave did amazing work on my Gibson Les Paul. I would never think twice about letting them help me make any decisions. Glad we have a nice, small, well informed, locally owned shop.
7 months ago Allison Harper
Excellent selection of guitars, amps and drums/percussion section. Some really neat effect pedals for sale there too, not just the regular pedal junk you usually find at music stores. Employee there was also super friendly and a good guy. After I bought a cool used pedal, he even threw in some sweet stickers and a pedal catalog book for free. Definitely going to go back again for some more stuff for my drumset.
8 months ago Norberto Lopez
Great staff who are very helpful, a nice selection too. Good small shop who always has good customer service.
9 months ago Valentina Logunova
Great customer service. Really took the time to answer questions and was very helpful. Great equipmemt as well
11 months ago Margarita Gudova
Great little shop with tons of instruments, both for beginners and for more advanced musicians. There are also instructors. The instructor that taught my son guitar was very good, and personable, and very patient. I would recommend the shop and the instructors to anyone wanting to learn a new instrument, or to upgrade to a new instrument.
11 months ago David Gregory
Great people who know their trade and always take the time to get me set up right. Best-in-class service and gear. Always a good experience.
8 months ago Tim Causey
I was impressed by the site and I formation provided. It looked very professional.
7 months ago channing sesoko
Great selection. Full service. Locally owned. Small business.
9 months ago Pansa Lukano
Very pleasant professional tweaked my guitar just right, almost like new again. ????????
9 months ago Anush Grigoryan
Really helpful staff. Good prices. Happy to support a local business!
7 months ago Courtney Cooper
James really saved the day. I had a last minute gear emergency and found myself needing drums and PA less than a week before an out of town wedding gig (I was flying in from Denver). James went above and beyond to help, providing exactly what we needed, delivering it, setting it up (!!) and even picking it up at midnight after we finished so we could catch an early flight. All this would have been more than enough to warrant 5 stars, but the prices were incredibly reasonable too. Not sure the next time I'll be touring in Iowa, but I will not hesitate to reach out again, and encourage others to do the same. Thanks James!!
7 months ago David Sison
It was closed, thus not so great
10 months ago Idan F
Don't bother trying to ask any questions. They seemed uninterested and pretty much annoyed that I was even in there.
1 month ago Dan Sweeney
Well-curated selection, reasonable prices and helpful staff. Ended up getting a great-sounding, used Breedlove guitar at an excellent price.
8 months ago yakov stein
Nice little shop. Friendly and helpful.
8 months ago Chiche Ahoofe
Great place for music gears. People are very nice here
8 months ago Monte Mahler
I cannot recommend these guys highly enough. Possibly the best customer service I've ever received, they genuinely care about their customers and setting people up with the right equipment for them. I've also been taking my son there for lessons and his teacher is amazing and the lessons are incredibly affordable. All around, this is a wonderful shop.
1 week ago Даша Urbana
Musician's Pro Shop did a fantastic job fixing my guitar. The service is excellent, the staff is friendly, the price was amazing and my guitar plays like new again.
7 months ago taylor marinovich
Great experience here, the guys are really nice and helpful and love to talk about anything music related.
8 months ago Mark Zerr
Great Futbol bar.
9 months ago Petra Salatko
Cool store, and has Reverend guitars! Also the repairs are the best prices in town. The owner is a nice guy too.
1 week ago Ricky Nariani
My guitar was set up nicely at a very fair cost.
7 months ago Kezie Bruce
Great locally owned music store...cool gear...lessons...support the small guy!
11 months ago Kyle Allard
Tons of instruments packed into a small place. Didn't find quite what I was looking for this time, but prices seemed reasonable.
8 months ago Joe Materi
Sales associate was very knowledgeable and helpful.
9 months ago Rebecca Talledo
Had what I wanted, and a bigger selection of patch chords
1 month ago Cathy Hertler
Great selection of instruments!
1 month ago LeAnn Nichols
BEST MUSIC STORE IN SOUT EAST IOWA !!
7 months ago Tanner Brablec
Great local music shop for all of your guitar needs
1 month ago Nick Gaubinger
Always great service. Good people
11 months ago Photomate
Place to go for repairs and guitars.
11 months ago Neal Krawchuk
Nice people and good prices
8 months ago Dim Dim
Nice guy!
8 months ago