Basic Colors
Basic Colors is a women's clothing store located at 1362 Coney Island Ave, Brooklyn, NY 11230, in the United States. The store focuses on providing ladies with a wide range of fashionable and trendy clothing options. Whether it's for dressing up for an event or just everyday wear, Basic Colors has got it covered.

The clothing store offers an extensive selection of apparel and accessories, including dresses, skirts, pants, tops, jackets, coats, scarves, hats, and jewelry. They cater to a wide range of sizes, from petite to plus sizes, ensuring that there's something for everyone.

The staff at Basic Colors is knowledgeable and friendly, offering personalized styling advice and helping visitors pick out the perfect outfit. Their focus on excellent customer service ensures that every visit is a pleasant one.

What sets Basic Colors apart from other clothing stores is its commitment to quality. They source their merchandise from reputable manufacturers and brands, ensuring that all clothing items are designed to last. Additionally, their competitive pricing makes it possible for ladies on a budget to still dress in style.

Overall, Basic Colors is the go-to store for women looking for trendy, affordable, and quality clothing options in Brooklyn, NY.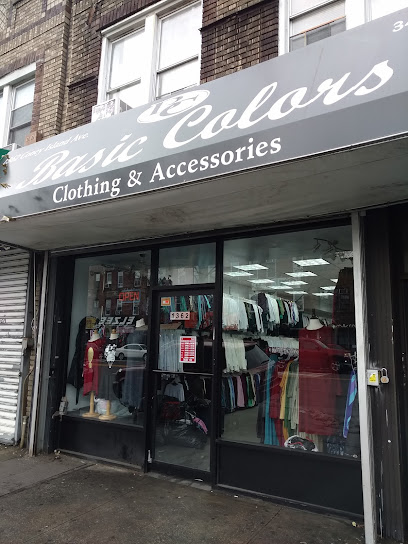 Address:
1362 Coney Island Ave, Brooklyn, NY 11230, United States
GPS coordinates
Latitude:
40.6242723
Longitude:
-73.9653720
reviews Rodrigo Mortis
(as per my wife) great place very well priced. Big selection.
2 months ago nay mickie
Nice selection. Come with a mask during corona otherwise your won't be allowed in!
6 months ago Darlene Capelle
When your wife send you out to get her a last minute she'll this is the place to go. As a man I appreciated there courteous service.
11 months ago Zein Rami
They have a lot of great things, including swimwear, shells, dresses, and some snoods. Went here once and forgot my credit card, asked them to hold 3 dresses for me, came back half an hour later and one of them was sold in the meantime. But other than that, I always come here and have great experiences.
2 months ago Kelley Conrad
A lot of selection. Good product. Good price.
2 months ago Gohel Nayan
Very nice selection & amazing prices! And very good customer service
6 months ago Aaaaa Dddddddddd
Good customer service, nice selection.
2 months ago Stanley Okpara
Clothes with style and very inexpensive!
4 months ago Megan Brown
Has shells in many colors. Quality is ok.
3 months ago Sydney McIntire
This is a place that sells mostly shells which are long sleeves shirts that go under shirts or dresses with short sleeves for Orthodox Jewish dress for modesty.
5 months ago jake hovarter
Modest clothing for a great price. However the place of a mess. It was hard to find what I was looking for in the right size.
4 months ago Kevin Roberts
Nice clothes for a good price!
3 months ago Simran Kaur
Quality clothing and friendly service
3 months ago manuel ramos
Very cheap shells and basic women's wear. Look at each thing you buy to check it for size and quality.
6 months ago Sameer Almzayen
This is the most in expensive place you'll find to buy shells for kids and women. They also sell pretied snoods, chenille snoods, skirts, tznius bathing suits. They also have great customer service.
8 months ago vinniech
Great variety and prices
2 months ago Seth Koren
Nice selection for decent price.
1 month ago