Nob Hill Hardware
Nob Hill Hardware is a well-known hardware store located in the heart of San Francisco. It is situated at 1414 California St, San Francisco, CA 94109, United States. The store offers a wide range of hardware products, tools, and supplies for homeowners, builders, and contractors alike.

The store features an extensive selection of hardware products, including plumbing fixtures, electrical supplies, paint, and cleaning products. They also stock a large variety of building materials and tools for both professional builders and DIY enthusiasts.

One of the unique aspects of Nob Hill Hardware is its commitment to customer service. Their knowledgeable staff is always available to answer any questions and provide guidance on projects of all sizes. Their helpful service and quality products have earned them a loyal following among residents and contractors in San Francisco.

In addition to hardware supplies, the store also offers equipment rental services for various home improvement projects. Customers can rent tools like cement mixers, power saws, and generators at affordable prices.

Overall, Nob Hill Hardware is an excellent choice for all your home improvement needs in San Francisco. From a wide range of quality hardware products to exceptional customer service, the store offers everything a homeowner or contractor could need.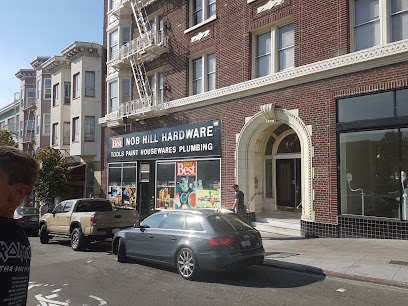 Address:
1414 California St, San Francisco, CA 94109, United States
GPS coordinates
Latitude:
37.7911111
Longitude:
-122.4177778
reviews Fff Fff
If they don't have it you probably don't need it. There is a very helpful staff and a extensive inventory. There's a whole nother back up to the store that I never knew was there! I was standing in line waiting for my turn, a guy came in and needed a key cut, he was double parked, the clerk cut the key took his money and had the guy out of there in about 4 minutes. Outstanding!. UPDATE I return looking for a plumbing part the man found the exact part I needed and installed it for me so I could return an install the assembly. Five stars!
11 months ago holly white
This place is amazing. They have tons of things and if not in front then ask cause they might have it in the back. The owner is usually there and he is very helpful with advise. I'm always amazed when I'm there. Thanks
1 week ago Mike Hecox
I generally like this place and its staff! But you need to be careful as some items are extremely overpriced! Liked $26 for 4 small batteries for car remote.
1 month ago Chuck House
Love this place. They have literally everything you can imagine, from clothing hangers to christmas lights to saw drills to screws to plaster spatulas to car tire pimps. Been coming here for years and thought I'd finally leave a review as I'm moving farther to Soma
2 months ago Nathan Beachy
I've only been in this store three times but, each time, the employee who assisted me was impatient, condescending, unhelpful and rude. He acted as if I had inconvenienced him by having the audacity to ask him a question. I gave the store three stars because they stock an enormous number and variety of products and also because I have observed other employees engaging with customers appropriately and professionally.
3 months ago Akshata Prasadmath
Always kind service and great selection of.. everything, including key cloning.
3 months ago Sankar kurumbail
Whether I'm looking for the "God knows where I put it" special screw, or the latest painting project, this store has it all, and if they don't have it, they'll get it. The staff is great, I love this store.
5 months ago Lusia Velichko
There wasn't ever a time when I went into this little gem of a hardware store and didn't get what I needed. The amazingly knowledgeable owners are always around to help out. Love the store and so shall you!
4 months ago David Toothaker
I was pleasantly surprised at the depth of their inventory. It's family owned and they couldn't be more courteous and helpful.
5 months ago Disturbed Idiot
Grateful for this buissness. Helpful nice Staff, very knowledgeable. Small but has it All. Reasonable cost for location and compared to Brownies nearby. Soil, tools, they have it.
11 months ago Marcin Staniszewski
This place is rad. They almost always have exactly what I'm looking for, and the guys that run it are very knowledgeable and nice. Little cramped, but they keep it in well order.
11 months ago Brandon Pasierb
The owners here are super helpful and know their stuff. Every time I've been in over the years trying to figure out how to fix something they've helped me come up with a solution, given me instructions, and directed me to the necessary parts/tools.
9 months ago shreya ganotra
Everytime I come here I have an idea of how to solve my hardware problem. I arrive and am immediate pointed towards a much better solution and so grateful for the amazing and thoughtful attention I always receive from the staff
10 months ago Jimmie Elmer
OK, I'm sorry, but @NobHillHardware is one of the best things about this neighborhood. No matter what strange, ill-explained request I walk in with, Marco and Michael find me exactly what I need, for cheap, coupled with the advice to make me appear handy. This time they helped me retrofit a box spring into a malfit sidewalk-found frame. Granted, I haven't jumped up and down on the bed yet; I'll try that out tonight. Damn, now I wish I wasn't probably moving soon...
2 months ago Belinda Fugate
The owner of this store is quite a guy. I accidentally snapped my front door key in half the night before and this skilled and kind man was able to replicate it without a problem. This saved me $150 on calling a locksmith! I noticed the place was well stocked with just about anything you could ever need while I briefly waited. Also, it serves as a package pick up point if you need to receive a postal delivery. Thanks so much!
2 weeks ago Gati Rose
No stars if possible. I've only lived here for a couple months and I've stopped in twice before today — both times the family was rude and would not take their eyes off you, assuming you're a theif. I definitely don't think I give off those vibes. Today I went it and they were the exact same, sarcastic and rude. They asked if they could "help" and given the past couple times, I wanted you say no but I figured a little help would be nice. Of course, it was anything but helpful. I tried to explain what I was looking for and the man would not listen to me. Then after pointing me to the wrong product I explained why I didn't think it would work and he said well then just don't put up the lights, laughed and walked off. I proceeded to checkout after finding what I thought would be a better fit and the woman at the desk was horrid. No thank you, no come back soon — nothing. Instead she just changed my card looking down the whole day and set my card on the table and didn't even say bye or have a good day. Just terrible service and I hope they aren't in business much longer. (And I NEVER say that) Brownies down on Polk is the hardware store you wanna take your time and money to.
3 weeks ago L Leah
I love hardware stores in general but this one is on the top of my list! I've received excellent service here and Michael always goes out of his way to provide suggestions to any project or problem. Once I bought some plywood to slip on my mattress and these peeps actually helped me carry it 2 blocks to my home. Three thumbs up!
1 month ago Morgan Hillan
Great hardware store stuffed full of all kinds of merchandise-- including kitchenware, and even crayons for my 1-year-old! The people here are also very helpful.
3 weeks ago Dan Chamberlain
huge fan of this place. great service, will let you try to something. They always follow you around the store to help you out... not to see if youre stealing. These guys are just super helpful.
3 weeks ago Carin Croker
went here the other day to get a screwdriver and brought in what i needed to unscrew they sold my a screwdriver that was to small and now my screws are stripped. When I went back in I was told to just buy the right screwdriver online which is what I tried from the get go before going to a hardware store for help. Then I was told to apply more pressure. Which can sometimes get them but also makes it strip far easier. So now i got three stripped screws, an I'm screwed. Would've been better if they told me they didn't have it.
2 months ago Olechka Ольчик
Excellent customer service. I live close by and end up coming in here a lot for random household projects. They always take the time to help me find what I need and make me feel like they genuinely care. My favorite local hardware store for sure!
5 months ago Георгий Tim
Great guys very Helpful advisors
9 months ago Linda Norred
They have a large selection of household items, tools, and fasteners, so I don't need to Daly City home depot to buy a screw.
9 months ago Albert Upshur
Weird selection but they have never not had what I need. The staff is very nice and helpful but the prices reflect the neighborhood.
3 weeks ago Tad thegamer
Good place for items in sf
7 months ago Марина Chinaeva
I love this store. You'll be amazed that this small store is packed with more than everything you expect to a hardware store. As an artist who do biking, sewing, wood-working, sometimes accidentally staining the carpet with oil paint, and ruining a saucepan, I often rush into and leave this store with stuffs perfectly matched to my needs. It's really well-stocked and people here are always friendly and helpful.
11 months ago Patryk Dziedzic
very helpful and the guy took the time to help me buy the right stuff, also was very polite. edit: have been few years sense the last review, updating to also point out that the main guy that works there is very knowledgeable he always knows exactly what I need to fix something or exactly what the missing piece is. I highly recommend this place.
1 month ago Topher Ziobro
As few have mentioned before, the owner may initially seem gruff, but he's a total sweetheart and time and again goes above and beyond in customer service. If you come in with an oddball question, he (or his staff) will either surprise you with a wonderfully simple solution or if necessary, help you come up with an alternative option as necessary. The store may seem a little cramped/ packed to the gills at first, but the staff know where everything is and then some, so instead of struggling with DIY, find one of them and ask! Reliably positive experiences and we would happily go out of our way to use this shop.
3 months ago Sanna H
This store is not just family-owned, but also has literally everything you need. Hardware? They got it. Kitchenware? Right there. Camping gear? Aisle 3. Home furnishings? They got it all. This place is a godsend for someone like me who is new to the neighborhood and wants friendly, local service with the same convenience of going to a Walmart. Couldn't recommend more.
1 month ago Hannah Reasons
Amazing place! Just about anything you could ask for packed into a smallish size store!!
1 week ago Fabiola Green
Pleasant staff, large selection of household items in a small space. I found exactly what I was looking for, and found some other obscure items that I needed but wasn't looking for while browsing the densely stocked aisles. The prices seemed quite reasonable as well, which is rare these days in SF.
2 months ago Gibo Geebmeister
Friendly and helpful, stalwarts of the neighborhood, community minded. More inventory than one might think possible for the space, and reasonably priced for the City.
11 months ago Sandra Ruland
This place is amazing. They have everything and the staff is immensely helpful. So glad to have them in the neighborhood!
4 months ago Matthew Walsh
The guys who run this store are super helpful every time, and they have most everything you need packed in a pretty small store. More than a couple times they've given me little extra pieces of this or that for free, to help finish one of the many odd projects i have going on. This is what a neighborhood store should be.
11 months ago Martrell Almond
Always amazingly helpful!
1 month ago Laticia Dubo
This store has everything!!! At great prices.... As good as the home Depot..and so much closer
1 month ago Adil Chhabra
where is the common curtesy? you ask for the name you look and see if received if not then you can say check in later without saying that or saying i'm busy right now call back later now that is common and polite and curtesy and good customer service..
11 months ago Jmccreless Mccreless
Great service! These guys have everything you need and are always welcoming. A true SF neighborhood gem..keep up the good work!
5 months ago Jessy Wylie
Super knowledgeable. In and out in 2min.
3 weeks ago Stephanie Anderson
Great selection and excellent service! They wouldn't let me leave until I got the best screw driver for my project. That's right, they spent 20 mins making sure I got the perfect $6 tool.
11 months ago Randy McCollum
Amazingly helpful and a surprising amount of inventory. Staff are incredibly courteous and provide helpful knowledge on every project that I've thrown at them
1 month ago l byron
Always the best, most attentive service from Michael and his employees! As a bonus for neighborhood families, they are always very sweet to our kids, often giving them small gifts. This is our community and I always feel happy, connected and supported here.
5 months ago abraham patino
Been there a couple times and have always had great service. The store is packed with lots of products so it is usually fastest to just ask where to find something.
7 months ago Desmond White
This is the best hardware store. In managing an apartment building, I need something different every few weeks. Whatever I need, he always has it, and he shows me exactly how to use it. I highly recommend this store.
9 months ago Heather Ross
Super helpful and friendly staff. Whatever I need, they always seem to have it (and know exactly where it is)!
11 months ago Katelyn Thompson
Knowledgeable staff and great product selection... Plus an adorable dog roaming the aisles
8 months ago Ciel Cote
The owner typically works the place, and though he may seem a bit reserved at first, he instantly turns into a customer-service Superman the second you ask for help with something. The store is exteremely well stocked with a wide array of items that range from typical hardware merchandise to freakshly out-of-place items you'd never expect to find at a neighborhood hardware store. A great source for out-of-the-ordinary items.
1 month ago Georgia Brooks
Michael is super friendly and very helpful!
2 months ago Colour Version
Extremely attentive and knowledgeable. I can go here for actual advice on how to do something rather than dealing with employees at big box retailers who have little clue about home improvement. I am glad these places still exist.
8 months ago Hussainatu Bah
Staff is very pleasant and helpful.
11 months ago