Drive Right Driving School
Drive Right Driving School is a reputable driving school located in Goderich, Ontario, Canada. It is situated at 91 Victoria St N, Goderich, ON N7A 2R9, making it easily accessible. The driving school offers quality driving lessons to individuals of all ages who aspire to become responsible and safe drivers.

The school provides both in-class and in-car lessons, which are conducted by experienced and certified instructors. The classroom sessions cover a variety of topics, including road rules, traffic signs, driving techniques, and defensive driving. On the other hand, the in-car lessons provide practical driving experience in various driving conditions, such as highways, residential areas, and downtown areas.

One of the unique features of Drive Right Driving School is that it offers customized driving lessons to cater to individual needs and schedules. The school also provides a flexible scheduling system that allows students to book their driving lessons at a time and date that suits their availability.

The school provides a range of driving courses, including the beginner driver education program, senior driving refresher program, and collision prevention course. It's worth noting that the beginner driver education program is fully approved by the Ministry of Transportation and includes 20 hours of in-class instruction, 10 hours of in-car instruction, and 10 hours of independent learning.

Overall, Drive Right Driving School is an excellent choice for anyone looking to get behind the wheel and improve their driving skills. The instructors are well-trained, friendly, and patient, and they work hard to ensure that their students become safe and responsible drivers on the road.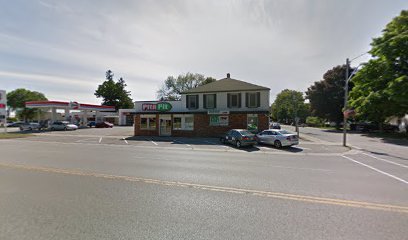 Address:
91 Victoria St N, Goderich, ON N7A 2R9, Canada
GPS coordinates
Latitude:
43.7462032
Longitude:
-81.7081116
reviews B Ca
Had a great experience with Bud's driving school. Lori was an excellent teacher to have. She will show you exactly what you need to do and know for your up coming g2 test. Always encouraging and very easy to understand. I would recommend Bud's driving school to anyone. Overall an enjoyable time of driving with Lori. Keep up the good work.
1 month ago Bill Rubeck
Lori was an amazing instructor and will teach you everything you need to know for g2 test. She also makes the driving lessons fun so they aren't boring and you look forward to the next lesson. I recommend buds driving school to everyone.
2 weeks ago You Dinglbrry
I had a great experience with Drive Right! In-class with Rolland was a great learning experience and also fun. Lori made in-car a very worthwhile procedure, and taught me lots of new stuff, making sure I knew how to do everything before taking the G2 road test, making everything easy to understand, and being encouraging throughout the whole thing! Thanks, Lori! I would recommend Lori and Drive Right to everyone.
1 month ago Hans Smith
I had a really good experience with Buds Driving! Lori was an amazing instructor! She made the 2 hours go by super fast with lots of learning and many laughs! Totally would recommend Lori and Buds to anyone!
11 months ago marivelle valerio
We really appreciated Lorie in teaching Brendan in his driving classes. Brendan said she explained everything well. Also, for the teaching session just before he went for his G2 gave him the confidence that he can do it and to just remember everything they had talked about and he will do great. Brendan did very well and got his G2. Brendan said he would have you again! Thanks Lorie!
3 months ago Brandon Casper
Lorie was amazing teaching my boyfriends son to drive. He requested her especially for the practice lesson before his driving test. I highly recommend her!!!
4 weeks ago Lexi Castaneda
Drive right team, you kept up every word of your mission statement. A massive thank you to Rolland for being so patient with me and teaching me to drive safely. Each lesson was tailored to my learning needs. I passed my driver's test in the first attempt and the point to be highlighted is that the examiner could not find any mistakes on my driving technique.I highly recommend drive right driving school to all the student drivers.
2 months ago karishma priyadarshi
Had so much fun driving with Lori!! She was able to make the driving lessons much more entertaining while still teaching me everything I needed to know to become a excellent driver! Such a great experience!
3 weeks ago Patrick Jones
i had such a great experience with Rolland and Lori. it was a lot of fun and learned a lot of new things. It was such a help on my g2 test. I would recommend every to take drive right..
1 month ago Chris Townsend
As someone rather late to the driving party, this was a fantastic program to go with! The instructors I had treated not only myself but the rest of the class fairly, it was a pretty laid back experience while also reinforcing the notion of being a safe driver above all else. The in car lessons were fantastic and on each one we found a bad habut I had and we broke it! It was a wonderful experience for me overall, and I would heartily recommend it to anybody else looking for a solid Driver Education program.
5 months ago Ela Magiyarova
I absolutely loved everything about this driving school. In class was fun, the instructor was funny and there was no judgment. And, the in car was very knowledgeable. I highly recommend this driving school :) big thanks to Rolland!
1 week ago Paula Baraket
Lori was a great driving instructor. She has helped me accomplish my driving skills and was always a good time in the car.
2 weeks ago Jeffrey Young
Lori is great I really enjoyed driving with her!
1 week ago MAKI ELISA
Lori was excellent! She was super nice and very helpful! She always seemed calm glad I had her as an instructor!
11 months ago John Benefield
Lori was an excellent instructor!! She helped me gain more confidence in my driving abilities, and showed me lots of helpful tips!!
3 months ago Jonathan Brown
I had a great experience driving with the instructor Lori. Learned a lot and she prepared me well for the test.
3 weeks ago Ted Fragogiannis
While I understand the importance of a strict instructor to teach young teens, the instructor for this course, is too much. He caused a great deal of anxiety for myself and MANY friends of mine who have gone through the course. It is expensive, like many other driving schools, which is reasonable, however, Savvy Driving has given friends of mine much better experience for the same price. I feel like students crying during the course is a bit much right? I understand the strict rules, that is important, but he is genuinely a rude person. The thought of seeing him or anything to do with Drive Right gives me a ridiculous amount of anxiety and regret for making the horrible decision of giving that man any of my money and time. There is also no refunds. Be careful, because it's so much harder to get through that than you might think.
2 weeks ago Mackenzie Ditus
Lorie was an excellent in car teacher and she helped me to become more confident in my driving. She is good with letting you practice what you feel uncomfortable with in order to get better and not getting upset if you do something wrong
2 weeks ago gehu gonzalez
I learned lots and loved my instructor Laurie! She was so great and taught me the necessary skills to pass my g2.
3 months ago Kis Sska
Learned a lot of important things, I had Lorie as a driving instructor and she was incredible. I'm glad I took drive right because it taught me how to drive safely.
2 weeks ago Vaskar Upadhyay
Great instructor. Gave me lots of helpful tips and pointers
3 weeks ago Lauren Nolan
Lorries Is my personal Favorited she make me and my friends very comfortable while driving with her.
5 months ago Abigail Hoffman
I had a great time driving with Lori, and learned lots
3 months ago Joseph Emerson
Good opportunity, teaches you lots. Lorrie is a great driving instructor as well.
5 months ago Prostogamer
Drive right is a great driving school! I learn something new every lesson
1 month ago connie campbell
Lorie was the best driving instructor I could have asked for!
1 month ago mikael lumme
I recently signed my daughter up for driving classes and we were extremely pleased with the instructors. As a parent of a young driver I am relieved that my daughter has become a safe driver.
1 month ago Hannah Duggan
Lorie was very helpful and a great instructor.
3 weeks ago Abel Tangeman
I would rather break my leg than have to return to a class with Drive Right, everything about it is horrible. Everyone I've talked to has had better experiences with Savvy Driving.
7 months ago Katie Hogle
Long live Lori
1 month ago
Popular places from the category Driving school