O'Reilly Auto Parts
O'Reilly Auto Parts is a popular auto parts store located at 353 Bayshore Blvd, San Francisco, CA 94124, United States. The store is easily accessible and is located on the main road. It is a popular destination for car owners and mechanics looking for a wide range of car parts and accessories.

The store offers a wide range of auto parts such as batteries, brakes, engines, oil and fluids, filters, wiper blades, and many more. In addition to these essential auto parts, O'Reilly Auto Parts also offers a range of accessories and tools, including car electronics, hand tools, power tools, and tool storage.

The store also offers a range of services, including battery testing and installation, free check engine light diagnosis, wiper blade installation, and more. O'Reilly Auto Parts has a team of knowledgeable staff who can help customers with any queries they may have about auto parts and accessories.

Overall, O'Reilly Auto Parts is known for its comprehensive range of auto parts, affordable prices, and excellent customer service. It is an ideal destination for anyone looking for high-quality auto parts in San Francisco.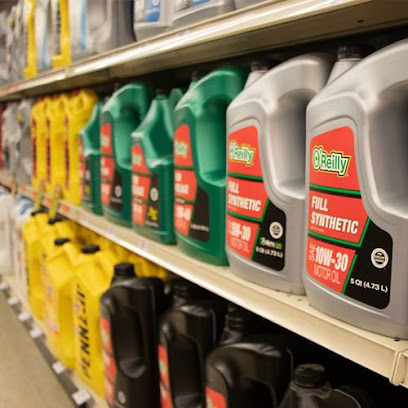 Address:
353 Bayshore Blvd, San Francisco, CA 94124, United States
GPS coordinates
Latitude:
37.7418546
Longitude:
-122.4051817
reviews Chandrasekharan K
The manager helped me out she is definitely on top of her game in there. Thank you very much
3 months ago Neil Wolfe
I almost bought the wrong Coolant. They made sure I had the RIGHT one for MY Car's Model and Year. Staff is not only [always] helpful with their Automotive experience, they are very friendly as well. Thats why OReilly is my Auto Parts Store.
2 months ago Barbara Ellington
My go through if I my urge to work on my car hobby
7 months ago Harold Heekin
They are just fine if you need stuff today, if I can wait I buy online. A little bit fussy to turn in oil but they do take it and they give you $10 for batteries :-)
9 months ago Ahmad Qatanani
The workers are really freindly and pretty knoledgeable on the auto parts
2 weeks ago Dave P
Very helpful and curtious
2 months ago KurogamiMG
The Lady manager recommended using Cataclean to clean my catalytic converters on my '13 Lincoln Navigator, but I bought it in order to clean my Oxygen sensors and get rid of the engine lights. Amazing it did really work and I saved myself $400.
1 month ago Aman Mishra
Raley's is Rally's is good place to buy auto parts it's nice and organized good deals some location customer service is terrible thanks release
2 weeks ago Gabor Kerekes
The customers service was great they were very helpful and informative upon our needs.
5 months ago Ryuk Shinigami
Great Knowledgable helpful people! GREAT parking!
1 month ago Andrew Wherley
Expensive company I have advice for all customer don't buy any thing from here before the price with other company. I am sure you will save a lot of money For example I used to buy Mobil 1 oil from her with $43 after I checked the prices with other store I found same oil with Walmart $22 it's almost 50% deferent Also the I asked the store manager to match the price they refuse to match the price
2 weeks ago Coburn Watson
Very helpful to find my car parts
11 months ago Octavio Bahena
Thank you O'Reilly Auto Parts. My purchase was simple. 2018 QX60 highly recommend to see him for your next car..!
1 month ago Jeff Ferrie
Nothing to steal in there lol
1 month ago Jacob s
very helpful, kind and attentive
7 months ago Carlisle McGee
Went with my friend on 11/26 to help him buy and install a new car battery. They gave him the wrong one which resulted in one of the main fuses blowing. On 11/27 Marlena,with a condescending tone, stated that it "sounds like an installation error." Wow. Thanks Marlena. No apology, no nothing, just attitude. This store is terrible. They had a huge line and there's staff screwing around doing nothing. Avoid going here if possible.
2 months ago Rajesh Peddiraju
Great
4 months ago Megan Day
Nice
4 months ago Marc Paltrineri
helpful, but we had to wait to read the check engine codes
3 months ago Michael Hamilton
The most unprofessional stuff. Very rude, I never experienced this kind of service. Lady with glasses (latino) screamed at me in front of people & i guess she is the manager. I usually go to autozone. But Oreily they always advertise on youtube, I thought I should try. I will never come back to Oreily.
11 months ago Megan Collins
Really reasonable prices.
1 month ago jaanu sharma
Small store that's usually "currently out of stock" on almost every part you need. Small parking lot so parking can be a hassle as well.
1 month ago Marv White
The parking lot is impossible as well as filthy. Litter, jugs of oil, discarded clothing, junkie gear etc. Store is poorly run.
3 months ago Dayannara Garcia
I get it that they want to sell you a battery, but sometimes I just need it charged.....and I know it says it " won't hold a charge" but can you just leave it on the machine anyway.
5 months ago Ted Fragogiannis
ok
5 months ago Mark Hallett
Very helpful !
1 month ago Kayleigh Schoppe
No military discount
1 month ago Kinneyn Lindar
They are rude and they work at their pace, they do not mind attending to the customere specially the manager.
1 month ago Dave Vachon
Usauly have what I need
1 month ago Al Monaghan
Nothing special going on here...
2 months ago Billie Wells
Very good
4 months ago DeanR
Staff here are nerds. Lol
2 months ago Edward Morris
Friendly n helpful
2 months ago Peter Gould
Great
5 months ago Ruth Pedigo
Good help never crowed
5 months ago Joe Kersch
They suck
3 months ago Kochuthressia Praveen
Most of the times they get the parts wrong. Mostly friendly
4 months ago Scot Sutherland
They had the part I needed in a time I needed it
11 months ago Maria B
Staff is rude, and lack basic knowledge. Could also hear staff degrading customers in Spanish from the back. Extremely unprofessional. Flor Duarte was the manager.
11 months ago Sandra Little
I found almost everything I need for my car
3 months ago Jason Brasch
Friendly, helpful staff. Parking lot is not as clean as I would like.
4 months ago surya saji
Understaffed, under stocked, & filthy
5 months ago Ruth Pedigo
Sucks. Service
4 months ago Claire Blocker
Infinidad de productos para q te diviertas personalizando tu auto
4 months ago Vitek Syslov
Cuando se trata de accesorios y partes para tu automóvil un buen lugar para poder comprar
11 months ago Tammy Andersen
Excelente servicio
4 months ago Dylan Walters
El señor que me atendió este día domingo 22 de abril 1:35 pm tiene muy mal servicio al cliente como sugerencia capaciten a su personal no llegamos a pedir artículos regalados llegamos a comprar con nuestro dinero el cliente merece respeto ...
7 months ago Casey Wilson
Tienda bastante surtida
11 months ago
Popular places from the category Auto parts store