O'Reilly Auto Parts
Auto parts store O'Reilly Auto Parts, 353 Bayshore Blvd, San Francisco, CA 94124, United States:
49 reviews
of users and employees, detailed information about the address, opening hours, location on the map, attendance, photos, menus, phone number and a huge amount of other detailed and useful information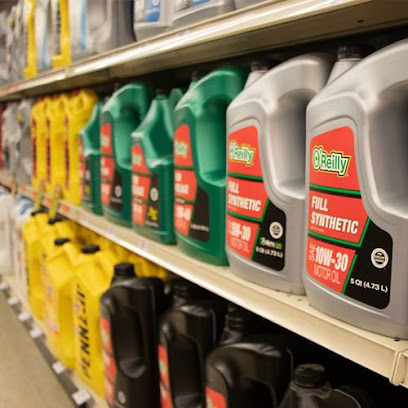 Address:
353 Bayshore Blvd, San Francisco, CA 94124, United States
GPS coordinates
Latitude:
37.7418546
Longitude:
-122.4051817
reviews Chandrasekharan K
The manager helped me out she is definitely on top of her game in there. Thank you very much
9 months ago Neil Wolfe
I almost bought the wrong Coolant. They made sure I had the RIGHT one for MY Car's Model and Year. Staff is not only [always] helpful with their Automotive experience, they are very friendly as well. Thats why OReilly is my Auto Parts Store.
8 months ago Barbara Ellington
My go through if I my urge to work on my car hobby
1 month ago Harold Heekin
They are just fine if you need stuff today, if I can wait I buy online. A little bit fussy to turn in oil but they do take it and they give you $10 for batteries :-)
3 months ago Ahmad Qatanani
The workers are really freindly and pretty knoledgeable on the auto parts
6 months ago Dave P
Very helpful and curtious
7 months ago KurogamiMG
The Lady manager recommended using Cataclean to clean my catalytic converters on my '13 Lincoln Navigator, but I bought it in order to clean my Oxygen sensors and get rid of the engine lights. Amazing it did really work and I saved myself $400.
7 months ago Aman Mishra
Raley's is Rally's is good place to buy auto parts it's nice and organized good deals some location customer service is terrible thanks release
6 months ago Gabor Kerekes
The customers service was great they were very helpful and informative upon our needs.
11 months ago Ryuk Shinigami
Great Knowledgable helpful people! GREAT parking!
6 months ago Andrew Wherley
Expensive company I have advice for all customer don't buy any thing from here before the price with other company. I am sure you will save a lot of money For example I used to buy Mobil 1 oil from her with $43 after I checked the prices with other store I found same oil with Walmart $22 it's almost 50% deferent Also the I asked the store manager to match the price they refuse to match the price
6 months ago Coburn Watson
Very helpful to find my car parts
5 months ago Octavio Bahena
Thank you O'Reilly Auto Parts. My purchase was simple. 2018 QX60 highly recommend to see him for your next car..!
7 months ago Jeff Ferrie
Nothing to steal in there lol
7 months ago Jacob s
very helpful, kind and attentive
1 month ago Carlisle McGee
Went with my friend on 11/26 to help him buy and install a new car battery. They gave him the wrong one which resulted in one of the main fuses blowing. On 11/27 Marlena,with a condescending tone, stated that it "sounds like an installation error." Wow. Thanks Marlena. No apology, no nothing, just attitude. This store is terrible. They had a huge line and there's staff screwing around doing nothing. Avoid going here if possible.
8 months ago Rajesh Peddiraju
Great
10 months ago Megan Day
Nice
10 months ago Marc Paltrineri
helpful, but we had to wait to read the check engine codes
9 months ago Michael Hamilton
The most unprofessional stuff. Very rude, I never experienced this kind of service. Lady with glasses (latino) screamed at me in front of people & i guess she is the manager. I usually go to autozone. But Oreily they always advertise on youtube, I thought I should try. I will never come back to Oreily.
5 months ago Megan Collins
Really reasonable prices.
7 months ago jaanu sharma
Small store that's usually "currently out of stock" on almost every part you need. Small parking lot so parking can be a hassle as well.
7 months ago Marv White
The parking lot is impossible as well as filthy. Litter, jugs of oil, discarded clothing, junkie gear etc. Store is poorly run.
9 months ago Dayannara Garcia
I get it that they want to sell you a battery, but sometimes I just need it charged.....and I know it says it " won't hold a charge" but can you just leave it on the machine anyway.
11 months ago Ted Fragogiannis
ok
11 months ago Mark Hallett
Very helpful !
7 months ago Kayleigh Schoppe
No military discount
7 months ago Kinneyn Lindar
They are rude and they work at their pace, they do not mind attending to the customere specially the manager.
7 months ago Dave Vachon
Usauly have what I need
7 months ago Al Monaghan
Nothing special going on here...
8 months ago Billie Wells
Very good
10 months ago DeanR
Staff here are nerds. Lol
8 months ago Edward Morris
Friendly n helpful
8 months ago Peter Gould
Great
11 months ago Ruth Pedigo
Good help never crowed
11 months ago Joe Kersch
They suck
9 months ago Kochuthressia Praveen
Most of the times they get the parts wrong. Mostly friendly
10 months ago Scot Sutherland
They had the part I needed in a time I needed it
5 months ago Maria B
Staff is rude, and lack basic knowledge. Could also hear staff degrading customers in Spanish from the back. Extremely unprofessional. Flor Duarte was the manager.
5 months ago Sandra Little
I found almost everything I need for my car
9 months ago Jason Brasch
Friendly, helpful staff. Parking lot is not as clean as I would like.
10 months ago surya saji
Understaffed, under stocked, & filthy
11 months ago Ruth Pedigo
Sucks. Service
10 months ago Claire Blocker
Infinidad de productos para q te diviertas personalizando tu auto
10 months ago Vitek Syslov
Cuando se trata de accesorios y partes para tu automóvil un buen lugar para poder comprar
5 months ago Tammy Andersen
Excelente servicio
10 months ago Dylan Walters
El señor que me atendió este día domingo 22 de abril 1:35 pm tiene muy mal servicio al cliente como sugerencia capaciten a su personal no llegamos a pedir artículos regalados llegamos a comprar con nuestro dinero el cliente merece respeto ...
1 month ago Casey Wilson
Tienda bastante surtida
5 months ago
Popular places from the category Auto parts store