O'Reilly Auto Parts
Auto parts store O'Reilly Auto Parts, 4540 South, Mission St, San Francisco, CA 94112, United States:
67 reviews
of users and employees, detailed information about the address, opening hours, location on the map, attendance, photos, menus, phone number and a huge amount of other detailed and useful information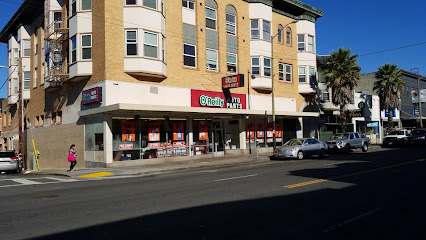 Address:
4540 South, Mission St, San Francisco, CA 94112, United States
GPS coordinates
Latitude:
37.7254146
Longitude:
-122.4345941
reviews John Edwards
Deanna is such a wonderful person. She is very knowledgeable and she will make you feel comfortable. I was scared and worried about getting the wrong parts, but Deanna helped me out and give me the appropriate car parts for my vehicle. She is an amazing person, my car is running again. Thank you Deanna, thank you for your patience. O'Reilly rocks; thanks to people like you, great customer service.
10 months ago Dani Lovskaya
Had the parts pulled and waiting also took the extra time to help me find and understand the options available.
6 months ago Ju L
Ricardo provided outstanding customer service. I've lived in the neighborhood for over 20 years and never patronized this store. From this point forward it will be the only auto parts store I will patronize. Thank you for the proficient, expedient service!!! Stay safe and healthy.
3 weeks ago Larissa Ivukova
Deanna was amazingly helpful! I highly recommend going to this O'Reilly's.
2 days ago TTV Gavin
, very helpful they had everything I needed when I walk in the door thumbs up
3 weeks ago Pandora Box
Miles and the gentleman at the counter were fantastic. I had called to ask about a a battery and showed up about 4 hours later to get it. Miles remembered the call and I was in and out in just a few minutes.
5 months ago Dede Seward
Great customer service, good prices
3 months ago chaitra c
I love auto parts stores and o'reileys never seems to let me down. The experienced people at this location are particularly helpful in even the most rare of requests. This location gets 5 stars. The Pacifica location gets 3 for inexperienced air head beginners with no under the hood knowledge.
7 months ago Ksenia Selkälä
I was given prompt assistance. They found the parts that I needed quickly. Very polite counter person. What more can I say it was very positive experience.
11 months ago Viva Bam
They had what I needed at a fair price, and were friendly. What more could one ask for? Except parking, but that's not their fault.
11 months ago Ricardo Olague
The staff are really nice people and very helpful. The manager Mile and his associates Dee, and Rick are authentic good people!! They know their stuff! Please treat them with highest regards of respect. They deal with some bad customers and still manage to make it through the day to help people. They are passionate about cars and can give you insite on ideas for a car project.
2 months ago Jesrene Johnson
Called to see if they would be able to help me install something when purchased. I was told to come between a certain time when they had more staffing. When I arrived at that time, the cashier told me that they don't install. He didn't answer that call, so he didn't want to help. He didn't even bother to ask who might had answered the phone. Also watch out for the slope of the floor. It's uneven & hazardous!
8 months ago Candice F
Variety of selection. may have to pay parking
5 months ago Nikolina Yu
Friendly people working here!! D (manager) provide a great customer service!!!
11 months ago Mike Koller
Service is always good and they put up with me parked on the corner while I fixed my van.
11 months ago Sarah Gerrish
Very good customer service, and they had a good selection too.
8 months ago Ваня Mudvaling
Got our lights and they even helped us figure out how to put them in. Great customer service.
9 months ago hojokono uploads
Got new windshield wipers and fluid for the car. Received great customer service. In and out quickly.
5 months ago Brenda West
Great staff. Very helpful.
5 months ago Raven Lopez
The two , guy and young lady were a great help. The man even suggested a great restaurant which I tried and loved it.
2 months ago Alexandra Pavlyuchenko
They had a lot of parts in stock that I needed. If they didn't have it they could get it in from another store. Friendly and knowledgeable service. I like it when there is older people working there and not some young high school student because of lack of experience.
11 months ago Jimmie Elmer
IN THIS PLACE I CAN FIND EVERYTHING THAT I NEED TO FIX MY CAR.GOOD PRICES,CORTESY AND PERSONAL IS READY TO HELP.
9 months ago Adam Lesko
Had to get my starter checked guy was grumpy about helping me. He was young he should have had better customer service. Why offer a service then gripe when asked to use it?!
11 months ago Dimpho Cathrine
Very helpful staff, the guy Miles was so on point!
8 months ago Soelma Shagdarova
Staff are great. Miles is a cool cat!
2 months ago Rotimi Oyewole
So I'm really going to go into this with O'Reilly's over here cuz let me tell you the customer service at the San Francisco stores is amazing the only thing that sucks is there's absolutely no parking!
10 months ago Chauncey Hulbert
, great service manager and assistant manager awesome they know what they're doing and they know what they're talking about I really enjoyed going in there for doing my business and talking with them and getting their advice quality people they deserve a good size razel Riley I would think twice about not their good employees quality people enjoy their company and you sell a good product have a nice day Mark J Allen senior
5 months ago Tin Ho
no parking no bathrooms. but the people are cool so thats ok
10 months ago Patricia Lad
Very helpful staff
6 months ago Jerry Baldock
My only O'Reilly I go to! Well stocked, helpful and very hospitable great customer service.
11 months ago Stephen Kelly
Very nice employees and helpful. I will be back.
5 months ago Alexandra Sanchez
The employees are rude and if you ask too many questions they stop helping you. Don't waste your time.
9 months ago Nancy Haddad
Got my check engine light scanned for free
5 months ago Dylan Filkins
Great friendly workers
6 months ago Venkat M
Very helpful customer service!
10 months ago Alter Native
Like it
9 months ago Shahzad Irani
Great
7 months ago Anne Griffin
You can find anything you need for your car here.
2 months ago Bill Norrish
Have needs for your hobby or daily driver check this spot
5 months ago Martyna Laszcz
Great staff
7 months ago Emma Jarvis
what a retailer
6 months ago Jerri Michele
good
5 months ago Jim Sciulli
Great customer service
11 months ago Lynn maguire
Ok
9 months ago Nathalie Datska
Very neat and clean
9 months ago John Staples
Low cost.
11 months ago Wilkin Hernandez
Helpful personnel
7 months ago Luke Richardson
Very helpful
9 months ago Jake Hodges
nice auto parts place
2 months ago Bart G
Has everything you need and friendly staff too.
9 months ago
Popular places from the category Auto parts store