One Man's Trash - Trash Hauling, Trash Removal, Appliances Removal, Trash Disposal, Trash Collection Service Indianapolis IN
One Man's Trash is a garbage collection service based in Indianapolis, IN. The company provides trash hauling, trash removal, appliances removal, trash disposal, and trash collection services to both residential and commercial clients.

Their team of professionals is equipped with the latest tools and equipment to efficiently and effectively remove and dispose of all kinds of waste materials. They offer flexible scheduling options and can accommodate both one-time and recurring pickups.

One Man's Trash is committed to providing eco-friendly waste disposal solutions. They prioritize recycling and donate reusable items to local charities whenever possible. They also ensure proper disposal of hazardous materials in compliance with local regulations.

With their affordable rates, reliable services, and commitment to customer satisfaction, One Man's Trash is the go-to option for all your garbage collection needs in Indianapolis. Contact them today to learn more or schedule a pickup.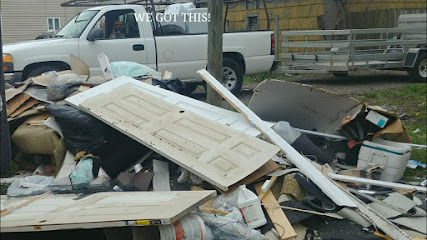 GPS coordinates
Latitude:
39.7797845
Longitude:
-86.1397130
reviews Mandy Townsend
Ty was absolutely wonderful, he was patient when I was running behind and very understanding. Ty was not only friendly, but professional, and helped me out quickly. He updated me on time schedule throughout the day, and offered to send a …
7 months ago Roger Simons
One Man's Trash provides great service and excellent pricing. Ty is great to work with and his dog Tyson loves going to work with him. I appreciate how Ty kept in contact with me when he could see a previous job was running a little …
8 months ago Blake Barnette
Called and a couple hours later my heavy obnoxious mattress was GONE! I was stressed thinking about how I was going to remove it, and in a 2 minute phone call Ty relieved all of that stress! Super quick, on time, very professional! The best …
9 months ago Az Solutions
They were the first to respond to me and also the cheapest by far. Ty showed up on time and was very nice and professional. His dog was my favorite part about it all! They also had some baby stuff with them from another job that my daughter could use and gave it to us for free! We will definitely be using them again.
10 months ago Gilles Charette
I had them come several times to remove roofing materials from a warehouse roof I was replacing. They were very responsive, quick and friendly and the charges were reasonable. I would use them again, no doubt.
10 months ago Bryce Poskochil
I've hired Ty a few times. Always really friendly and prompt and communicates well through everything.
7 months ago rodney swailes
I would highly recommend One Man's Trash. Ty was very responsive and did excellent work. He charged less than his competitors. You definitely need to give him a try. You won't be sorry!
11 months ago William Head
I called Ones Man's Trash yesterday morning to get a quote for yard waste disposal. Talked with Ty and gave me a quote and an exact time in under 30 minutes. They did an amazing job getting a whole tree removed from property. Very professional, reasonably and would highly recommend.
3 weeks ago Anthony Tormey
Ty was very responsive and was able to offer me next day service. They got my storage unit cleaned out in about 20 minutes. It was a difficult day for me and they made it a breeze. Thanks!
2 weeks ago L DP
Great Service and GREAT price. Very nice and easy to work with. Highly recommend.
11 months ago Ondra Cupak
He showed up within an hour and totally saved us! Super nice guy. We just went back to painting and he took care of everything.
3 weeks ago Austin Dukes
Speedy service! Price was very reasonable, good guys!
10 months ago Jonathan Cole
One Mans Trash did a big basement clean out job for us for a fraction of the price of anyone else we called. They were on time, very friendly, and very professional. They were also willing to take things to goodwill that we wanted donated. We will definitely be using them again!
3 months ago Irina Boikova
Ty and his team are great, hard working individuals who got the job done quick and easy. Will definitely hire them again.
4 months ago Amy Zdrazil
Great Customer Service ! They were able to help me out in a very short amount of time. I have a duplex my tenants left everything, including all their junk and trash, a absolute disaster. Ty was able to get it all cleaned out in one day at …
8 months ago Connie Smith
Ty did a wonderful job taking down our trampoline. He was professional, courteous and thorough! He was a great communicator and had a very fair price. I highly recommend this company!!
8 months ago Vera Andrews
Very nice. Reasonable prices. Fast service. Called at 6:06pm, he was on another job. By 8pm he had my junk/trash loaded. And it was a big load. Several payment options current with the times. Highly recommended! ????????
1 month ago Natalie Rico
Ty was great! Very friendly, communicated well. He got things done fast and all at a great price! We will definitely use him again if needed.
11 months ago Даша Pipipulechka
Very dependable trash removal.
10 months ago Tyrell Carter
Quality and affordable trash collection service.
4 days ago Daniel Cook
Phenomenal job. Would definitely use again
1 month ago Duccio Baldari
Thanks a lot for the professional trash collection service!!
11 months ago Katia Fuentes
Punctual, courteous, and professional with great pricing. Will definitely be using his services again. Highly recommend!
8 months ago Rave Addicts
Great communication. Reasonable pricing and he did the job quickly and thoroughly. I would recommend him to anyone.
8 months ago Raghav Marda
Very quick and friendly! He was willing to come Sunday evening to fit my schedule! Would highly recommend to anyone!
9 months ago Elaine Polsky
Ty did a great job! Fast, reliable, and affordable... will definitely use him again in the future.
8 months ago Moonchild
Good price, great communication. Difficult job was completed just a few hours and exceeded my expectations. Will call again for the next project.
8 months ago Ashley Todd
Great guys
11 months ago