ADP Land Design and Tree Service
ADP Land Design and Tree Service is a landscape design and tree service company located in Princeton, New Jersey. The company specializes in providing high-quality and customized services to clients in the residential and commercial market.

ADP Land Design and Tree Service has a team of experienced and skilled designers, arborists, and landscapers who work together to design and maintain outdoor spaces that reflect the unique style and needs of their clients. They provide a range of services, including landscape design, hardscaping, tree trimming and removal, lawn care, snow removal, and more.

The firm's landscape designs are inspired by the natural environment and aim to create a harmonious balance between the built and natural elements. They use sustainable and eco-friendly practices while conceptualizing and executing projects.

ADP Land Design and Tree Service has over 20 years of experience in the industry and has gained the trust and loyalty of customers through its excellent workmanship, prompt service, and affordable pricing.

Overall, if you are looking for a reliable and skilled landscape design and tree service company in Princeton, NJ, ADP Land Design and Tree Service is undoubtedly worth considering.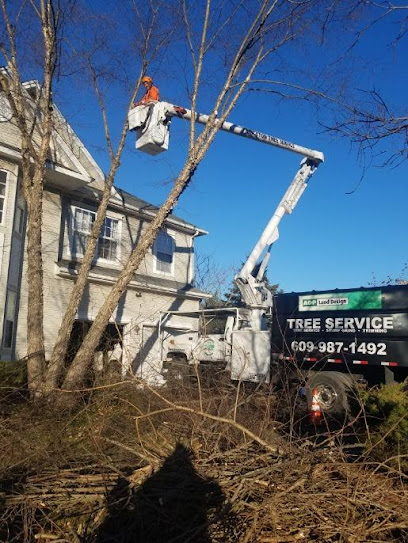 Address:
548 Alexander Rd, Princeton, NJ 08540, United States
GPS coordinates
Latitude:
40.3304305
Longitude:
-74.6492804
reviews Pavel Gutmann
Alex and his team did an awesome job with tree trim and tree stump removal. They are Very reasonably priced. Alex offered various solutions to the issues we were experiencing with trees closer to the house.He is very knowledgable about the trees and works in their best interest. Definitely would recommend the service.
11 months ago Numbers Moreno
Called Al we had storm damage for the tree he was here in two hours to finish the job. I've been using Al For many years I am a contractor who referred him for hearts keeping tree Surface and grass cutting. I definitely recommend Al
9 months ago Virginia Boertlein
Alex and his crew are punctual, professional, and friendly. Also the price was competitive ( we had 3 estimates). We have two trees removed with them and are very pleased with their services!!! Would like to work with them again.
1 week ago Yana Arutyunyan
Alex came out the same day we placed the call to give us an estimate to remove a tree and also trim some big branches that were too close to the house. His crew came back prepared to take care of our job. They cleaned up our yard and hauled the debris away the same day. Job was taken care of very quickly and professionally and to our satisfaction. Would definitely recommend them.
1 week ago Linda Suarez
ADP was very professional, speedy, and clean. They trimmed the tees on my property with care and cleaned up everything afterwards. They left the property better than it was when they came, and did a great job cleaning the insides of the trees while leaving a canopy for shade. I highly recommend them for trimming... they scaled the trees with ropes and ladders, leaving the trees healthy and without any damage.
2 months ago Robert Porterfield
Alex and all of the workers of ADP Land Design were professional, responsive, helpful, and friendly. They did an exceptional job removing trees, grinding stumps, and cleaning up the areas where they worked. Alex also helped provide us with some great advice, and when he noticed a potentially unsafe blind spot near our driveway he went out of his way to take care of the issue himself. We will be thrilled to work with ADP Land Design in the future!
6 months ago Svetlana Aaaaaa
Although I was unable to benefit from the impressive services of this vendor I would like to say they were very responsive. I live outside of the radius of service (Philadelphia) and this vendor still connected me to advise me they could not provide a service. Despite the disappointment I was appreciative as they were the only vendor who has been responsive. I thank you.
4 months ago sahil sharifi
Our landscaper was very knowledgeable. Our yard was half filled pavers after a plumbing repair involved diging a trench. Overgrown with weeds, we needed help! ADP removed all the pavers, weeds, and debris. Now our backyard is all grass with a mulch border - for gardening. It feels so much larger. Can't wait to lounge in an Adirondack chair with a book or kick a soccer ball around with my son - when he's old enough!
3 months ago Kayla Goodson
ADP was extremely professional in taking down a 40' tree within feet of two homes and a shed under the tree. These men were efficient, and within 1.5 hours the tree was down, cleared, and the area returned to normal. If you need the job done right, this is your go to company. I would recommend them to anyone needing the job done properly and within time constraints. Put them on your speed dial. They're that good!
1 month ago Vikas Mohan
They did a great job! Would highly recommend them!
4 months ago Luc Zwiep
Incredibly fast response to inquiry, and provided very fair and competitive estimate. Work was done well ahead of schedule and quickly by the team. Highly recommend!
2 weeks ago Ali Monadi
ADP Land Design is an amazing and unique landscaping artistic company. Their work is Majestic. Alex had so many ideas to make my property Shine. What a nice, polite bunch of guys to spend the day with. They worked so hard and way beyond the call of duty. They are a high end, five star company that I will call again. I was left so happy and content. It was very nice working with Alex, the owner. It was nice to see my vision come true.
5 months ago Muhtadi Elasmar
ADP really helped me out of jam due to a recent snowstorm that damaged the tall evergreens on my patio -- all the while I was in the process of putting my house up for sale. They were prompt and professional, and even exceeded the scope of work that we agreed upon -for no additional charge. I give them the highest rating and commendation.
3 weeks ago Mark Critelli
Alex and his team did an INCREDIBLE job clearing out a massive amount of cut brush and trees from our yard. They worked quickly and left the entire yard spotless, doing even more than expected. I will definitely be calling them in the future for any other landscaping needs. Highly recommended!
2 months ago Gales Ferry
I received a great referral from my best friend and this was an excellent choice to make. Job was clean, on target and fast. Can not thank enough to Alex and his team for the beautiful job done. Thank you Alex and hope to do more business with you in the near future.
11 months ago Alex Iliev
Quick response and trustworthy. Owner is friendly and professional.
5 months ago Aaron Welch
Alex and his crew did an excellent job today. We asked him to clean up large fragments of tree stumps left over by another tree company we hired. In addition, they removed large roots, grinded stumps that were left over, power raked the yard, graded with topsoil and reseeded. They took great care not to destroy existing grass and cleaned up what the other company damaged with their equipment. The quote was very reasonable and Alex was great to work with. He was very upfront about what he was planning on doing. His team showed up when they said they would and worked the entire day in 90 degree heat. The yard looks great and I would highly recommend using Alex and ADP Land Design.
2 months ago Jodi Vincent
These folks showed up on time and the job done AS estimated. Good job Alex and crew.
11 months ago Lauren Ramey
I needed some large roots ground down and the remnants of a tree stump removed. I was lucky enough to find Princeton Tree Service! I was given a very fair price, and the work was promptly done. The guys even gathered up all the leaves in my back yard for no extra cost! I would definitely use this company again. The owner was very friendly and sociable. Thank you!
11 months ago Valeria Takacs
ADP Land Design is simply enough a delightful company indeed. Al & his band of merry men are hard-working, caring & conscientious both of customer needs & of the land itself. They did some extraordinarily beautiful lighting as well as an incredible irrigation system for me & my lovely bride. Both projects were far more & far better than we had originally imagined thanks to ADP's vision & hard work. They have also done wonderful work for my folks as well. I cannot recommend this company highly enough; they are dedicated from start to finish (& beyond- Al still responds to the smallest questions or concerns almost immediately). Use ADP & you & your land will be so very happy indeed!
11 months ago Patrick McCallister
Princeton Tree Service is a wonderful company. I have used their service for many years. There is never a job to big or small. They complete each task with excellence.
11 months ago Velma Witkowski
I can't recommend ADP Land Design enough. Through the years we have used several different lawn service companies but not one has given us the same level of service that ADP has. 100% reliable, 100% punctual, and 100% dedicated to going above and beyond what is normally expected. ADP stands out for their responsiveness as well as Al's imagination and creativity that he brings to each of the several projects he has accomplished for us. It's the beginning of our 2nd season with ADP and and we couldn't be happier. Thank you for caring of your customers. Like others have written, we are now life customers as well.
8 months ago Alexey Kostychev
Al and his crew did a terrific job landscaping the front of our house and installed a beautiful paver walkway. Excellent crew, very friendly and cleaned up their messes. I would highly recommend this company for landscaping, tree services, and pavers.
3 months ago Татьяна Tемнякова
Excelente service provided, better rate then the four stimate I compared. Good respectful people, highly recommended for what you exactly need. Thank you Alex, it was a pleasure to do business with you.
11 months ago Collin Hill
This was the worst experience I've ever had with a company that has to deal with customers. No follow through on work that was discussed, no response to phone calls. Insistent on doing things THEIR way-and that means leaving furniture in the drive way and flower beds after cutting, pull out sports equipment that was anchored to the ground (and losing the pins in the process). A disgrace to the community of small local businesses
11 months ago Fausta Cabrera
Great company to do business with highly recommend Great Job Alex.
2 months ago Lori Stosz
I called Princeton Tree Service because my yard after a very bad storm had a broken tree that was placing my house in danger (it was too close and I really should have had it removed years ago). I needed it taken care of immediately. Princeton Tree Service was very professional and responded to my request right away. I was really impressed! I got quotes from four companies in the local area and asked to see proof of their insurance, but Princeton Tree Service was the only one that showed me any proof that they had liability insurance and workman's compensation. The workers were super careful when taking the tree down - they did it in small pieces to make sure that it was safe and I never worried at all. They chipped and hauled all of the debris (when they were done the yard looked even cleaner than when they arrived!). I was also impressed by how much the company made sure that its workers wore the proper safety gear. I know a few people in the neighborhood who have used ADP Land Design (the parent landscaping company) for yard work, brick patios and walkways and were very impressed, so if I ever need anything on that front I'll probably go to them in the future.
4 months ago Drake Rudolph
Great service. exelent Price.
6 months ago