Yoseka Stationery
Yoseka Stationery is a popular stationery store located in Brooklyn, New York. This store is known for its vast selection of high-quality stationery goods, including pens, notebooks, journals, planners, stickers, and more. They offer a variety of well-known and unique brands from around the world, ensuring that customers have access to the best writing and drawing tools available.

One of the unique features of Yoseka Stationery is that they offer custom calligraphy services. Professional calligraphers are available to create custom cards, invitations, and signs for weddings, parties, and other events.

Another notable aspect of Yoseka Stationery is their commitment to sustainability. They offer eco-conscious products such as refillable pens and notebooks made from recycled materials, ensuring that customers can have a positive impact on the environment while enjoying their stationery goods.

Overall, Yoseka Stationery is a wonderful destination for anyone who appreciates exceptional stationery and enjoys writing and creating beautiful things. Their knowledgeable staff, extensive product selection, and commitment to sustainability make it a must-visit store in Brooklyn.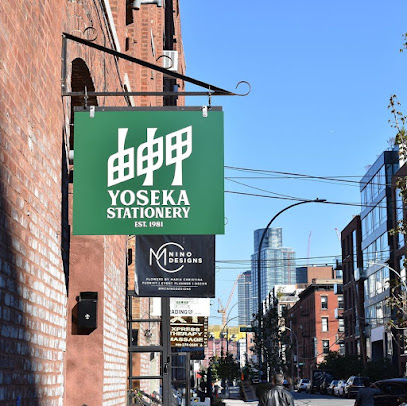 Address:
63 West St, Brooklyn, NY 11222, United States
GPS coordinates
Latitude:
40.7285058
Longitude:
-73.9591662
reviews Derek Douglass
Not only are their products-I mostly order pens and stationery-wonderful and of the highest quality, I have ordered twice and both times I have been impressed by the beautifully personal touch Yoseka has added with each of these orders. A personal note has arrived with each order that references a particular product in my order and actually mentions their hope that I am doing well during these times. If you love personal service and exceptional stationery products, Yoseka will be a favorite as well.
11 months ago Jenny Wang
Today was the first day they reopened! They are doing a great job in regards to being safe with covid. 5 people max in the store at a time and you have to enter your email before going in so they can alert you if anything does happen. Nice vibes, sales people are helpful and kind, inspiring and cute place to shop. I bought a few markers/pens for a calligraphy project.
1 month ago Jon Canoy
One of my favorite stationery stores and I live in Colorado! Yoseka is wonderful. They have everything you can possibly imagine and more, and they are really on top of their customer service! I had changes I wanted to make to my order and shipping questions and just about every other possible annoying customer service write in. They responded quickly and accommodated my requests every single time! Plus - each time they ship you something it comes wrapped with a sweet, personalized handwritten note. It feels like my birthday every time I receive a package from them :)
11 months ago Jjl Lennedy
Wonderful store. Beautiful, useful items made with the utmost of care. Staff is friendly and caring. The ultimate compliment I can pay them is they CARE about quality and service.
17 hours ago Jamahl Black
Beautiful selection and very nice people. So happy to have them in the neighborhood. :)
11 months ago Hyeonwoo Cho
Walked in and had a great conversation with the employee helping me. Didn't buy anything, but learned a lot and had fun playing.
11 months ago Anna Sergienko
I purchased a hard to find Matomaru Kun Eraser (long) It was a fairly fast delivery. The order also came with a handwritten note and a company sticker. I love the product and will buy again!
11 months ago Rajesh Kumar
What an amazing experience.. I found a awesome pen that I've been hunting down for awhile here at Yoseka Stationary and couldn't be more happy. I greatly appreciate the handwritten note attached to the packaging and will definitely be doing some more business with them in the future. It is now my number 1 go-to shop for anything stationary. Thank you Daisy and Neil for the smooth and pleasant experience.
1 month ago Nikolay Veltchev
The system in place for COVID doesn't work. I understand the need to limit store capacity, but when there's a line of 15+ people outside, it's common sense to limit time allowed in the store too. Nearly an hour waiting isn't worth it. Won't be coming back or ordering online again
2 weeks ago Ruslan Piter
I didn't visit this wonderful store physically, but I did order online and their customer service did not falter one bit. They not only interacted with me with a "thank you" via a handwritten note, they actually communicated with me about what I had purchased and after submitting a second order they recognized me and commented on that as well! I truly felt like they cared about me as their customer and will be shopping for my TN supplies here from now on. They offer lower prices and the packaging was BEAUTIFUL both times. They offer a ton of selection and you seriously won't be disappointed.
3 months ago Babu Natarajan
We bought a beautiful Sailor Pro Gear King of Pen from here about a month ago. I love the fountain pen and the couple who own this place are very nice. I think they are moving to a different location (Greenpoint?) soon and I will be visiting them there for all my fountain pen needs :) Support local!
1 month ago Joyce Sangster
Purchased multiple times in store and online. Customer service is excellent. They have so many wonderful items.
1 month ago Pete Pashko
First let me say, if you like Muji style, you'll love this store! Just a few stops from Manhattan too. Secondly, I have to say that this is my new favorite stationary & pen boutique store in NYC! They have many pens out on a very cool natural wood table ready for you to try! They have different paper that can try writing on too! They have fancy and expensive fountain pens, mechanical pencils that automatically extend as you write, pencil tip covers, erasable pens and even a $3 pen that can hold up your mobile phone! If that weren't enough they have super nice and helpful folks to answer your pen and paper questions. They even were able to tell me the difference between roller balls, ball point and gel pens. AND I learned a new word... emulsion. :) I look forward to going back and if you or someone you know likes pens and stationary stuff this is the place for you or gifts and gift cards for them.
2 weeks ago Benjamin Beck
I love this place!!! Their pencils are so nice and high quality. The people working their are wonderful and friendly. If I could give more stars I would.
2 months ago Briana Gutierrez
The couple running the store are very friendly and personable, and they really made me feel like a valued customer. They were good to have conversation with, and they are extremely flexible and communicative with me. I wanted to return a pen clip that I had already used on one of my fountain pens, but was in perfect condition as I use a pen case with a soft lining to carry my pens. When I went in, I went to buy a fountain pen, and without even asking, they offered to provide a free ink fill from a bottle for my fountain pen. I was just amazed about how hospitable they were, and I would encourage anybody to buy fountain pens from them. I know some people interested in fountain pens in my friend's circle, and I am sure to bring this store to their attention! I called them to ask about an exchange and they texted me within a minute or two asking me how they could help! And I asked them about my request and they immediately said that I could do that! I have not found any store which is as honest and friendly as they are in a very long time. Reasonably priced, decent selection, excellent layout for a person to sample use, very knowledgeable staff, and excellent customer care! I could probably write a novel with the fountain pen I brought from them of how friendly they are, but I will let you experience for yourself. Happy shopping and thank you to Yoseka Stationary for your service! I will be back!
9 months ago Gwendolyn Boone
Currently only open for online order pick-up. They have a great selection online and very responsive and helpful staff.
3 months ago Jim Boulier
Small store but has a great selection of stationery and very friendly staff. I was especially surprised by the wide variety of fountain pens and notebooks that are fountain pen friendly and I look forward to going back.
1 week ago Vismay Mandloi
Super cute and unique stationary store. The owners are really well versed on their products and are so friendly and willing to help find the perfect gift or item you may be looking for. A rare experience in NYC. Doesn't hurt that it's also very Instagram friendly! ;)
2 months ago Valerie Byers
You won't regret your trip to Yoseka! Daisy and Neil are helpful and kind, and always able to offer advice if you need it. Say hi to their cat, and spend some time soaking up one of the best stationery shops in NYC. Small shop with a great selection.
1 week ago Bella Flores
Beautiful space with high quality, authentic stationery from Taiwan. The owners are the sweetest couple and local to the area. Definitely check it out!
2 months ago Reed Riley
A small hidden gem of a shop in an otherwise out of the way neighborhood. If you've always wanted to try out different pens, specially fountain pens, then this is the place that will let you do it. Would you like to feel the difference between a $200+ Pilot vs a Platinum? Do you want to know how it feels to write with a gold nib? Well, this shop will let you. Of course, you can also try something like a Metropolitan, those are available for you to try too. The proprietors were the most helpful and friendly people. When I was there, a customer wanted to come back when they were closed. One of the proprietors offered to be there if she could tell him when. After I bought a pen, I was asked if I wanted to try it out in the store just to make sure everything was alright with that particular pen. How was that for customer service? There were a lot of other stationary items being sold including fountain pen related accessories and non fountain pen stuff. Look at the website. It's worth a visit for the price of a subway ride. I plan to go back and buy more stuff to support this fledgling new 1 year old store. There aren't many of these left anymore.
1 week ago Joshua Ballew
Great selection. Super fast shipping. They carry Gekkoso and Midori and other hard to find stationery from Japan.
7 months ago Vernon Rainey
Yoseka Stationery is a little piece of HEAVEN and the pot of GOLD at the end of the rainbow all wrapped in one. Neil and Daisy have done such a stellar job, curating an assortment of paper, pen and ink, that is classic and tasteful. They let you spend as much time as you need, you can try pens, pencils, erasers on great papers and they give you a free fill of your ink of choice when you buy a fountain pen. Neil and Daisy offer you great insight and guidance, as they are paper, pen and ink aficionados. They are spectacular retail merchants. They have created "The 8th Wonder of the World." This is a must see retail shop, it is a destination for a great retail experience. This store is like the Mecca, worth the pilgrimage and travel from long distances. They also have great events, like workshops on calligraphy, drawing and journaling, where you get hands on with the best products, check out the website and instagram ????
2 months ago Carlos Alfaro
This place has a nostalgic charm and reminded me how good it feels to use pens and paper. Staff is super friendly and helpful, for sure it is a hidden gem in the area.
3 weeks ago Jessica Hayes
I bought a Hobonichi cousin notebook here! The staff here was friendly; one of the owners also dropped in when I was here and let me try out some pens and gave me some information about them. I also was able to receive a reply quickly when I sent the store an instant message! I would visit more often if I lived closer!
1 week ago Constance Kuecker
Not a Harry Potter wandshop with stationary pouring from the ceiling like I'm used to in Hong Kong, but a highly curated and well thought out collection of practical and beautiful items. I went in to browse and came away with enough scrapbooking and thank you card supplies for a year. I was impressed and grateful to find this place on my layover. Magical in its own way down to the custom engraved wooden sign. Very reasonably priced with most cards and supplies around $4. Great selection of Asian and calligraphy pens. Though if I needed large sheets of paper, or selection of greeting cards I may go to Paper Source, this would be my first choice for less imported and harder to find items like stationary tape.
2 weeks ago Ruby Peel
This place is a little gem. Neil and Daisy are friendly, knowledgeable, and professional. The store is wonderfully laid out and every time I go, not a thing is out of place. The store is also well stocked to accommodate a variety of budgets. The first time I went to the store I purchased a fountain pen and the second, I went in for a budget priced gel pen. I must note the budget gel pen is of the upmost quality. They let you try all the pens on very nice paper so you can make an informed purchase. When you buy your fountain pen, they also fill up the ink so you can get right to using it. Such a great idea. Don't waste any time and get out to see them. You won't regret it.
5 months ago Andrea Stevenson
Friendly helpful staff; small store yet great selection of stationery, stickers, washi tape, fountain pens, normal pens, mechanical pencils, so much packed in a tiny store. You can try some fountain pens too they have them inked. I recommend visiting
2 months ago Monique Holtkamp
I'm so happy to discover this pen shop! Customer service is absolutely amazing.
9 months ago Lauren Mejia
Daisy and Neil are the most wonderful people. This store is absolutely incredible and has an excellent selection for all your Japanese stationery needs. I ordered a Hobonichi Techo two years in a row from them and this year they sent me a little thank you note and some stickers for being a repeat customer. Those small details make Yoseka the kind of small business that absolutely deserves your patronage.
2 weeks ago Masha Polin
One of the best stationery shops in NYC and certainly the most friendly. Specialized in quality Asian goods for writing and note taking. Highly reccomend!
7 months ago Lindsey M
A really neat store with lots of options. The staff are super helpful, attentive, and friendly! Worth a visit for your stationery needs. Accessibility notes: The shop is extremely quiet and the staff are accommodating. The space is small and you won't be able to bring a wheelchair in. The store is not hard to navigate as it not an overly complex layout.
5 months ago Camilo Valencia
This store is awesome, Daisy and Neil were very helpful!
6 months ago Mark Hauber
I never knew this store existed in Queens until fairly recently when I was down the instagram rabbit hole of traveler's notebook lovers. Found IG user and saw that he came here alot. Came here on a weekend and the store was packed with people. Small but had LOADs of goodies. It was actually dangerous for me and my pocketbook. I was like a kid in a candy store. My love for cute stationery and paper goods came back to life. (It was on a hiatus for awhile.) I spent a good amount of time in here and I did not feel rushed at all. It is a small place but dang, I wanted everything!!! The lady who helped me was super sweet and showed me how to use rub-on stickers too. The owners are also super sweet/helpful. They always have new products in store as well. I am already getting the itch to come back.... save me....
10 months ago Eugene Semein
I had such a great time at Yoseka Stationery! They have a really great mix of products that are from well known companies along with some that are still up and coming. Neil and Daisy were super friendly. All their pens and notebooks were available as testers so you could really get an idea of what you were buying. I will definitely be making another visit to them to feed my stationery hobby ????????????
1 week ago Sarah Turner
After visiting many stationery stores in the city, this was my favorite. The owners are very friendly and helpful. They have a very nice variety of items from washi tape to fancy fountain pens. Well worth the trip to Queens!
3 months ago Charlie Frankel
Cute stationery for those who look for nice fountain pens and other small goodies. I got cute decorating tape and glitter highlighters!!
1 month ago victoria gonzales
This is my first time shopping online at this store and my experience is exceedingly incredible!! The customer service is quick, and friendly and they go above and beyond to please their customers!! I will definitely be shopping here again but since I am from Canada most likely it will be online shopping! Great selection and great prices too. I would recommend them to everyone. Thank you Daisy for all your help! You have a loyal customer here❤️
3 weeks ago Arcana 363636
The store is a hidden gem. The owner was super kind and spent time with me. I was able to try at least 20 pens. I ended up buying a Kaweco Sport. The price was competitive and before I left, he let me refill the pen with Iroshizuku ink for free. I will definitely go back. Very happy to have found the store.
5 months ago Mackenzie Dye
The staff are super nice and helpful. A hidden stationery paradise.
11 months ago A Kosse
A gem for the neighborhood, easy place to find a quick stationary gift/card. It is well organized and designed to feel fresh, modern yet inviting. The only suggestion is finding a wider selection of $10 below unique items. But overall great store!
2 months ago Big Dog
Wonderful small store. Proprietors are super helpful and knowledgeable.
2 weeks ago Alisher Zavkiev
Such a cute shop!! The owners, Neal and Daisy, are just the sweetest. They have a range of beautiful, classic pens along with beautiful note pads. It's such a fun shop to have and great for gifts!! Welcome to the neighborhood— much needed breath of fresh air in Sunnyside. Prices are also very friendly =)
1 month ago Krishnaswamy Ravichandran
This is one of the best stationery stores I've been to the lady who owns the store is really friendly and knowledgeable she also is great with customer acknowledgement. Also the stationery I've seen in this store is one of a kind compared to other stationery stores I've been to the items sold here are quality items with fair prices but overall I loved my experience and I will definitely come back soon
1 month ago Stanislav Karpovich
If you love journaling, fountain pens ????, washi, rubber stamps, great Japanese paper products like Hobonichi and Midori then you must come by this shop!
1 week ago Home magic
My favorite place to buy stationary. They have an incredible selection of Japanese pens, pencils, notebooks, office supplies, etc. There's a lot to choose from at different price points but it's curated really well so it's not an overwhelming selection. The owners are the nicest people ever and encourage trying everything in the store. It's a fun place to look and it's great for gifts or a treat for yourself!
7 months ago Sean Johnson
Wow! I visited Yoseka Stationery tonight with my parter, after she discovered it on social media last week. I try and buy a lot of pens, and when I walked in I could immediately tell that Yoseka sells really good stuff. I noted a thoughtful selection of pens, pencils, (lead holders, mechanical, and wood-case) notebooks, cute stamps, patches, washi tape, and well beyond. If you're not into pens/pencils, it's worth stopping in for cute gift ideas alone. We walked in quite near closing time, and I was totally bumbling and in awe of the place. Even then, the owners were patient and kind, and both went all out to help me find an ideal pen for my writing style - a fountain pen with an extra fine nib. Ultimately, it was a pleasure to visit them tonight, and I am sure I'll be back soon to try out more pens! It's also worth noting that they host classes and workshops in the store, too! Check it out!
1 month ago Artur Kaleta
Great little stationery store with a surprisingly large selection.
2 months ago Edwin Alfaro
Nice pens and books love at first write
1 week ago Troy Panelli
Hands down the best and only stationery store worth visiting in Queens. Owners are friendly and very knowledgeable, and very much enthusiasts of stationery as well.
3 months ago