Marriage agency Annabel/ Брачное агентство/Matchmaking service in Ukraine
Dating service Marriage agency Annabel is a professional matchmaking agency located in Kyiv, Ukraine. The agency is named after the founder, Annabel. The company's mission is to help people find their perfect match and create a lasting relationship.

The agency's services include personal consulting, profile verification, and dating coaching. Their extensive database includes a wide range of single women from Ukraine who are looking for serious relationships, love, and marriage.

Marriage agency Annabel is known for its high-quality and personalized service. They offer a range of membership packages that are tailored to each client's needs and budget. The agency also provides various dating packages including romantic tours, which includes sightseeing and cultural activities in Ukraine, personalized matchmaking, and virtual dating.

To ensure the quality of the service, all the clients' profiles undergo a verification process, where they check the veracity and accuracy of information provided by the clients. The agency also provides a safe and secure platform for its clients, screening their members to ensure their safety.

In conclusion, Marriage agency Annabel is a reputable and reliable matchmaking agency operating in Ukraine. The agency's services are tailor-made to meet their clients' preferences and create an opportunity for individuals to form meaningful and long-lasting relationships.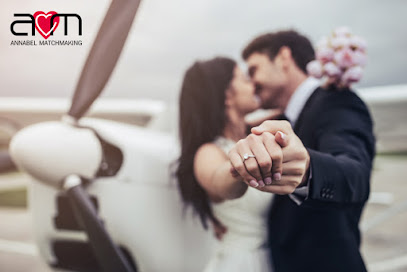 Address:
Velyka Vasylkivska St, 26, Kyiv, Ukraine, 01004
GPS coordinates
Latitude:
50.4388416
Longitude:
30.5156788
reviews Mary Martin
Does not cater to none white clients...not responsive to my email and messages...I went to other agencies who actually cares about their client. and got result in just a month. Please disregard my information and photo, i saw you guys deleting my account but i dont want any info utilize for marketing. Thanks for your time. Good bye.
3 months ago Ayesha Chowdhury
Anna's REAL rating here is 4.7. Five out of the 7 one-star reviews are fakes. The other two are iffy, but at least they're from people who actually used her services! I've met Anna and purchased her services. She's an incredible woman. And the website ladies I dated were EXACTLY the girls in the pictures.  Like ZERO photoshopping. In my opinion, that's RARE in this business. I'm not married yet, but that's my fault, not Anna's, and not the ladies'. The ladies seem genuine to me.
3 weeks ago Drew Jeffcoat
I tried this agency because I thought it was real but after really thinking about my experience and trying to see what would happened, I came to the conclusion this is a scam. I'll explain a few things that happen to me and if other people experience this I encourage them to write reviews so that men, hoping to find love, do not scam. 1. They guarantee the dates for whatever package you get. How can they guarantee this if they do not know the men? there must be some sort of between agency and the girls, some sort of payment just for going out with any guy. 2. I met with some girls and some of them just came to eat and asked me for money (I was very disappointed, I felt I went out with escorts or maybe they were, who knows) 3. After the first date, all the girls, I tried to go out again, would make excuses so ridiculous that it was obvious some fishy was going on. Do not use this place. Besides that your hopes to find a girlfriend/wife get crushed, you also spent your money and your value time in something that will produce nothing.
3 weeks ago Don Robinson
I know Anna for years. I can see how totally dedicated to her work she is. It is not only a work for her, it's also a mission. She is efficient and involved emotionally. She will not hesitate to jump into some situations. She will surely help anybody. I recommend her to any man or woman who want to do serious dates and as she sizes up people easily it could be even more :) She is serious and fight very hard bad reviews, unfortunately, sometimes written in english by a russian native speaker...
5 months ago Kalua Kaululaau
I highly recommend Annabel's services! Annabel is very professional very serious in her approach, her organization is perfect, she manages to guide you to the right people who match with your way of being. If one day I have to start having serious meetings again I will offer the services of Annabel
1 week ago McCaslin Giles
Anna's sincerity, professionalism, and honest business ethics puts a whole new meaning to the title "Professional Matchmaker". If you are seriously looking for a woman who will be a compatible life partner, Annabelle Marriage agency should be your first choice when you go to Ukraine. Her agency's approach in ensuring that you do not go to Ukraine to waste your time and hard-earned money is almost fool-proof. Listen to Anna's advice and recommendations- she knows what she is doing, and she is not after your money. Finding a compatible match between a foreign man and a Ukrainian woman is her business' primary goal and everything else comes second. All the ladies in her agency who were interested in meeting me were educated, beautiful, and sincere in their quest as well. None of them were gold diggers or were just after an expensive free meal, a green card, or a better life abroad. These ladies are looking for a decent man that they will be compatible with- a man who will make a good future husband. So, if you have this one simple quality, just join her site, plan a visit to Ukraine, and you could soon meet the woman of your dreams. As for me, I plan to return to Ukraine again soon to continue the relationships that she helped develop towards my goal of finding a good woman to build a family with. Thank you again Anna!!!
11 months ago isaac arnold
Professional agency (perhaps even the best and the most decent in all Ukraine) with a serious and scrupulous attitude do their work. Individual approach to each client. Also Anna (the owner) very carefully and strictly makes selection of women & men. Checks each candidate of their serious intentions. Annabel has a good faith approach to the work and their clients.
11 months ago Andrew Devault
Professional matchmaking team. Responsive, courteous, respectful.
3 weeks ago carlos molinari
They have no service mind and very rude. I sent list of ladies but they does not respond. When I visit their office, I asked "I send a list". She said, "So, what?" They are not educated in business manner, their service is junk. If you chose another women who they do not want, they got mad. I think that is because they don't make money. I lost my mind that I would try second choice according to their "order". If you do not make choice who they do not want or you have your own plan, forget it, they will not update the progress because they are busy. They have another main job. Ask first whom you should select to meet for them. If they are rude to you, accept it they does not know what's wrong with them. If you want to be respected, think again. If you want to write bad review about them, think again for your health.
11 months ago David Ziegenhorn
I send email to this agency but she dont answer, i raise her by whatssapp and after few days she said me that she have too much customer and no time for me, so i decide to choose another agency.... NOT SERIOUS !!!
2 months ago Alton McGee
I turned to Anna to find an Ukrainian lady for long relationship. She offered very fast service asked me to provide some information and photo and in minutes I had a telephone number and agreement of the lady I liked (ofc after small fee is paid). I called the lady and we spent many hours on phone for few days. I do not know yet how the relation will develop but looking forward to face to face date in Kiev. So 5 stars for support and very good quality of brides  . Highly recommended. Whoever wrote about scam (girls unreal), I would ask to provide tracking number for the payment, this way we know if they are real clients or just time wasters trying to discredit the good name of the agency. It is actually violation of Google policy. They should be banned from such reviews.
8 months ago Liz Spaetzel
I'm from the UK, used Anna to help me meet people and after a few visits I'm now happily in love! I stupidly tried another agency once and regretted it as everything was fake. Trust me, Anna is honest and really does try to find the right girl for you. Good luck!
4 months ago Oliver Sylvester
Professional and trustful agency for both men & women with caring support from its owner, Anna. Highly recommend!
11 months ago Brian Davis
Nice and friendly Owner. Very serious agency. Thank you Annabel.
11 months ago Tatiana Kaschenko
Scammers!!! Stay away from them!
2 weeks ago Kira Allen
Annabel marriage agency is the best choice.
7 months ago Peter Duckett
This agency is cheating. Girls are professionals, only there to do business with agency. Pass your way...
9 months ago Lefteris
Cheating Agency, none of these girls are real
11 months ago Melany Chicoine
(Translated by Google) I wanted to turn to. But to communicate with potential clients of do not know how. Rudeness. Asked to throw money at stake, then will contact the photographer. What a photo, that photo shoot for? Pay, and then will …
3 months ago Wilman Anderson
(Translated by Google) I want to thank Anna for her invaluable work. I searched for my happiness for a very long time and thanks to Anna, I found it. Thank you very much for being there, for living your favorite business, and you are doing …
11 months ago Philip Nicolskiy
Grazie Anna per tua …
2 months ago Evgeniya Rubanenko
Анна, благодарю …
6 months ago Barbara Rowland
Анна- профессионал. Отлично, что в Украине есть честные агентства.
1 month ago Arun Murugesan
Профессионал своего дела, …
2 months ago Kathy Wood
(Translated by Google) I can sincerely say that the person who personifies this type of service, Anna Chernenko and her marriage agency Annabelle, is the very case that goes towards the heart in search of love and happiness. Family …
11 months ago Daria Trabsky-Chernova
Не удивительно что большинство отзывов на русском языке....Scammers!
3 months ago Alex Zeldin
недавно моя сестра уехала за границу! благодаря брачному агенству "Анабель" все было на высоком уровне! никакого обмана - все честно
11 months ago